*articles contain affiliate links*
If you need to learn to how to attract and retain nurses to deal with a growing staffing shortage, you're in the right place.
Nurses, as healthcare professionals, are responsible for providing essential care and support to patients and their families. They play a role within the healthcare system serving in various settings such as hospitals, clinics, nursing homes, and other healthcare facilities.
Experienced nurses are the backbone of our health system. Without their years of experience, nursing talent, and high-quality care, patient care will suffer.
In this article, we'll outline how nurse recruiters and others responsible for recruiting nurses can attract millennial nurses, baby boomers, nurse leaders, and more in the talent pipeline. You'll be able to weed through the potential candidates to source highly skilled nurses seeking supportive work environments and a healthy work-life balance.
Table of Contents
Overview of The Current Nursing Shortage
The world is currently grappling with a shortage of nurses. According to estimates from the World Health Organization (WHO), there is a deficit of approximately 27.2 million nurses. This scarcity is projected to intensify in the future due to factors like an aging population and an escalating demand for healthcare services.
This table illustrates the current, worldwide nursing shortage:
| | |
| --- | --- |
| Country | Nursing Storage |
| United States | 1,00,000 |
| Canada | 50,000 |
| United Kingdom | 25,000 |
| Australia | 15,000 |
| Germany | 10,000 |
Please note that this table provides estimated figures, and actual shortages may vary depending on the source.
The shortage of nurses poses a challenge worldwide. With an aging population and increasing demands for healthcare services on the horizon, governments and healthcare organizations are actively working towards addressing this issue. However, meeting the escalating demand for nurses remains an ongoing struggle.
Possible Solutions to the Nursing Shortage
1. Increasing the number of graduates from nursing schools. (Reference – American Association of Colleges of Nursing)
2. Implementing strategies to retain nurses in the profession and reduce attrition rates.
3. Simplifying the process for foreign-trained nurses to work in developed countries.
4. Investing in technology to enhance the efficiency of nursing care.
Addressing the nursing shortage is crucial to ensure that everyone has access to high-quality healthcare. We can make progress in satisfying the increasing demand for nurses if we take these measures.
How to Attract Nurses
To find qualified new nurses, use these steps:
Post your openings on popular nursing-focused employment forums and websites. Think about publicizing these openings in nursing magazines and other publications read by your intended audience, such as Nurse.com.
Leverage social media and other networks to get the word out about available positions. Distribute them to all of your company's social media accounts. Inspire your team and your followers to do the same. Participate in online nursing communities to meet prospective employees.
Having employment fairs might be a great way to draw in potential employees. Candidates can be met and their qualifications and experience evaluated in person at these events. You can also organize your own job fair, or work together with other businesses in the healthcare industry to host a larger event.
With such a strong demand for nurses, it is essential to provide competitive compensation and benefits packages. Check to see if your perks and salary are competitive with others in your field.
To position yourself as an employer of choice, emphasize how much you value nurses and provide them with growth opportunities. Showcase aspects that make your organization an attractive place to work, such as a commitment to work-life balance, investment in training and development, and fostering a positive work culture.
When crafting job postings, focus on highlighting what the role can offer nurses rather than solely emphasizing their duties. Emphasize opportunities for skill development, making an impact on patient's lives, and collaborating with supportive teams.
To increase the number of nurses in your organization, it is beneficial to establish connections with nursing schools and healthcare organizations. This will help generate interest from potential applicants.
Collaborating with these institutions can open avenues for offering internships, job shadowing opportunities, and other programs that attract and enable you to hire talent. Attending nursing school career fairs and other relevant events can also provide networking opportunities for prospective candidates.
What are the Steps to Hire More Nurses?
Review Resumes
Conduct an efficient review of resumes prioritizing quality over quantity during the initial screening process. You should evaluate a candidate's skills and experience, giving special attention to how well they meet your needs. Candidates with relevant experience should still be eliminated if they are not a good fit for the position.
Conduct Interviews and Evaluations
The evaluation procedure should include screening tools like tests and video interviews. The time spent on individual applicant evaluations can be minimized using these resources. You can save time and money by cutting down on the number of in-person interviews you conduct by using these strategies to find the best candidates for the open position.
Involve Additional Staff as Needed
When making a hiring decision, it's helpful to have multiple opinions on each candidate's skill set from members of the team as well as outside experts through peer reviews. Solicit input from staff members and healthcare industry professionals regarding the candidates' merits and shortcomings.
Move Quickly
Once you're confident you've found the right candidate, move quickly and make a generous offer. Nurses can have their pick of employer so it's important to make your offer as soon as you're sure they're a good fit. Go in with a strong offer and anticipate some negotiation.
How to Retain Nurses
Once you've hired a great nurse, how can you keep them?
Recognition Programs
It's crucial to have recognition programs in place before taking on new personnel so that they can immediately begin making a positive impact. Nurses are more loyal to companies that recognize and value their contributions. By recognizing the efforts of new nurses, you may inspire and encourage them to continue providing excellent care.
Competitive Pay
You must frequently review your pay scale to determine whether you're remaining competitive in the industry. If a nurse can drive across town and make $5 more an hour, they will probably do it. Why would you risk losing a nurse for that?
Growth Opportunities
Provide opportunities for nurses to grow their skills and advance in their career. If a nurse wants to work in administration or nursing informatics and there is no clear path for him or her to do that, they will likely go to an organization that has one. Professional development opportunities are important to many nurses. This includes programs like tuition reimbursement or career path programs.
Keep Them Engaged
Pizza parties should not be your go-to engagement strategy. Everyone loves free food, but nurses hate to feel patronized and the free pizza as a motivation or engagement tactic is played out. Instead find unique ways to engage staff such as a book club, poster contest, scavenger hunt, or other fun activities.
Simple Steps to Attract and Retain Nurses
When considering these strategies, these are the key points to consider:
1. Assess the Need
Conduct an evaluation of your current staffing levels and project future nursing requirements based on patient demographics and potential healthcare needs.
2. Enhanced Recruitment
Utilize targeted advertising through nursing journals, websites, and social media platforms. Additionally, actively participate in job fairs at nursing schools to engage with candidates early in their careers.
By following these practices, you can create an environment that fosters appreciation for nurses while ensuring a thorough evaluation process when hiring new talent.
3. Provide Competitive Compensation
Conduct research on the average salaries for nurses in your region and across the country and ensure that your pay rates are competitive or even above average. Additionally, consider offering enticing benefits like signing bonuses, assistance with relocation expenses, and educational reimbursements.
4. Encourage Professional Growth
Emphasize the importance of learning and development by offering comprehensive training programs to keep your nurses up to date with the latest skills and knowledge. Sponsor specialized certifications or further education opportunities to help them excel in their careers.
5. Prioritize Work-Life Balance
Recognize the importance of work-life balance for your nursing staff by providing scheduling options. Consider alternatives such as four-day work weeks, nursing positions or job-sharing arrangements to accommodate their individual needs.
6. Enhance Retention Initiatives
Implement mentorship programs that assist nurses in adapting to their work environment more smoothly. Regularly provide feedback. Establish recognition programs that acknowledge the hard work of your nursing staff.
7. Cultivate a Positive Work Environment
Create a hospital or clinic culture that encourages open communication and teamwork among all team members. Address any instances of harassment or bullying promptly to foster a safe and respectful atmosphere.
8. Collaborate with Educational Institutions
Establish partnerships with nursing schools to offer internships, practical training opportunities, and placements within your organization. Consider scholarship programs for students who demonstrate a commitment to working with you after graduation.
9. Use Technology
Incorporate Applicant Tracking Systems (ATS) to streamline the hiring process. Utilize AI and data analytics to identify candidates who align well with the organization.
10. Feedback and Continuous Improvement
Carry out exit interviews to comprehend the reasons behind nurse turnover. Leverage feedback from former employees to enhance recruitment and retention processes continually.
By addressing every stage of a nurse's career journey, from education and recruitment to job satisfaction and professional growth, healthcare organizations can ensure a steady supply of dedicated nursing staff.
Conclusion
Attracting and retaining nurses poses a challenge in today's job market. By following the steps outlined above, you can enhance your chances of success. Offering salaries and benefits, establishing yourself as an employer of choice, and fostering relationships with nursing schools and other healthcare organizations will help create a pool of qualified candidates.
By reviewing resumes utilizing pre-screening tests or video interviews, and incorporating peer evaluations, you can identify and hire top-notch talent.
FAQ: How to Attract and Retain Nurses
What factors do nurses consider most important when choosing an employer?
Nurses take many factors into account when selecting an employer, including competitive salary and benefits, work-life balance, opportunities for personal and professional growth, and a positive work environment.
How can I make my organization more appealing to nurses as a place to work?
There are steps you can take to enhance the attractiveness of your organization as a workplace for nurses:
Offering attractive salary packages and comprehensive benefits. 
Providing avenues for nurses to acquire new skills and advance their careers. 
Cultivating a positive workplace culture. 
Investing in training programs and development initiatives.  
Implementing flexible scheduling options. 
Rewarding the contributions of nurses.
How can I find qualified candidates to hire as nurses?
There are many methods for sourcing qualified nurse candidates, including:
Advertising job openings on reputable job boards and websites. 
Utilizing social media platforms to raise awareness about positions.
Participating in nursing school career fairs and related events.
Establishing partnerships with nursing schools and other healthcare organizations to sustain interest from applicants over time.
What qualities should I seek in a candidate for a nursing position?
When searching for a candidate for a nursing position, it's important to take into account their educational background, practical experience, skills, and qualifications. Additionally, it is advisable to consider candidates who exhibit a passion for nursing and possess a strong work ethic. To ensure an interview with top-notch nurse candidates, here are some recommendations:
Pose open-ended questions that allow you to gain insight into the candidate's skills and qualifications.
Clearly communicate the job requirements and expectations.
Provide candidates with an opportunity to ask questions of their own.
Maintain a respectful demeanor throughout the entire interview process.
By adhering to these suggestions, you can enhance your chances of attracting and selecting highly qualified nursing professionals.
Download Nurse Bingo Today!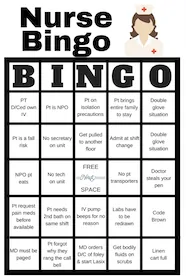 Liven up any shift with a fun game of bingo. See who can fill a row first!
Fill a whole card and lose grip with reality.
Your privacy is protected. We will never spam you.