*articles contain affiliate links*
Many nurses, doctors, and other healthcare professionals have to use a electronic health record systems. They often face the task of documenting on patient's medical records begrudgingly and don't appreciate the technology they are using. They feel that this time spent documenting could better bet spent with the patients. What many of them don't realize is that the resentment they hold for for EMR (electronic medical records) can actually cause them to spend less time with their patient's.
It's important to help clinicians get the most of of an EMR and show them how it can help them better care of their patients. If healthcare professionals see the value in the system they are much more likely to be better users.
1. Education and Training
One of the biggest reasons that many nurses and doctors alike dislike EMRs is because they feel they've had inadequate training. Most hospitals do on the job EMR training and nurses especially are made to learn on the fly. They pick up the bad habits of other nurses and never learn the tips and tricks that can save them time and make their job easier. Having a structured education program that touches every clinicians that is hired at the facility can really increase satisfaction in EMR usage.
2. Super Users
There are some nurses and other healthcare workers who will learn the ins and outs of an EMR system quickly and have the ability to train others. These talented nurses should be valued and used and an aide to overall EMR system success. Involve these super users in designing changes to the software, upgrading the system, and as part of the education and training process. Oh, and pay them for it! Super users should be rewarded with a few extra dollars an hour. This will this inspire other nurses to step up to the plate for this responsibility and ensure you always have a steady stream of EMR super users ready to cheerlead for a new cause.
3. Show the Value
Healthcare professionals feel overburdened with the amount of paperwork we have to process. It feels like there is a new question, new menu, or new button that is being added to our workflow every day. We're constantly being ask to squeeze more and more into our day. Most nurses don't know all the regulations behind every change made. They may be much more understanding to extra documentation if you justify the reasoning. However, at the end of the day the the focus of patient care should  always be the patient. A good nurse will settle with nothing less.
Keeping a patient's hospital medical records accurate and up to date is a hard job. However, It's important to make sure that the focus is always on the patient. If you explain the reasoning for changes in documentation, provide adequate training, and support staff with super users then nurses are much more likely to eagerly engage in EMR usage. If they are eager, and have better training they will be able to spend less time documenting and more time with their patients.
Patient's like healthcare professionals who are friendly, competent, and have the time to provide care and meet their needs. If you decrease the feeling of burden from using and EMR then your staff and patient's satisfaction will surely reflect it.
Download Nurse Bingo Today!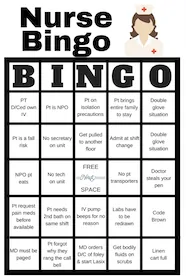 Liven up any shift with a fun game of bingo. See who can fill a row first!
Fill a whole card and lose grip with reality.
Your privacy is protected. We will never spam you.