*articles contain affiliate links*
There are lots of car insurance discounts for nurses. Check out these easy ways to save money on your car insurance and keep more of your money.
Finding affordable car insurance can seem like an almost impossible task. These days it is easier to shop around and compare rates to make sure you get the best deal possible on your auto insurance policy premiums. The good news is that for those who work in the nursing industry, your ability to get even lower rates may have just gotten easier.
Car Insurance Discounts for Nurses
In order to help honor the hard work and life-saving duties that nurses perform, some car insurance companies are now offering discounts for those who work in the healthcare field.
In fact, you can even find deals from car insurance companies that have teamed up with the American Nurses Association to make finding cheap car insurance coverage that much easier. If you click here it will take you to a site to compare free quotes for nurses.
Use Multiple Discounts Together
Getting cheaper car insurance rates for working in the nursing and healthcare industry is just one way you may be able to get serious savings on your premiums. In fact, if you can combine this discount with one or several others you could be paying a lot less than you thought possible to get all the coverage you need while behind the wheel.
Other discounts you may qualify for include:
Military discounts for those serving their country while working in the field of nursing
Good driver discounts for those who have managed to keep a record free from accidents and tickets
Good student discounts for those completing their college coursework
More Ways to Save on Car Insurance
In addition to those discounts, you might qualify for lower rates if you meet any of these criteria.
If you are over the age of 25 and/or are married you could qualify for lower rates
If you have completed any type of driver's education course you could have lower rates even if you are under the age of 25
The type of car you drive and the area where you live all play roles in your car insurance rates
How To Find Good Car Insurance Deals
When you are shopping for car insurance, there are a few things that could affect the rates. Keep these things in mind.
1. Buy A Used Car, Not New
In order to keep your rates as low as possible make sure you take this into consideration when getting a new vehicle. This is especially important if you are still paying off any student loans you may have acquired while getting your nursing degree. Trying to pay down student loans while making car loan and auto insurance premiums can become tricky and costly.
2. Buy a Safe Car
Look for a car with plenty of safety features. Remember, the more safety features and anti-theft deterrents the better your car insurance policy rates will be. In fact, cars that get higher safety ratings also tend to cost less when it comes time to insure them. Do your research before going car shopping.
3. Ask About Discounts
When it comes time to get your free car insurance rates make sure you try to think of anything that may help you get lower rates. Aside from your nursing degree, ask if there are any other discounts you may be eligible for. You never know how much more is available to help you get lower rates for your car insurance policy premiums.
This is a sponsored guest post from one of our supporters.
More Ways to Save Money as a Nurse
After you start saving money on car insurance, here are some more ways to be smart with your money.
Guest Blogger: Kelly
Download Nurse Bingo Today!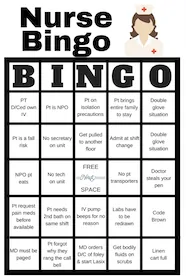 Liven up any shift with a fun game of bingo. See who can fill a row first!
Fill a whole card and lose grip with reality.
Your privacy is protected. We will never spam you.