*articles contain affiliate links*
Recruiting nurses is an essential responsibility of healthcare organizations. Nurses are needed to ensure patients are well cared for in a fully staffed hospital.
With the booming nursing shortage underway, it's become increasingly difficult to recruit nurses. Many hospitals lack quality healthcare due to a shortage of skilled staff nurses. In this article, we'll dig into some effective strategies for recruiting nurses.
This article provides an overview of the most successful strategies for nurse recruitment. It will cover topics such as targeting suitable candidates, enhancing the candidate experience through modern recruitment practices, and establishing a robust onboarding process.
Table of Contents
What is Nurse Recruiting?
Nurse recruitment involves the process of attracting, selecting, and hiring nurses to fill open positions in healthcare organizations. An emphasis is placed on experienced nurses. Nurse recruiting can occur for many types of healthcare facilities including hospitals, ambulatory care, nursing homes, home health, healthcare informatics, and other related areas in the healthcare industry.
Given the vital role nurses play in providing care and support to patients, recruiting effectively is paramount.
Effective Strategies for Nurse Recruitment
Below are some strategies commonly employed in Nurse Recruitment:
1. Targeted Advertising
Utilize platforms specifically designed for healthcare professionals.
Advertise in nursing journals, magazines, and specialized websites like Nurse.com and American Nurse Journal.
Leverage geotargeting to reach potential candidates in specific locations.
Collaborate with professional organizations to sponsor content or webinars.
2. Networking
Attend nursing conferences, seminars, and workshops, especially events organized by the American Nurses Association (ANA).
Collaborate with nursing schools and associations.
Organize or participate in job fairs targeted towards the healthcare sector.
Build relationships with nurse training institutions to tap into fresh talent pools.
3. Social Media Engagement
Utilize platforms like LinkedIn, Facebook, and Twitter for job postings and sharing engaging content.
Participate in online nursing communities and forums to understand their needs and interests.
Share success stories of nurses in your organization.
Run targeted social media ad campaigns to increase reach.
4. Competitive Benefits
Offer attractive salaries benchmarked against industry standards.
Provide additional perks like wellness programs or fitness memberships.
Ensure health insurance, retirement plans, and tuition reimbursement are part of the package.
Introduce additional leave benefits or sabbaticals for employees who want to pursue advanced studies.
5. Professional Development Opportunities
Sponsor further education programs and certification courses.
Implement mentorship programs where senior nurses guide newcomers.
Hold regular workshops or training programs to upgrade skills.
Encourage participation in external training and reimburse associated costs.
6. Creating a Work Environment that Supports Flexibility
Offer diverse shift options: part-time, full-time, job-sharing, and rotational shifts.
Promote work-from-home or telemedicine roles where applicable.
Ensure workspaces are ergonomically designed to reduce fatigue.
Introduce compressed workweeks or staggered shifts for better work-life balance.
7. Promoting a Positive Work Environment
Foster a culture where everyone's contributions are recognized and celebrated.
Organize team-building events and recreational activities.
Conduct regular feedback sessions and act on suggestions.
Prioritize mental health and provide counseling services if needed.
8. Encouraging Referrals from Employees
Launch a structured referral program with clear guidelines.
Offer varied incentives, not just financial — think about additional leaves, gift cards, or experiences.
Celebrate successful referrals in company meetings or newsletters.
Keep the referral process simple and transparent.
9. Utilizing Advanced Technology
Implement renowned Applicant Tracking Systems (ATS) like Workday or Greenhouse.
Leverage AI-driven platforms for efficient candidate matching.
Use predictive analytics to understand hiring needs.
Invest in chatbots for answering frequently asked questions from candidates.
10. Crafting Engaging Job Descriptions
Clearly define role expectations and growth trajectories.
Showcase benefits, culture, and unique selling points of the organization.
Use inclusive language to cater to a diverse pool of candidates.
Get feedback on job descriptions from current nurses to ensure clarity and appeal.
By integrating these expanded strategies, healthcare organizations can further enhance their efforts around recruiting nurses, and ensure they attract the best talents in the industry.
Nurse Recruitment Strategies with Examples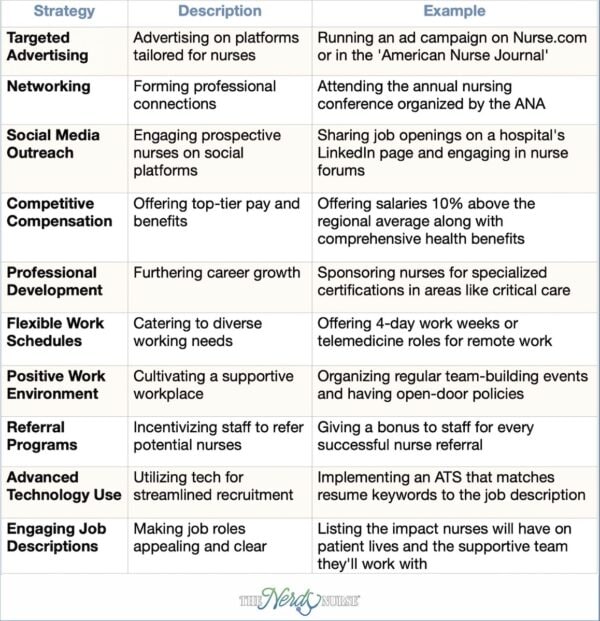 The strategies provided in the above graphic, combined with the practical examples, offer a comprehensive overview of effective nurse recruitment methods. (Download your own copy of the above graphic at the end of this post!)
Recruiting successfully requires an understanding of the current job market. Connect with qualified nurses on channels like online job boards, social media, and personal and professional networks.
Improving the applicant experience through recruitment tactics is crucial. Always write an engaging job description that highlights the company's best qualities, such as its generous benefits package, rewarding employment, and welcoming culture.
It is crucial to prioritize quick and effective interview processes. Interviews must be scheduled, and candidates must be kept informed in advance as they move through the selection process.
Another important part is developing a structured onboarding process for nurses to follow so that they can be properly trained and prepared for their positions. Furthermore, set goals and expectations for new nurses. They will be better equipped to plan for the future and prepare for the duties they will be expected to perform.
To attract and retain new nurses, it is essential to cover these areas comprehensively while also providing growth guidance.
Recruiting Nurses with Specialized Knowledge and Skills
If you need to hire talented nurses with distinct skills such as cardiac, informatics, or experience with nurse leadership, lean into your network for referrals. Also, consider whether offering additional referral incentives could motivate your staff or network to send a qualified nursing candidate your way.
Additional Nursing Recruiter Tips
Collaborating with nursing schools and other healthcare institutions can be highly beneficial. This allows you to establish connections with potential candidates while building relationships with key stakeholders in the nursing community.
To effectively recruit nurses, healthcare organizations need to offer truly competitive salaries and benefits packages. It is crucial to align your compensation and benefits with what other employers in your area are providing.
By implementing these strategies, healthcare organizations can improve their nurse recruitment efforts and consistently attract highly qualified candidates.
FAQ
Why is targeted advertising important for recruiting nurses?
Targeted advertising plays a role in ensuring that job opportunities effectively reach the intended audience. By focusing on platforms frequently used by nurses and healthcare professionals, healthcare institutions can significantly enhance the visibility of their job openings to the most relevant candidates.
How can educational institutions assist in nurse recruitment?
Nursing schools and colleges serve as grounds for nurturing fresh nursing talent. Collaborating with these institutions allows healthcare organizations to identify promising candidates at an early stage, provide them with valuable real-world experience through internships, and eventually hire them as part of their team.
What impact does compensation have on attracting nurses?
Although passion and dedication are aspects of nursing, compensation undeniably plays a pivotal role. Offering pay packages along with additional benefits can make a job offer more appealing and enticing to potential candidates (especially hard-working, highly qualified ones).
Why do flexible work schedules appeal to nurses?
Given the nature of nursing, which often involves long and unpredictable hours, flexible work schedules hold great appeal for nurses. Such flexibility enables them to strike a balance between their professional commitments and personal lives, ultimately leading to enhanced job satisfaction.
How can technology streamline the process of nurse recruitment?
Modern tools used in recruitment, such as applicant tracking systems (ATS) and data analytics, have made the hiring process more streamlined. 
These tools automate tasks, efficiently filter through applications, and match candidate profiles with job descriptions. As a result, only the qualified candidates are chosen for further consideration.
Free Printable: Nurse Recruitment Strategies (with examples!)
I hope you enjoyed this article on effective strategies for hiring nurses. If you're a nurse recruiter and you have a strategy that has worked for you, please share in the comments. And don't forget to grab your FREE Printable of the top Nurse Recruitment Strategies below!
Free Nurse Recruitment Strategies Printable!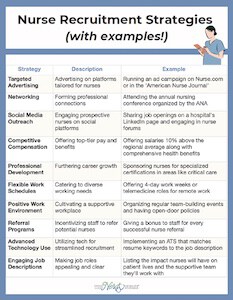 All the top nurse recruitment strategies for 2023 at your fingertips.
Download your copy so you can start hiring top notch nursing talent today!
Your privacy is protected. We will never spam you.