*articles contain affiliate links*
With the recent tragedies, we are all unfortunately familiar with there has been an increased interest in mental health. We are starting to pay attention to the conditions that can make daily life challenging for many. With about 25 percent of American adults reporting moderate to severe mental health issues, there is no denying that most who read this infographic are touched by mental health directly or indirectly. Having an increased understanding can help us all to cope better with each other.
The following infographic details some mental health statistics in the United States.

Infographic via Best Mental Health Degrees
Content of infographic:
PICTURE OF MENTAL HEALTH
About 25 percent of American adults report moderate to severe mental health issues. The effects of mental illnesses are widespread, affecting men and women; adults and children; the poor and the wealthy.
1 in 3: U.S. adults who report a diagnosable mental health problem per year
Mental illness rates (Women – Men – Both)
– Any anxiety disorder – 23.4% – 14.3% – 19.1%
– Any mood disorder – 11.6% – 7.7% – 9.7%
– Any impulse-control disorder – 9.3% – 11.7% – 10.5%
– Any substance disorder – 11.6% – 15.4% – 13.4%
– Any disorder – 34.7% – 29.9% – 32.4%
For any mental disorder (including substance disorders), the lifetime prevalence rate is 57.4 percent.
More than 90% of people who commit suicide have a diagnosable mental disorder, most commonly a depressive disorder or a substance abuse disorder.
BIG PILL TO SWALLOW
– 400%: Increase in rate of antidepressant use between 1988 and 2008
– Women are 2.5 times more likely to be taking an antidepressant than men
– 23%: Women in their 40s and 50s who take antidepressants
– Higher percentage than any other group (by age or sex)
– Less than 1 in 3: Americans taking a single antidepressant who have seen a mental health professional in the past year
MENTAL HEALTH AND KIDS
– 1 in 2: Mental disorders that begin before the age of 14
– 20%: World's children and adolescents estimated to have mental disorders or problems
MOST COMMON MENTAL HEALTH PROBLEMS
MOOD DISORDERS
– Mood disorders include major depressive disorder, dysthymic disorder and bipolar disorder.
– 20.9 million: Adult Americans with a mood disorder – 9.5%
MAJOR DEPRESSIVE DISORDER
– Major depressive disorder is the leading cause of disability in the U.S. for ages 15-44.
– 14.8 million: American adults with major depressive disorder – 6.7%
BIPOLAR DISORDER
– Bipolar disorder often develops in a person's late teens or early adult years. At least half of all cases start before age 25.
– 5.7 million American adults with bipolar – 2.6%
ANXIETY DISORDERS
– Anxiety disorders include panic disorder, obsessive-compulsive disorder, post-traumatic stress disorder, generalized anxiety disorder and phobias.
– 40 million American adults with an anxiety disorder – 18.1%
SOURCES
– World Health Organizations
– Centers for Disease Control and Prevention
– National Institute of Mental Health
– Psychcentral.com
Download Nurse Bingo Today!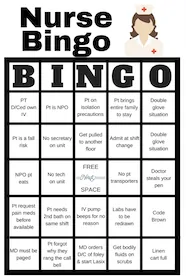 Liven up any shift with a fun game of bingo. See who can fill a row first!
Fill a whole card and lose grip with reality.
Your privacy is protected. We will never spam you.