*articles contain affiliate links*
There are many healthcare careers in demand right now. So if you're unhappy with your current profession, consider these 3 professions:
Nurses
Nurse Practitioners
Family Practice Physicians
You are probably facing a lot of challenges that many others are facing at this very moment. You are not happy in your present career but you are not really sure what, if anything, you can do about it. Luckily for you, there are many things you can do.
Obstacles to Overcome to Obtain Healthcare Careers in Demand
Not Enough Time?
Not having enough time is one of the more common complaints heard from those who want to change careers, but do not think it is possible. Even if you are working a full-time job and have a family at home to tend to, you still have time to change careers. You might think that anything involving the health industry is going to take an extreme amount of time and money, but that is simply not the case. In fact, there are many health field careers that take 12 to 18 months to earn a degree in.
Options To Consider
While there are many career options for you, focus on a few at a time. Invest these and then look further if you need to. One of the more popular health field careers is that of the pharmacy technician. It takes very little time to complete and you could find yourself working in your local pharmacy.
You can also work to become a medical assistant or even a physical therapist assistant. All of these careers are careers that you could be a part of in no time at all.
School Schedules That Work For You
Yes, you have a lot of responsibilities, but that is why you need to strive for a better career in a field that you will excel in. You cannot be the best you can be if you are unhappy with the type of work you are doing. Because of this, you want to go ahead and take advantage of all of the schools that are now offering part time and flexible schedules. You can take classes in the evenings and on the weekends. You can earn your degree at your own pace.
As you can clearly see, this is something that you can do. So, are you ready for that change? If so, now is the time to start checking out your new career options and the schools that can help you get there. The sooner you get started, the sooner you and your loved ones will be able to enjoy all of the perks that come with being in the health care field.
Go out and get yourself a healthcare career in demand!
Download Nurse Bingo Today!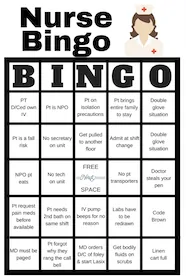 Liven up any shift with a fun game of bingo. See who can fill a row first!
Fill a whole card and lose grip with reality.
Your privacy is protected. We will never spam you.