*articles contain affiliate links*
5 Points of Consideration when taking the next step in nursing: Motivation, Education, Positive Attitude, Networking, and Integrity.

Whether you are a fresh new graduate, or a nurse with years of experience, the future of nursing and your personal nursing career is in your hands. The ball, is in fact, in your court, do you shoot, pass, or let the timer run out? Do you stay current on the fundamentals of nursing?
Motivation
The first step to accomplishing any goal is having motivation. What motivates people to complete a task determines the quality of the harvest they will reap. Determine what your motivation for wanting to advance your nursing career is and that will determine the success you will have.
Take a moment to look at where you are in your nursing career.
Are you completely happy?
If yes, I humbly ask you to do not continue to read the rest of this post. Happiness in the life is a joy often push aside, and I encourage you to take full advantage of every opportunity for it that presents itself.
If no, please continue.
Why do you want to advance your nursing career? What will it do for you? What will it help you do for others? Will it make you happy? How will it effect your family? Will it change you? Will it make you better? Do want to something more?
Answer these questions. Think seriously about the answers. Critical thinking is not a new idea to nurses, however, it seems that nurses often do not apply these skills to their own lives and goals. There is no set path for anyone. Whether you are an RN, LPN, student nurse, C.N.A, APN, BSN, MSN, A.D.N, CRNA, and so on, the next step in your career is yours to take and yours alone.
Take a minute, breath, and think.
Education
Depending on your currently level of education, there are a variety of options to further your education. As nurses, we owe it to our patients to stay informed on current information, new technologies, and policies. Many states require CE's. In Georgia, where I happen to reside, they do not. However, there are a multitude of resources that are available to you online to gain continuing education credits, as well as a wealth of reputable articles that can expand your practical knowledge and critical thinking.
Remember, we must never stop learning. A nurse that knows everything is a very dangerous nurse.

This is a very hand list of nursing credentials that has various certifications, degrees, and licensees listed. It is really interesting to see just how many things nurses do! We certainly have a lot of specialties.
Of course, advancing your career may also require additional college time. But don't fret, the hard part is really over, and it's nothing like the hoops of nursing school.
The majority of programs offered are available mostly only, may or may not require clinical time and give a variety of options.
Some of the frameworks available include:
L.P.N. – A.D.N, L.P.N – B.S.N
A.D.N. – B.S.N, A.D.N –M.S.N, A.D.N – A.P.N
as well as specialist tracts in various areas including: N.P., C.R.N.A, Midwife, ext.
A good resource for at least seeing your options is allnursingschools.com, however, be careful of 'requesting information' from some of their schools, as they spam the living day-lights out of you. However, it is a good stepping off point to see where exactly you can go and how you might be able to get there. Also, connecting online, through sites like twitter, blogs, and forums (allnurses.com is great), is a wonderful way to get insider information from those already in your chosen specialty. More on Networking Later.
Keep in mind also, that financial aid is almost always available, and many employers offer tuition reimbursement. Most facilities want you to continue your education as it makes you a better nurse and also looks extremely good on all those fancy reports they generate.
Positive Attitude
As I have discussed at length, Nurses Eat Their Young. You're eagerness to continue to advance yourself in nursing will not doubt inspire a variety of emotions from excitement to bitterness and resent. Unfortunately, this goes with the territory. Do not let it get you down!
I once had a nurse tell me that if I wasn't at the bedside getting myself covered in poop on a daily basis, I wasn't a nurse.


Nursing is about so much more than basic A.D.L.s. I must again, refer to a useful article on Medscape: What Do Nurses Really Do?: What Nurses Do, By: Suzanne Gordon. She States "Nursing is a package of medical, technical, caring, nursing know-how — that nurses save lives, prevent suffering, and save money."
I have never once seen a definition of nursing that states "Bedside only".
For me, and my informatics goals, that becomes a particularly challenging aspect, especially considering the resentment that some nurses often feel toward technology and computers. My goal, and the way I know I can help more patients, to be a part of something much bigger than me, is to make the processes involving technology and nursing more streamline, efficient, and desirable to work with.
What is your nursing goal?
Cheerlead for your profession.
We all know that there are many nursing issues, however, we need to be advocates for our profession. If we want to be seen as professionals, we have to see ourselves as professionals. Speak up and tell people what you do. Don't just focus on the caring and emotional aspects of nursing, but speak about about we use our minds to solve problems, use evidence in our practice, and maintain personal standards with little to no direct supervision.
If you notice a problem, don't ignore it. But also, don't be a complainer. Do what you do for your patients, think critically and solve the problem! If you are going to voice your opinion about an issue, and you should, try to offer solutions and be a medium for change, don't just makes lists of problems without an attempt at offering solutions like this: 25 Stupid Things Nurses Do to Self Destruct

Get up and put on your nursing shoes and tell yourself that today will be a good day. Tell yourself that your patients will receive the best care possible. Tell yourself that you will be a resource to your peers and a leader in your field and motivate positive change and excellence in nursing.
Then Do it!
Networking
Never underestimate the power of the Good-ole-boy system. Actually, since that is a colloquial term, let me rephrase. Who you know is important. Whether it be a casual smile in the hallway and a handshake to your C.E.O, you never know when you may be in competition for advancement and that simple smile and handshake can make the difference. This doesn't mean go out and 'brownnose' every one in management, this means make yourself approachable and be outgoing to those who can make or break you in your profession. It is common sense really, but so many underestimate the power of a simple introduction, smile, and an offer to help facilitate your organizations goals. We all have stress in our loves, and even the head honchos appreciate being told that help is available to them. They may remember those few words and positive attitude and it may mean the difference between getting where you want to go and staying where you are.
Take Charge of Your Nursing Career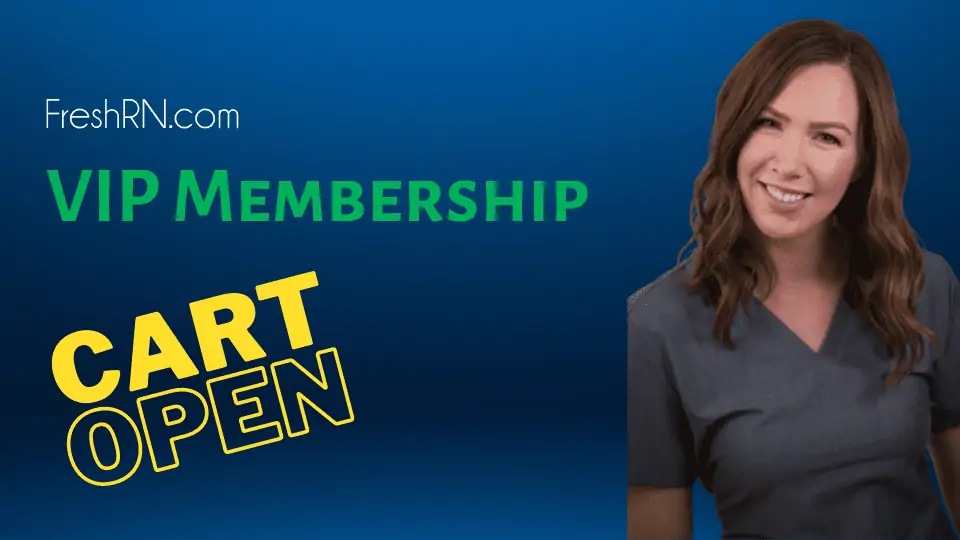 Your first year as a nurse is daunting. You need someone in your corner telling you what your managers really need from you, helping you learn to interact with your preceptor, and really just manage your life. Find all that an more with the FreshRN VIP - Membership.
I'm Ready to Thrive
Online
Twitter, Facebook, blogs, and forums of course boast a wealth of resources and information. You're here, after all, aren't you? Never underestimate the power of a Google search, tweet, blog comment, or forum post. It may very well be the first step in an enlightening and prosperous nursing journey. Do not be afraid to make the first move. Innovation in nursing is both a need and a right. Together, we can make big things happen sooner. Start thinking, talking, and doing.
One of my favorite things about networking with others in your field online is the fog of competition has been lifted and you can focus on other issues at hand. If someone does what you want to do, and they take the time to tweet, blog, or post about it, they will likely adore the opportunity to speak with you directly via email about it. They will likely have a wealth of resources and information they can provide you if you only ask. And they likely enjoy an opportunity to share resources and advice with like-minded individuals, unless they are a troll —
SAY NO TO: INTERNET TROLLS!


Speak with everyone you can about what you want to do. Tell everyone you can how you are going to get there and always listen to the advice and answer the questions they have about it. Remember, do not forget about your motivation. It should be the primary reason why you are making all this extra effort to learn, grow, and meet new people. Be open to new ideas, do your best to support your arguments with facts, and you will gain a great deal out of social networking.
Integrity
Integrity is often not stressed in nursing. This is our biggest asset. I am not talking about how nurses are constantly ranked as the most trustworthy profession. This is part of it, as honesty and ethics play a large role in maintain integrity. I am talking about being true to yourself, your standards, the needs of your family, the rights of your peers, the rights of your patients, and not making sacrifices that aren't needed or beneficial.
Ultimately, you have to sleep at night, eventually. I implore you to make decisions and take actions with the goal of advancing yourself and nursing without stepping on the toes of others. Egos are a different story though, step on as many of those as you want.
Have respect for those around you who are happy in what they do, but be a resource to them if they decide they may want more. Nurture students to be the best nurses they can be. Help them see that not everyday is a bad day, and one day they will be a time that they get everything done they wanted to, the way they wanted, in the time they wanted to. We're all in this together, after all.
No one nurse can nurse the world. However, one nurse, one idea, one group, one movement at a time, change change the world.
Don't cut corners. Together we can change the world.
Download Nurse Bingo Today!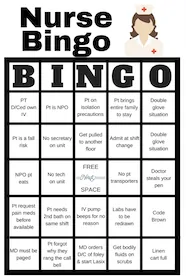 Liven up any shift with a fun game of bingo. See who can fill a row first!
Fill a whole card and lose grip with reality.
Your privacy is protected. We will never spam you.