*articles contain affiliate links*
An oncology nurse cares for people who are battling cancer. If this sounds like a career path for you, here's how to snag this job.
Very few nursing specialties have the extreme highs and lows of oncology nursing. Some days are routine, others are heartbreaking, and others are a mixture of joyful and sad. It takes a strong person to be an oncology nurse. If you are interested in this career path, then keep reading. I'll show you more information about it so you can make an informed decision.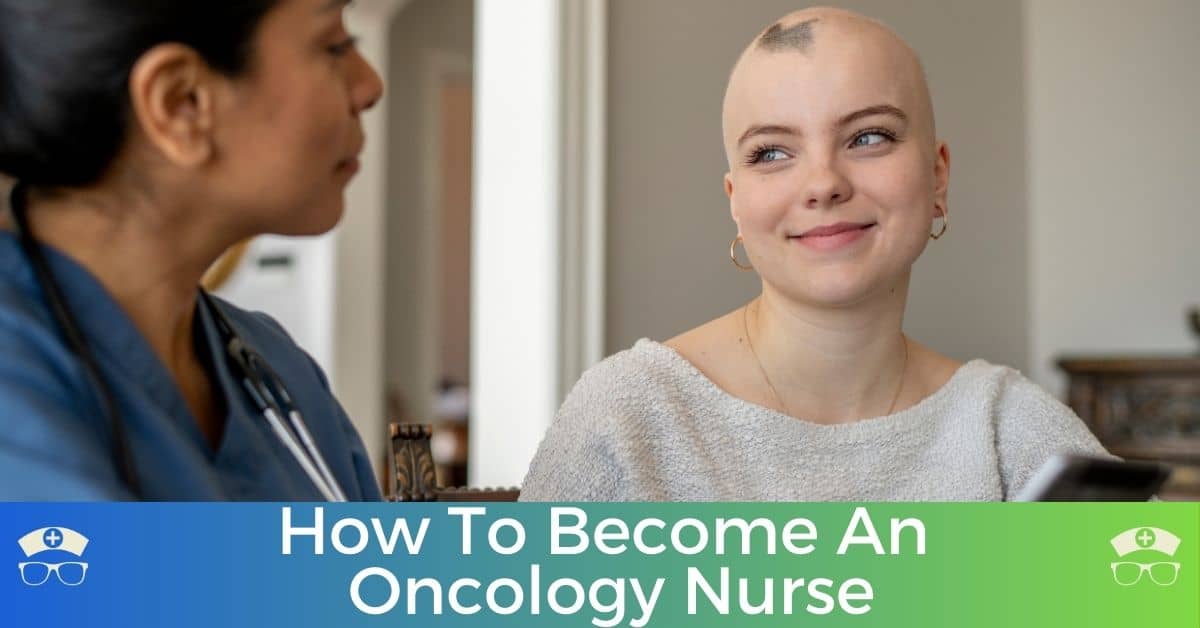 What Does An Oncology Nurse Do?
The responsibilities of an oncology nurse depend on where they work. The things that almost all oncology nurses do include taking care of and educating patients who have cancer.
Here's a closer look at the main responsibilities of an oncology nurse.
Patient Assessment
One of the main things an oncology nurse does is patient assessment. This means they assess patients who have cancer treatment side effects. They also assess patients before, during, and after chemotherapy. This means the have to be able to understand pathology results and what they mean.
Patient Education and Communication
They must also have interpersonal communication skills because they must also listen to patients, assess the patient's understanding of the disease, and understand the patient's emotional state.
It's the oncology nurse's job to educate the patient about the disease and how to deal with the expected side effects of the treatments. They will also be communicating with the patient's family about side effects and how to care for their ill family member.
Coordinating Patient Care
Another responsibility they have is direct patient care – including coordinating treatments and tests. They have to keep detailed records so that the patient has continuity of care within the nursing team and across the multi-disciplinary group that manages the patient's disease.
They are also responsible for organizing referrals for patients to other healthcare providers.
In this job, you will usually be responsible for administering chemotherapy drugs to patients. You also have to manage the symptoms of the disease and the side effects of these treatments.
How To Become An Oncology Nurse
Does this sound like a job you'd like to have someday? If so, the first place to start is by becoming a registered nurse (RN), preferably with a Bachelor's of Science in Nursing.
After that, you'll need some certifications and training to be qualified.
Certifications And Training
These are the certifications and training you'll need and how to obtain them.
You'll need to learn specific cancer care skills through coursework, clinical experience, or continuing education. Then, you can take an exam to become an Oncologist Certified Nurse (OCN).
In order to become an oncology nurse specialist, you will need to learn specific cancer care skills through coursework, clinical practice or continuing education. After gaining enough knowledge and on-the-job experience, you can take an exam to become an Oncology Certified Nurse (OCN).
These certifications are available, depending on your experience and interests:
Oncology Certified Nurse (ONC®)
Certified Pediatric Hematology Oncology Nurse (CPHON®)
Certified Breast Care Nurse (CBCN®)
Blood and Marrow Transplant Certified Nurse (BMTCN®)
Advanced Oncology Certified Nurse Practitioner (AOCNP®)
Advanced Oncology Certified Clinical Nurse Specialist (AOCNS®)
Salary Average
The salary depends on location, experience, and certifications and it varies widely. According to PayScale, the average hourly rate is $33.38.
Salaries for this job fall between $50,000 a year to upwards of $90,000 a year.
Is This The Job For You?
This job requires a lot of emotional strength. From days where you celebrate victories to days where you practice palliative care, you will go through all the feelings. This is a job where you truly feel like you are making a difference.
If you are still wondering what it's like to be an oncology nurse, ask someone you know. There is nothing quite like the firsthand stories of the day to day to prepare you for what lies ahead.
More Nursing Jobs
I have lots of guides about other nursing jobs too. Browse through them and keep dreaming about the perfect nursing specialty that compliments your strengths.