*articles contain affiliate links*
These eleven reasons are exactly why you should get a Bachelor's of Science in Nursing – or a BSN. Special thanks to Southeastern University Online for partnering with us on this post!
If you are aspiring to a medical career, there are so many jobs and educational paths you can choose. Which is right for you? A BSN is a perfect choice for many reasons. Let's dissect them and see if this is the career for you.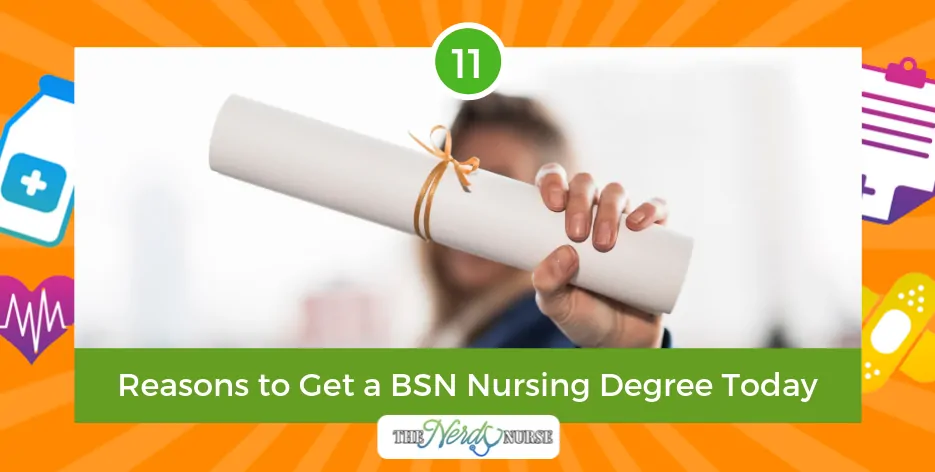 11 Reasons to Get A BSN
You know you want a career in nursing. As you browse all the programs out there, it can be overwhelming. Which is better – BSN or LPN? What about a CNA?
You might be tempted to spend less time in school and get a job as soon as possible. And that might be a wonderful short-term goal. But as you make your plans, put a Bachelor's of Science in Nursing (BSN) on your list of goals. These eleven reasons are exactly why you shouldn't quit until you obtain your BSN. It offers so much potential and opens so many doors.
1. Upward Mobility
The first reason you need to get your BSN is that it opens up a plethora of opportunities for upward mobility. In other words, you'll have the ability to apply for more leadership positions if you have this degree.
Some of the jobs you can work towards that require a BSN as a minimum requirement include:
Clinical Supervisor
Unit Director
RN Operating Room Team Lead
Charge Nurse
Once you have your BSN you will become more qualified for some fantastic leadership positions.
2. Medical Influence (with Doctors)
I wrote about this before. Since nurses interact with patients and care for them face-to-face, they have an insight that many doctors respect and seek out. Having a job in leadership – like a charge nurse – makes it more likely that you will have influence with the doctors at the hospital.
So if interacting with doctors and influencing medical care is important to you, consider obtaining your BSN.
3. Salary Potential
Next, you will have a greater chance at a higher salary if you have a BSN. According to Nurse Journal, RNs with an ADN or BSN start out at about the same salary starting out. But the salary differences become apparent after about 4 years. "BSNs with the same level of experience earn $8,337 more [than ADNs], with a median salary of $69,697."
Imagine what you could do with that income!
4. Better Chance at Entry-Level Jobs
There is a high demand for nurses with a BSN, and that demand is just going to keep increasing. In fact, according to a recent article from the New York Times, more and more hospitals are requiring nurses to obtain a BSN before they are hired. Some hospitals have programs in place to help RNs earn their BSNs. Get ahead of the game by earning your BSN first.
5. Prepares You For a Variety of Settings
Another reason to get a BSN nursing degree is that all the classes and experiences from this program prepare you for a variety of settings. After you graduate, you will be ready for almost any setting you choose – from home care to case management.
Keep your options open by enrolling in a variety of labs and classes. You might not know where you want to work when you are in school, so give yourself the privilege of being hirable in a range of places.
6. Advanced Nursing Potential
What are your long terms goals? If you hope to someday become a nurse educator or hold an executive position, then you should graduate from a BSN program.
Allow yourself to dream and strive for your dream job. The first step is a bachelor's degree. This will allow you to work towards more advanced degrees and qualifications.
7. Better Patient Outcomes
Furthermore, studies suggest that BSNs have a positive correlation with better patient outcomes.
In a 2003 study, Educational Levels of Hospital Nurses and Surgical Patient Mortality, nurse researcher Linda Aiken found that a 10% increase in the number of nurses with a BSN was associated with a 5% decrease in patient deaths within 30 days of admission.
The study did not explain why it had a correlation like this. But it is definitely encouraging. If you want to provide better care for patients, invest in a four-year degree. It will pay off for you and the patients you interact with.
8. Opens up Non-Hospital Careers
There are so many jobs out there for nurses, and you can often find some that aren't limited to working in a hospital. Some of the more specialized jobs require a 4-year degree.
These are just a few of the jobs a BSN nursing degree can offer you:
Nurse Informaticist – works in hospital IT departments or at medical software firms to enhance and develop EMR and other healthcare software.
Mental Health Nurse – works in private clinics and community settings
Dialysis Nurse – works in private homes
Forensic Nurse Consultant – works with law enforcement agencies and law firms
9. Job Potential with an Increasingly Aging Population
Next, consider the current age of the population and how this will affect nursing careers. As the population ages, the demand for highly trained nurses for in-home care is going to increase as well.
So what are the experts saying? The Institute of Medicine has proposed an increase to BSN nurses from 50 percent to 80 percent by 2020. This is because, by 2020, an estimated 20 percent of the population will be 65 or older, with many people living for a longer time, often with chronic illnesses. Educated, highly trained nurses will be extremely hirable.
10. Qualify for Professional Nursing Organizations
Another benefit of a four-year nursing degree is that it qualifies you for support and acceptance into professional nursing organizations.
A few examples of nursing organizations are:
American Nurses Association
American Psychiatric Nurses Association
Emergency Nurses Association
Academy of Medical-Surgical Nurses
After you become a nurse, you will have continuing education requirements. Being a member of a professional organization gives you access to classes and activities that count towards these requirements. Association membership also allows you to network and establish authority in your field.
11. BSN Gives You Larger Perspective
Finally, enrolling in and completing all the classes and labs for a BSN gives you a larger perspective, which positively influences your job as a nurse.
A BSN nursing program will give you a chance to learn about things like healthcare policy, among other topics, that all influence the type of care you can offer patients. It is no surprise that 4-year programs increase problem-solving skills, research abilities, and challenge biased thinking patterns. All of these benefits will guide and shape your thinking as a nurse.
Is A BSN for You?
After reading all of this, is a BSN for you? I encourage you to go for it. There are so many job opportunities for nurses today and in the near future. If you are at all interested in health care, graduating with a BSN nursing degree is an investment that will reward you over and over again.
Transform your future through faith, learning, and leadership at Southeastern University Online. In a flexible and convenient format, you'll discover the knowledge and skills needed to reach your personal and professional goals. Priority admission and a generous transfer credit policy will help you start and finish faster. Receive support from inquiry through graduation — at SEU, we're as invested in your success as you are.
More Nursing Jobs For You
If you enjoyed learning about the BSN, here are some more careers in nursing you should investigate.