*articles contain affiliate links*
In my RN-BSN class we discussed the difference between being a nurse leader and nurse manager. It was unfortunate that theses two titles are not always describing the same role/person. Ideally any manager should be a leader, but it is often not the case.
Leadership should be a standard and a requirement in order to be a manger, but unfortunately middle-management is often too busy trying to appease the higher ups and quiet the staff, to be effective leaders. Managers should be seen as resources and advisors, but they are often seen as hindrances to change. The concerns with budgets, money, and weaving the tangled web of paperwork and meetings get in the way of being able to facilitate good teamwork and promoting excellence.
I often feel like management are forced to tread-water. They are constantly walking a tight rope and trying to balance their responsibilities, determine priorities, and often are forced to ignore underlying department problems or forget to acknowledge successes.
Unfortunately a leader often isn't a manager. These individuals instigate change and promote progress and positive outcomes. These are the people who question mediocrity and the status quo. These are the people who see the flaws in the system, but rather than focus on the have-nots, they choose to focus on the could-haves. These people are innovators, movers and shakers, and change-makers.
Honestly, most companies probably don't want to employ leaders as managers. Leaders cost money because change and improvement are expensive. Leaders want improvements that may require extra effort from those who live in the "things will never change" mentality. Leaders question things that are just done because "thats the way it's always been done". Leaders use research, evidence based practice, and charisma to make things happen.
That is what I want to be. A nurse leader. You can have your management. I don't want to be defined by budgets and meetings. I want to make positive change in nursing and healthcare. I want to inspire others to be passionate about technology in healthcare.
And I want all of your help.
Who is with me? Who wants to embrace technology and innovation in healthcare and leave the nay-sayers to the wayside? Managers welcome and encouraged to come aboard in this effort.
We need strong and passionate individuals, and I KNOW we can do this.
– Posted using BlogPress from my iPad
Also Check Out:
Download Nurse Bingo Today!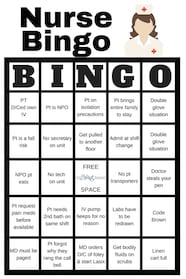 Liven up any shift with a fun game of bingo. See who can fill a row first!
Fill a whole card and lose grip with reality.
Your privacy is protected. We will never spam you.