*articles contain affiliate links*
Guest Blogger: Jenna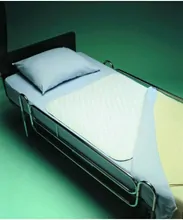 If you're feeling sick, you may schedule an appointment to see your doctor or visit a hospital emergency room. However, before you head to the nearest medical facility, consider whether you can self-treat at home. Understandably, some medical issues necessitate a hospital or doctor visit. These include a fracture, chest pains and other sudden, intense symptoms. But if you're suffering from a common ailment, such as a sore throat, a cough or flu-like symptoms, there is another alternative.
Rather than visit the hospital, you can use services like Md Aligne, an over-the-phone medical/doctor company. You can receive advice on how to manage your condition without stepping foot in a hospital.
Hospitals save lives and treat countless people each day. But at the same time, hospitals are a breeding ground for germs and bacteria. With the number of patients and visitors walking the hallways each day, some hospitals cannot maintain a high level of cleanliness. The hospital may appear clean at first glance, but they usually hide a few dirty secrets.
1. Nurses and doctors do not always wash their hands.
Hospitals see waves of patients all day long. And while hospital policy requires that doctors, nurses and other personnel frequently wash their hands, this simple practice can fall by the wayside on a busy day. Rather than sanitize hands between each patient, doctors and nurses may sanitize between every two or three patients. This increases the spread of germs.
2. Poor room cleanliness.
Hospitals routinely change bedding between patients, but they may not disinfect other surfaces inside the room. This includes the cabinets, the floor, the call buttons, the light switches and the door knob. They may wipe these surfaces to remove smudges and dust. However, a general purpose cleaner does not kill germs. Thus, germs remain in the room.
3. Improper disinfecting of the bathrooms.
Patient bathrooms are regularly disinfected. This includes the toilet, the sink, the guard rails and other surfaces. But unfortunately, the solution may not remain on surfaces long enough to kill germs, viruses and bacteria. For proper disinfection, many solutions must sit on a surface for five minutes, and then wiped off with a cloth. Because staff members have several rooms to clean, they typically spray the disinfected and immediately wipe the surface.
4. Unclean waiting rooms.
Ten or twenty people can visit a hospital waiting room each hour. They may touch the armrests on chairs, read the magazines and children may play with the toys. Unfortunately, these objects aren't disinfected on an hourly basis. This can contribute to a secondary infection or illness.
5. Check-in desk.
If you must visit a hospital emergency room, bring your own pen. Upon check-in, the medical receptionist will provide forms for you to fill out, and perhaps hand you a pen. Since people constantly cough or sneeze in their hands, this pen might contain a variety of germs. Use your own pen or sanitize your hands immediately after using the hospital's pen.
Being conscious of the germs around you is key to staying healthy and avoiding additional infections. Self-treat minor health issues at home, and visit a hospital only when absolutely necessary.
Download Nurse Bingo Today!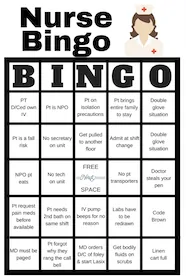 Liven up any shift with a fun game of bingo. See who can fill a row first!
Fill a whole card and lose grip with reality.
Your privacy is protected. We will never spam you.