*articles contain affiliate links*
Nursing has evolved and changed over time. It would not be what it is today without many influential and hardworking nurses. While you may know some of the more famous, such as Florence Nightingale or Clara Barton, you may be less familiar with others who impacted the nursing profession.
The following infographic takes a look at 15 people who have made the biggest impact on nursing.

If you aren't an infographic sorta person, here are the facts portrayed in the infographic in text format.
15 People Who Had the Biggest Impact on Nursing
Nursing is a profession wrought with a turbulent history. Through struggles with sexism, racism, deplorable healthcare systems and conditions and much more, nursing has evolved not simply because time has progressed, but because of several notable nurses who made an impression on the medical world. Learn more about these pioneers of nursing.
Saint Fabiola (? – 399)
Roman matron dedicated to charitable work
– Accomplishments:
– Funded the creation of a Roman hospital, where she also tended to the patients
– Lived in a hospice in Bethlehem to continue this work
– Erected a hospice at Portus
– Canonized as Patron Saint of divorcees, tough marriages, abuse victims, adultery, unfaithfulness, widows and the Hospice Movement
– Feast Day December 27
– Philosophy: Accommodate the needy, poor and sick in the spirit of the Church
– Legacy in Her Field: She continued caring for those in need on top of her lifelong religious studies up until her death. Many subsequent nurses have taken on underserved populations in this spirit.
Jeanne Mance (1606 – 1673)
A nurse among the founders of Montreal and the area's first hospital
– Accomplishments:
– First nurse in New France
– Founded the Hotel-Dieu de Montreal and managed it for 17 years
– Recruited nurses from France for assistance, despite plague outbreak on the returning ship
– Philosophy: Pursue religious goals and provide hospital assistance to New France
– Legacy in Her Field: The Hotel-Dieu de Montreal still stands and thrives, and a monument for Mance erected. Her dedication to serving her local population is evident in many communities today.
Dorothea Dix (1802 – 1887)
Established the first mental health system in the U.S.
– Accomplishments:
– Superintendent of Army Nurses in the Civil War
– Created the North Carolina Medical Society for the mentally ill
– Established the Dorothea Dix Hospital shortly following the society's formation
– Aided legislation to reserve land for the construction of mental asylums
– Inducted into the ANA Hall of Fame
– Philosophy: Provide quality healthcare for military personnel and upgrade conditions for underserved populations: prisoners, disabled persons and the mentally ill.
– Legacy in Her Field: Fought for personal control over her hiring practices and for women's rights to work in military hospitals.
Mary Seacole (1805 – 1881)
A Jamaican nurse who traveled to London to provide her expertise in tropical medicine
– Accomplishments:
– Treated cholera patients in an 1850 epidemic
– Journeyed from Jamaica to London by herself to aid in Crimean War medical needs
– Served wounded soldiers (on both sides)
– Appreciated in her lifetime, but disappeared from recognition for a century following her death
– Philosophy: Provide medical aid to those wounded in wars and rebellions worldwide.
– Legacy in Her Field: Bravery, competence and perseverance in the face of racial prejudice (Seacole's father was white, and her mother was Jamaican Creole)
Florence Nightingale (1820 – 1910)
Perhaps one of the best known nurses in history, her influence on nursing today is undeniable
– Accomplishments:
– Her passion for statistics led to the development of the Nightingale rose diagram, a form of pie chart
– Provided medical aid with a core team of 38 other volunteer nurses in the Crimean War
– Established the world's first secular nursing school at St. Thomas' Hospital in London (now at King's College London)
– Published Notes on Nursing as core curriculum at the Nightingale School–though it was also popular with the general public
– Awards included the Royal Red Cross, Order of Merit, Honorary Freedom of the City of London and more
– Philosophy:
– Treat the sick regardless of class, condition or time of day (she became known as 'The Lady with the Lamp' for doing rounds by lamplight at night)
– Legacy in Her Field: The Nightingale Pledge, taken by new nurses, is named for her. International Nurses Day is on her birthday, and her tireless work ethic is a legacy of its own.
Clara Barton (1821 – 1912)
Teacher, nurse, humanitarian and founder of the American Red Cross
– Accomplishments:
– Provided medical care to Civil War Soldiers even on the front lines–giving her the name 'Angel of the Battlefield'
– Lead the Office of Missing Soldiers following the war
– Awards included the Golden Cross of Baden and Iron Cross of Germany after the Franco-Prussian War
– Founded the American Red Cross (first meeting held in her apartment)
– Established the first American International Red Cross in Turkey
– Philosophy:
– Provide medical care even in the face of opposition and danger.
– Legacy in Her Field: Her dedication to healthcare around the world and in dangerous situations has made a lasting impression on nursing. Her home for her last 15 years of life is now the Clara Barton National Historic Site.
Agnes Elizabeth Jones (1832 – 1868)
Devoted Irish nurse who pioneered a new standard of patient care
– Accomplishments:
– Dedicated to serving the very poor–an unusual practice in Ireland at the time
– Aided the poor at Brownlow Hill Workhouse to the point of exhaustion, illness and finally death at just 35 years old
– Philosophy: Florence Nightingale said of her: 'She overworked as others underwork. I looked upon hers as one of the most valuable lives in England.'
– Legacy in Her Field: A statue, a dedicated window and a student residence hall have been named for her in remembrance of her selfless work.
Linda Richards (1841 – 1930)
First professionally-trained nurse in the United States
– Accomplishments:
– Established first nurse-training program in Japan
– First president of the American Society of Superintendents of Training Schools
– Worked in nursing throughout other pursuits, like pushing for mental health institutions
– Inducted into the ANA Hall of Fame and National Women's Hall of Fame
– Philosophy: Pursue quality patient care and search for peace (she lost both parents to tuberculosis, as well as her fiance to the Civil War).
– Legacy in Her Field: Paved the way for official standards in nursing and nurse training, even internationally.
Ellen Dougherty (1844 – 1919)
World's first RN
– Accomplishments:
– Matron of Palmerston North Hospital in New Zealand
– Instigated sewing bees with relatives in order to provide sufficient linens for the hospital: sheets, pillowcases, bandages and more
– Registered as a pharmacist, running the hospital's dispensary
– Grew the hospital to twice its size during her leadership
– First to become a Registered Nurse when NZ passed the Nurses Registration Act
– Philosophy:
– Dedicate life's work to improving the conditions of the medical institution you believe in.
– Legacy in Her Field: Devotion to improving a single institution garnered remarkable results for Dougherty and inspires others to adopt a similar attitude.
Mary Eliza Mahoney (1845 – 1926)
First African-American female nurse in the U.S.
– Accomplishments:
– An original member of the mostly-white Nurses Associated Alumnae of the United States and Canada (now the American Nurses Association)
– Co-founder of the National Association of Colored Graduate Nurses
– Successful, notable career as a private care nurse
– Among the first Boston women to register to vote
– Inducted into the ANA Hall of Fame and the National Women's Hall of Fame
– Philosophy: Women, especially women of color, deserve real opportunities in careers and other facets of life.
– Legacy in Her Field: Today, the Mary Mahoney Award gives recognition to those who support equal opportunity advancement for minorities in nursing as she did.
Anna Caroline Maxwell (1851 – 1929)
'The American Florence Nightingale'
– Accomplishments:
– Founded the Army Nurse Corps
– Restored a field hospital in the Spanish-American War
– Awarded the Medal of Honor for Public Health
– Established the nurse training program at Montreal General Hospital
– Superintendent for numerous East Coast hospitals
– First director of New York Presbyterian Hospital (now the Columbia School of Nursing)
– Inducted into the ANA Hall of Fame
– Philosophy: Improve the public's perception of the nursing profession while standardizing procedures and advancing nursing education.
– Legacy in Her Field: Allowed for military ranking for nurses serving the armed forces, and made great strides in streamlining nurse training and procedures.
Margaret Sanger (1879 – 1966)
Pioneer for women's health and reproductive rights
– Accomplishments:
– Opened the first U.S. birth control clinic–which was prohibited by law
– Later opened the first birth control clinic with all-female doctors, and a subsequent Harlem clinic with all African-American staff
– Founder of the American Birth Control League (later the the Planned Parenthood Federation of America)
– Created the National Committee on Federal Legislation for Birth Control
– President of the International Planned Parenthood Foundation
– Publisher of The Woman Rebel pro-contraception newsletter
– Inducted into the ANA Hall of Fame
– Philosophy:
– Women deserve safe, medically sound forms of birth control, rather than dangerous alternatives and back-alley operations.
– Legacy in Her Field: The most notable figure in women's rights and a tireless advocate for the pursuit of women's health and reproductive advances.
Mabel Keaton Staupers (1890 – 1989)
Figurehead for racial equality in nursing
– Accomplishments:
– Secretary of the National Association of Graduate Colored Nurses
– Executive Secretary for the Harlem Tuberculosis Committee
– Fought for the admission of African American nurses to the Army and Navy in WWII
– Helped establish the first facility for black physicians, in Harlem
– Inducted into the ANA Hall of Fame
– Philosophy: Black nurses deserve equal treatment in the field, and accordingly all black Americans deserve access to quality health care.
– Legacy in Her Field: The National Association of Graduate Colored Nurses was eventually integrated into the ANA and Staupers' impact on racial equality in the field continues to resonate.
Florence Wald (1917 – 2008)
The mother of the American hospice movement
– Accomplishments:
– Overcame a chronic respiratory ailment in childhood, which helped inspire her nursing career
– Instructor at Rutgers School of Nursing
– Became Dean of the Yale School of Nursing
– Founded the Connecticut Hospice, first in the U.S.
– Investigated hospice and palliative care options for prison inmates
– 3,000 hospice programs serving 900,000 patients/year at time of Wald's death in 2008
– Inducted into the ANA Hall of Fame
– Philosophy: Provide comforting, sympathetic care focused on the needs of elderly and terminally ill patients, whether free or behind bars.
– Legacy in Her Field: Revolutionized the care of the dying, laying the groundwork for modern hospice and palliative care systems.
Claire Bertschinger (1952 – Present)
Inspiration for Live Aid benefit concert to remedy world hunger
– Accomplishments:
– Served in countries around the world, including in Africa, the Middle East and Southeast Asia
– Ambassador for the African Children's Education Trust
– Awards include Florence Nightingale medal, Woman of the Year and Human Rights in Nursing Award
– Published an acclaimed biography, Moving Mountains
– Philosophy: Everyone deserves basic access to food and healthcare. We must continue to work toward this ideal.
– Legacy in Her Field: Great strides in opening food centers, making efforts to feed starving families and enduring her own hardships (she was diagnosed with PTSD and changed faiths) to focus on others.
Who do you feel has made the biggest impact on nursing?
Who has made the biggest impact on your nursing career?
Download Nurse Bingo Today!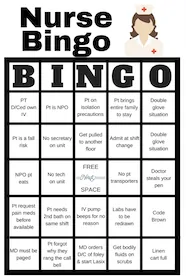 Liven up any shift with a fun game of bingo. See who can fill a row first!
Fill a whole card and lose grip with reality.
Your privacy is protected. We will never spam you.