*articles contain affiliate links*
Celebrate graduating from nursing school with a special and delicious treat! Nurse graduation cookies are the perfect festive dessert for the occasion. Here are the best nursing school graduation cookies for your big day.
Graduating from nursing school is a huge achievement! After the blood, sweat, and tears your graduate (and their friends and family) have endured while working to become a nurse, they deserve to celebrate. You have looked up some Nursing Graduation Party Ideas and now you just need some treats.
And what says "celebration" as well as fun, festive cookies do?
If you're searching for the perfect graduation gift for the nursing school graduate in your life, certain things might come to mind such as a bouquet of flowers, a gift card, or even a personalized stethoscope.
Those are all great, thoughtful gift ideas! But if you really want to make it memorable to celebrate this major career milestone, pick up some nurse graduation cookies!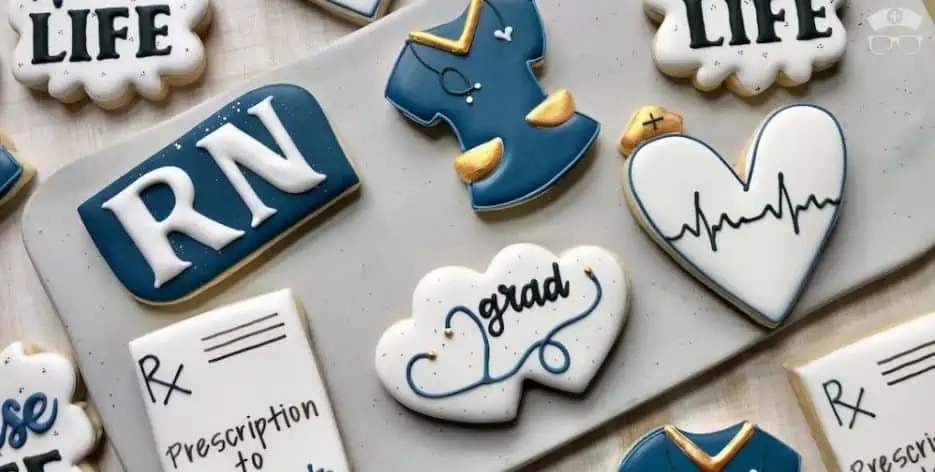 Where Can I Find Nurse Graduation Cookies?
This can be a little bit of a challenge, depending on where you live and your baking skills.
Do you have baking chops you want to show off? Grab some nurse-themed cookie cutters and make cookies yourself.
If you prefer to buy them, there might be some local bakers or cookie decorators near where you live. Etsy can also be a great place to look. Or you can check out some of these online options to have them shipped to you (or your graduate).
Tip: Make sure to plan ahead enough to allow time for shipping to your location.
The 9 Best Nurse Graduation Cookies
Graduating from nursing school is the perfect occasion to indulge your sweet tooth. To help you find just the right ones, here are some fun and tasty nurse grad cookies to help celebrate in style.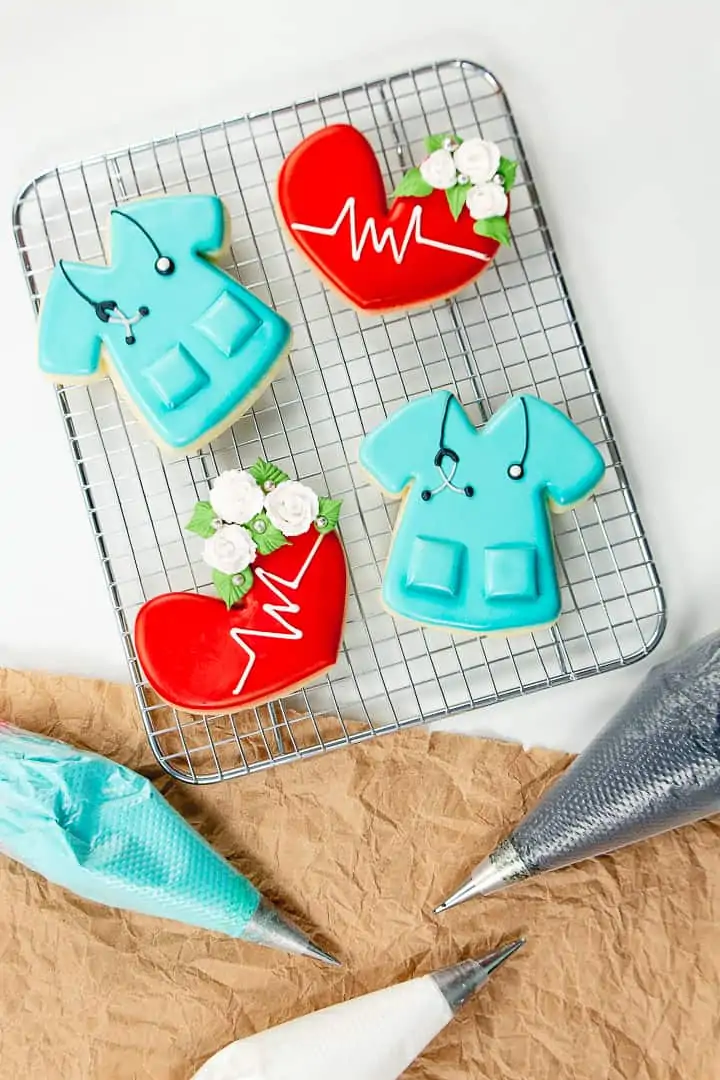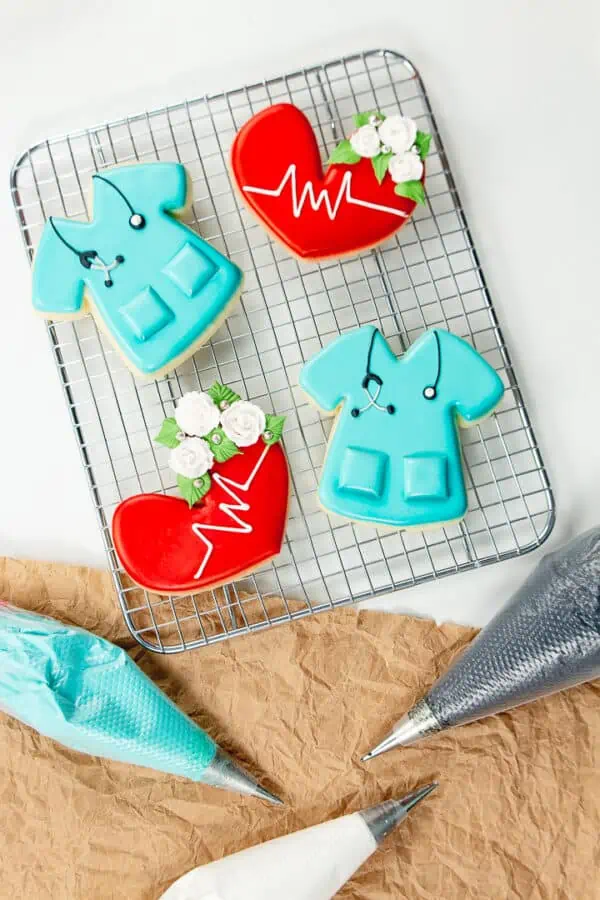 If you have a knack for baking (and decorating) you can make nurse graduation cookies yourself using this tutorial from The Barefoot Baker. There are only two designs, but sometimes simple is best, right?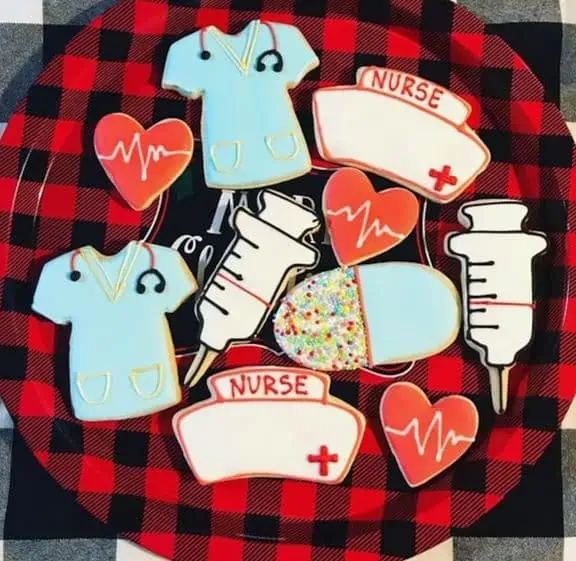 Check Price
Darlann Creations puts time into decorating these cookies with royal icing so they look just right! This set comes with an assortment of different personalizable nurse-themed images such as a nurse's hat, nurse scrubs, a beating heart, a syringe, and more. There are even graduation-focused cookies like a hat and "congrats grad" cookies.
The decorations are impeccable, and who can resist fun sugar cookies? You can choose a set of 12 or a set of 18 cookies and pick your color combinations and personalized messages.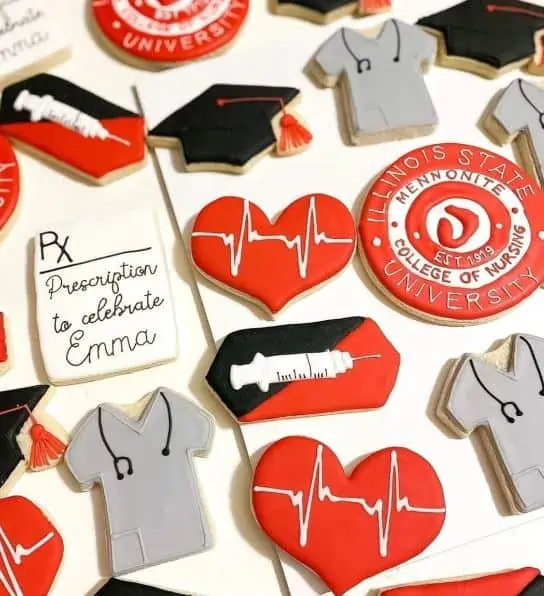 Check Price
Twenty Cookies offers the ability to order from ½ dozen to 4 dozen in a single order. This shop individually wraps and heat seals each cookie to maintain freshness. Design options include scrubs, a beating heart, a graduation hat, a school seal, a prescription pad, and a syringe.
In addition, you can customize and personalize them by contacting the shop and specifying what you want. So you can say "congratulations" for graduating nursing school or even "thank you" for showing your appreciation to that special nurse in your life.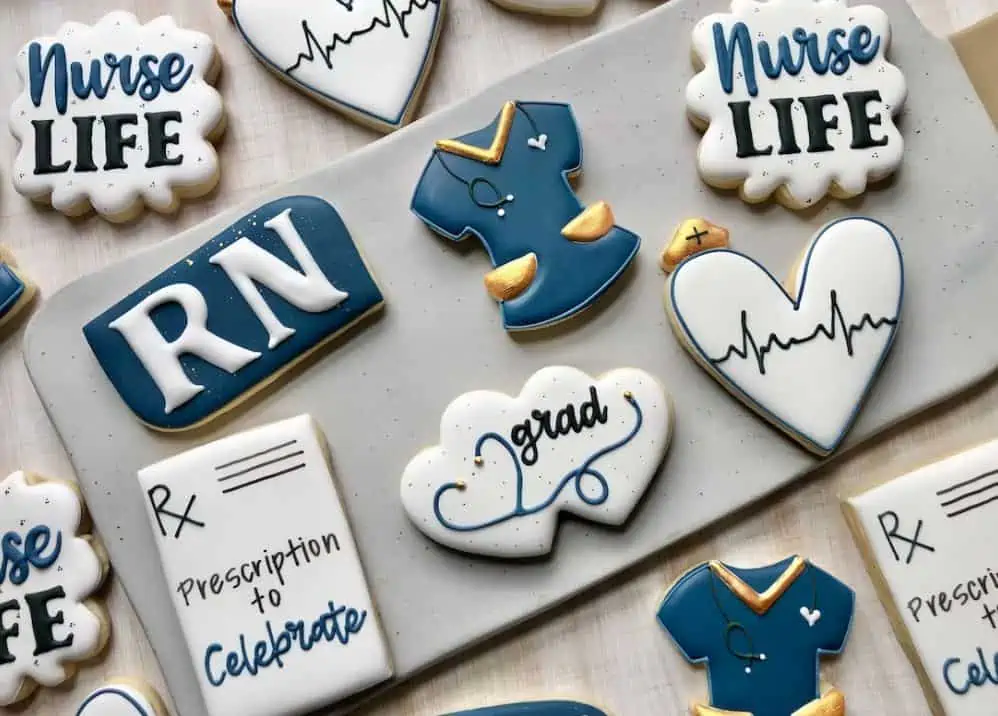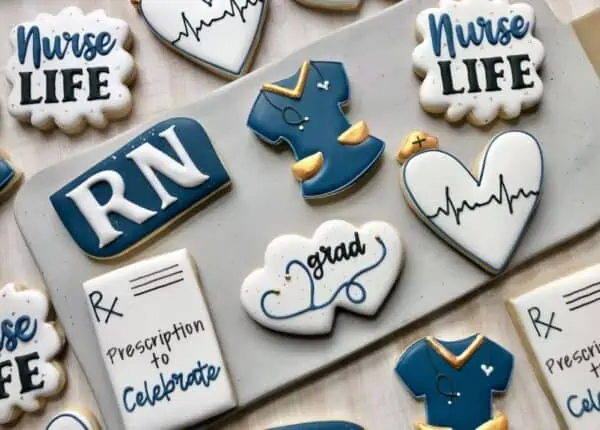 Check Price
Sweet Sage and Lily offer a cute selection of cookies perfect to celebrate this major milestone. For a great price, you get 12 cookies (2 of each design): scrubs, "RN", beating heart, prescription pad, stethoscope "grad", and "nurse life" cookies.
All colors and text are customizable. Note: orders from this shop are placed for a specific date (of the graduation celebration) and shipped out about a week before that date.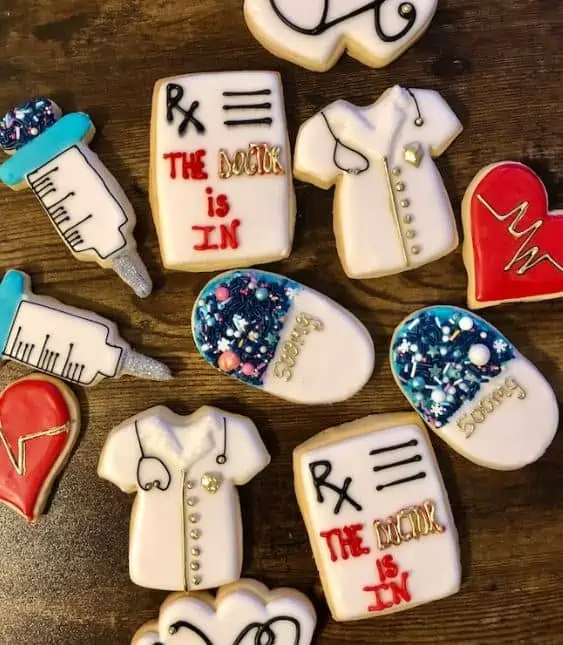 Check Price
Enjoy By Jenn offers nurse graduation cookies that are sure to please. You can customize and personalize the basic design by contacting the shop at the time of purchase (or before). Design options include: "nurses call the shots" hats, pills, scrubs, beating hearts, syringes, and stethoscope hearts.
All cookies are individually wrapped to maintain freshness. The shop requests that you order at least 2 weeks before you need them to allow enough time for baking, decorating, and shipping.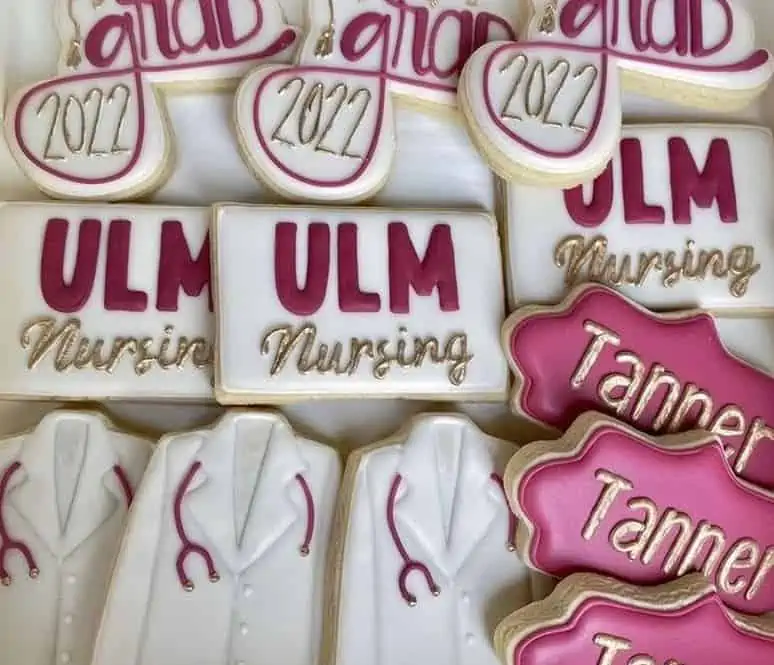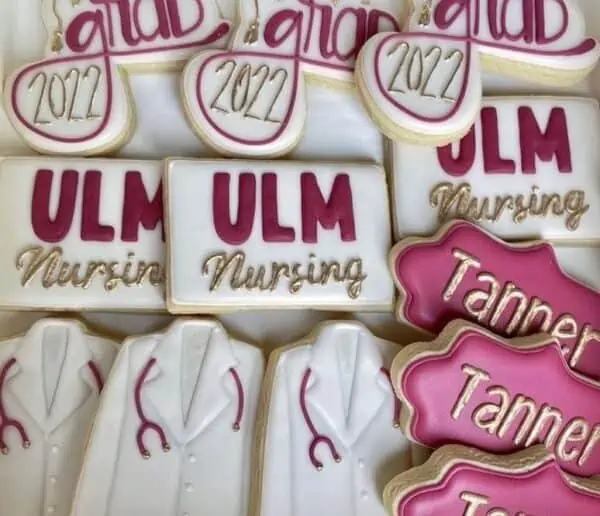 Check Price
Sweet Caroline's Cookie offers orders ranging from ½ dozen to 3 dozen in size. There are four basic designs (grad, name cookie, school name cookie, medical jacket with stethoscope) that can be customized with the colors and text of your choice.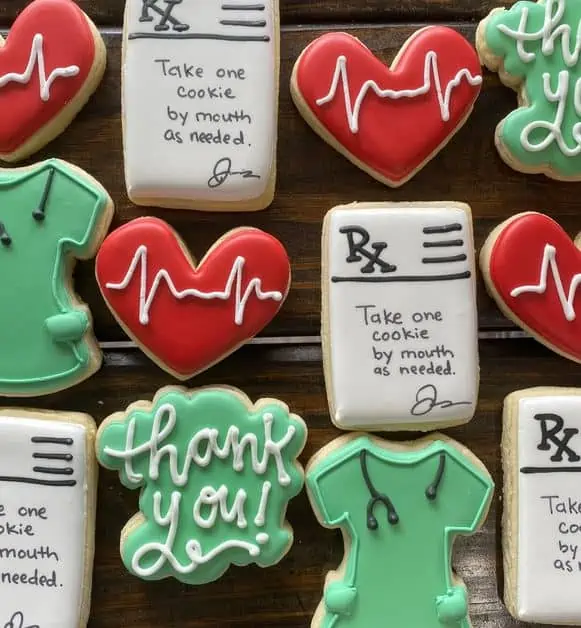 Check Price
Zhuzh Bakery only offers 4 designs (prescription pad, beating heart, scrubs, and message cookie), but they truly cover everything you need for festive cookies to feed a family or a crowd. You can choose between ½ and 6 dozen cookies in order.
Plan to order your cookies about 2 weeks ahead of time, then sit back and wait for your individually wrapped and festive cookies to arrive!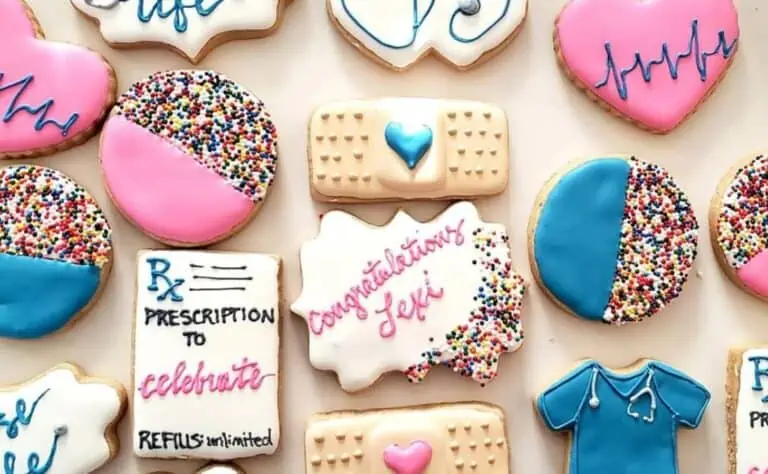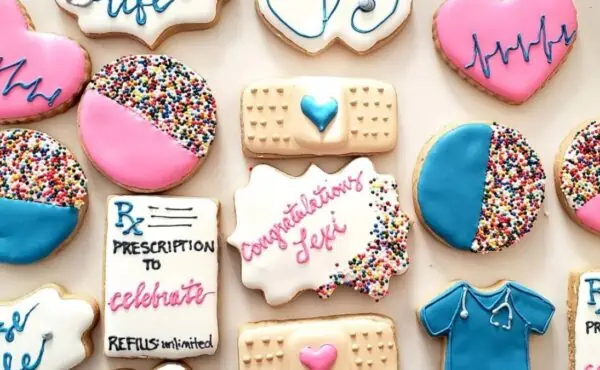 Check Price
Amber's Cake Creations offers 7 different cookie designs to create the perfect celebratory batch of cookies! You will get: "nurse life", prescription pad, bandaid, beating heart, pills, and scrubs designs. Purchase the set as it is or customize it by contacting the shop and specifying the colors and message you want.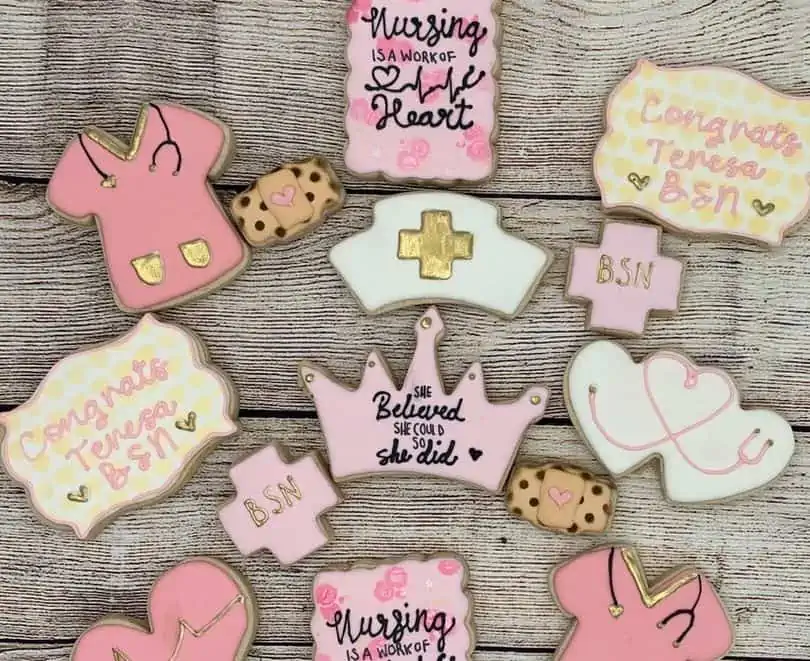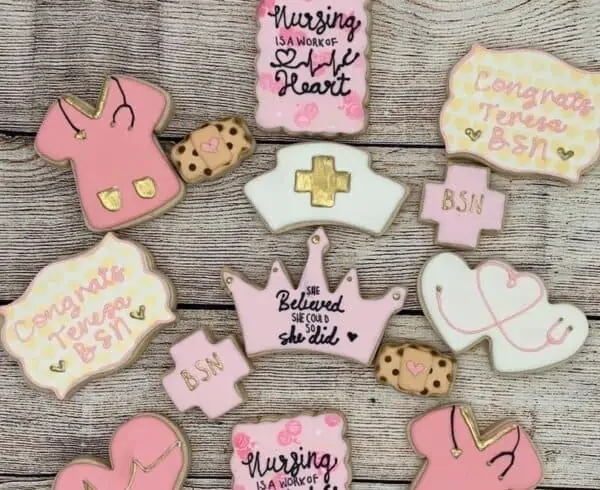 Check Price
All of the other options on this list use basic sugar cookies with royal frosting. These cookies from For Love Of Cookies 911 offers something those other shops don't: different cookie flavors!
Choose between vanilla, chocolate, lemon, almond, confetti, snickerdoodle, and chocolate chip.
Each set has 16 cookies (12 large and 4 small). You can personalize the text and choose between 4 color options for the set.
Graduating from nursing school is a huge accomplishment, so help your grad celebrate this major career milestone! No party is complete without some of these festive nurse graduation cookies.
More Nurse Gift Ideas
Download Nurse Bingo Today!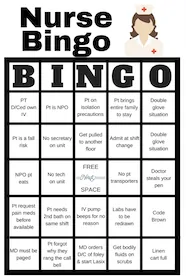 Liven up any shift with a fun game of bingo. See who can fill a row first!
Fill a whole card and lose grip with reality.
Your privacy is protected. We will never spam you.