*articles contain affiliate links*
We all need a little inspiration from time to time, and nurses are no exception. Support that favorite nurse in your life with one of these nurses inspire nurses mug designs that will encourage, motivate, and even make them smile.
Any nurse will tell you that nursing can be a rewarding career that offers the ability to help people, but it also has its challenges. There are many physical and emotional demands that can take a toll on any nurse over time.
So how do nurses manage to stay motivated to continue providing excellent patient care?
Well, maintaining your motivation involves implementing some great self-care strategies and leaning into some inspiration from your co-workers. When was the last time you watched a fellow nurse deal with a challenging situation and think, "wow, that was amazing"?
That idea of nurses inspiring their coworkers is the inspiration for this post! In an effort to appreciate all that nurses do for their patients AND their coworkers as well as a desire to keep passing it forward, I want to share with you some special nurses inspire nurses mugs!
Nurses Inspire Nurses Mug Options You'll Love
Where are the best places to find mugs for nurses? I have found Etsy, and sometimes, Amazon, to be the best places to find personalized and unique items. That said, if you happen to be in a store that sells unique or personalized gifts, you may be able to find the perfect item there.
For the purposes of this post, I'm sticking with mugs from Etsy and Amazon to make them as easy for you to find as possible.
These mugs make great gift ideas for nursing graduates, nursing appreciation week, and thank you gifts. They're also great "thinking of you" gifts for any time! If you have a special nurse in your life that you want to acknowledge, appreciate, and support, check out these great mugs.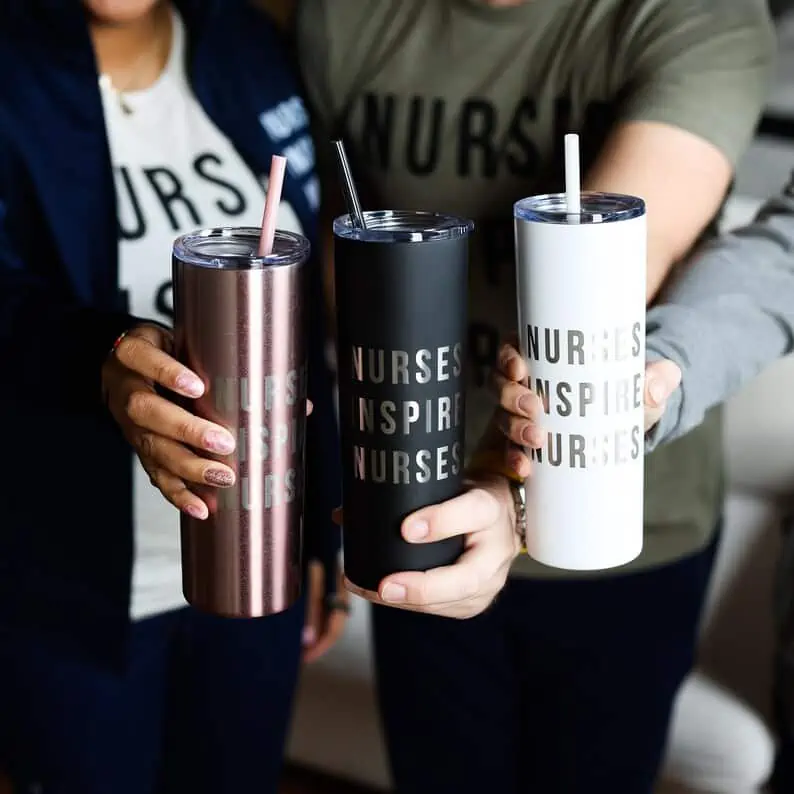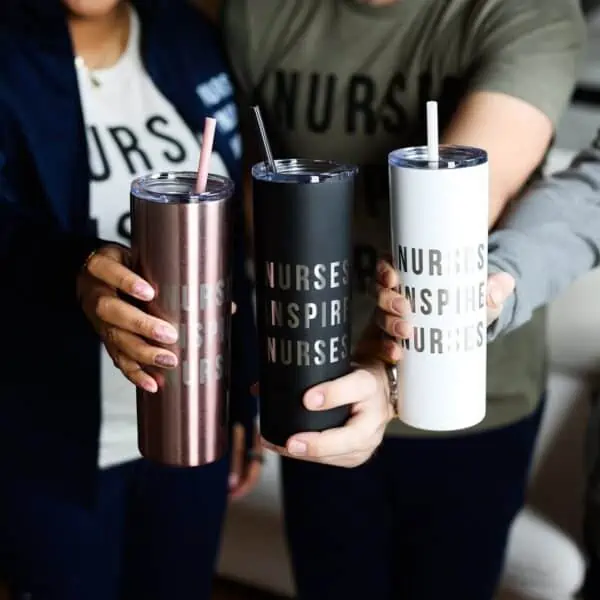 Check Price
Nurses are on the move from the start of their day straight through until the end. That makes a travel mug "essential gear"! This classic design from the Nurses Inspire Nurses store is sure to appeal to that special nurse in your life.
Make sure to check out their other nurses inspire nurses gear while you're there!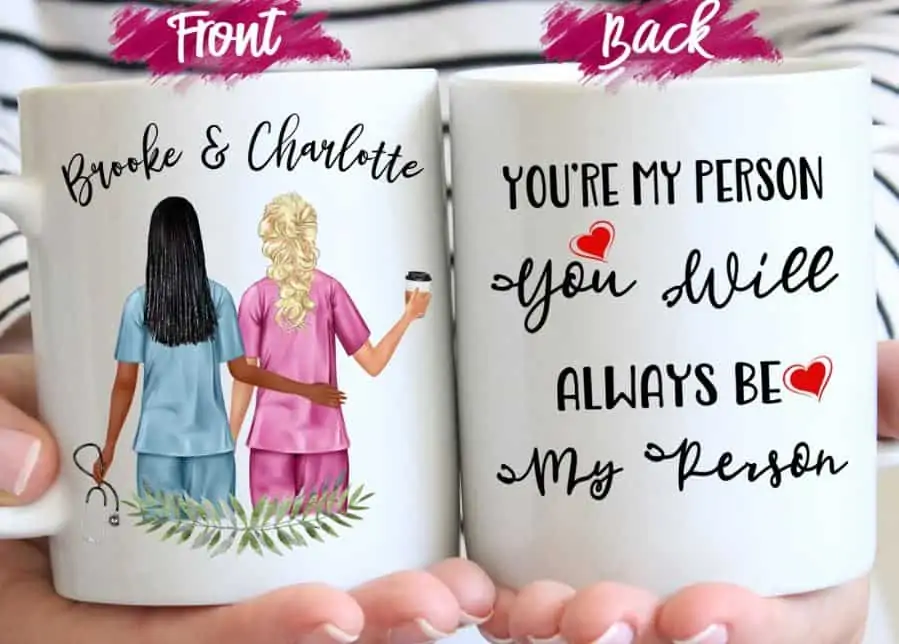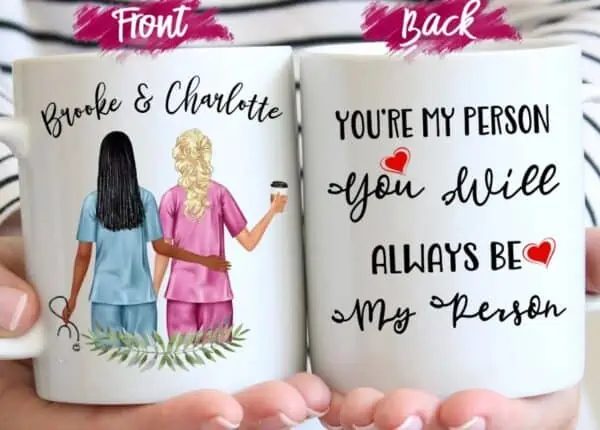 Check Price
Since you spend so much time at work and walking through so many challenges together, it's common to develop close friendships at work. This sweet design from Be Unique Gift Shop makes the perfect gift for your work BFF and will absolutely touch their heart.
Friends, that share coffee together stay together, right?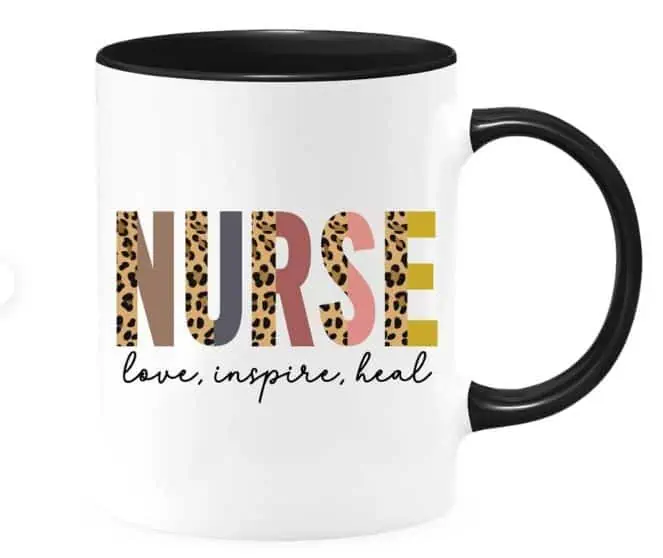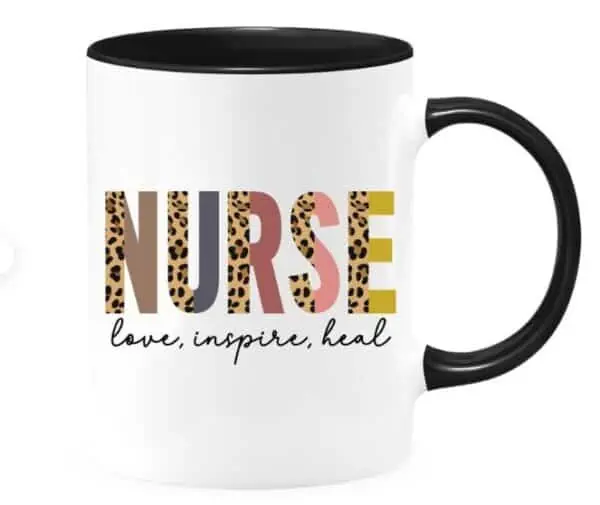 Check Price
You can customize this cute mug with a favorite color and pick from one of two sizes so that you ensure your favorite nurse gets exactly what they love. A ceramic mug like this one from Active Creations Co. is the perfect inspiration to greet any nurse as they start their shift.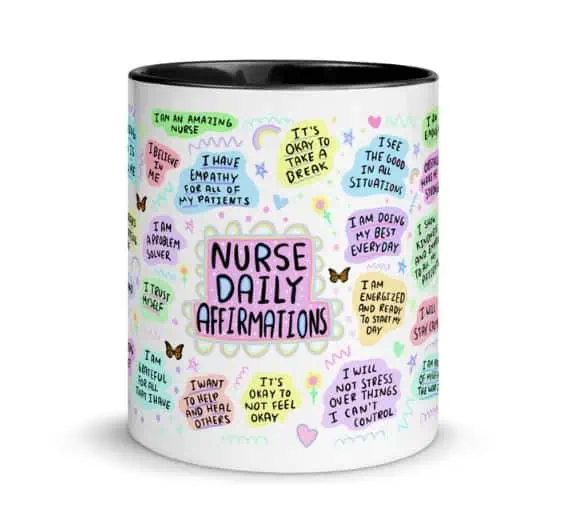 Check Price
All of us have days when we don't feel our best. Thankfully, studies have shown that positive affirmations can work wonders in helping us feel better. This mug from VC Mugs and Candles is covered in affirming statements that will give even the gloomiest of days a ray of sunshine.
You'll see phrases like "I am an amazing nurse," and "Everything I need is within me" on this great mug design.
Check Price
If that special nurse in your life favors tumblers over ceramic mugs, this insulated travel cup offers some great affirmations to help nurses inspire nurses. It has just what any nurse needs to pick them up on those tough days, and they can fill it up with their favorite hot or cold beverage.
They'll get an emotional boost and a mental boost all in one!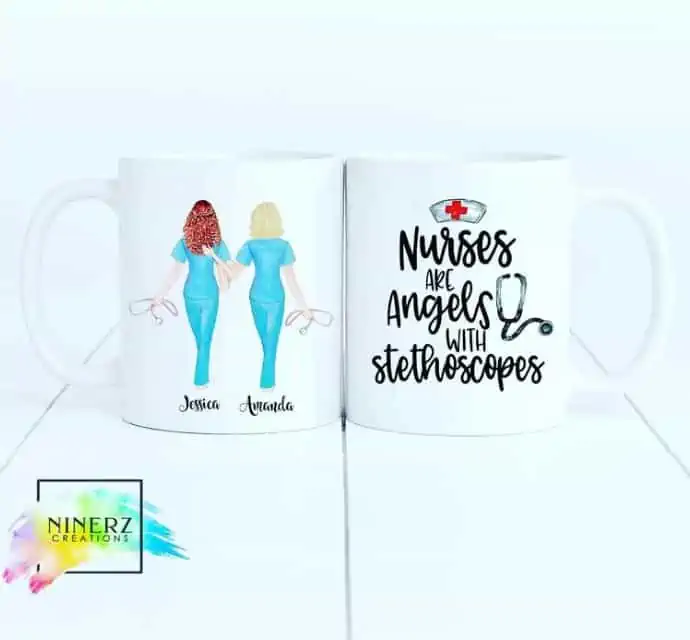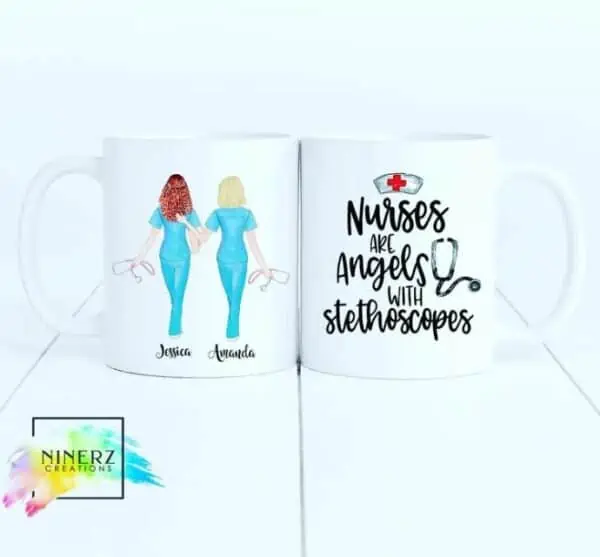 Check Price
How is this for the great nurses inspire nurses mug? No matter how tough any patient or day is, this mug just shows how much each and every nurse is appreciated by the patients they help. Choose from two different sizes and personalize it with other customizable options too.
Check Price
Sometimes we can all have a tendency to forget our "why". Just as nurses inspire nurses through humor or support, another way to inspire is to remind that nurse in your life about their "why". This powerful phrase will help any nurse tap into their desire to help others.
Check Price
This nurses inspire nurses mug shows off just what each and every nurse is made of. Is it sugar, and spice, and everything nice? Nope, it's even better: compassion, courage, selflessness, and a healthy dose of caffeine to keep it all going.
Check Price
Here's an insulated tumbler that will make every nurse who sees it feel empowered and ready to tackle any challenge that comes their way! Plus, it's just witty enough to put a smile on their face after dealing with a challenging patient.
People become nurses because they want to help people walk through some of their worst days to get to the other side. It's a career that requires a dedication that's not only impressive, but it's also heroic to the patients that nurses serve.
But everyone, including nurses, needs some support and inspiration to stay motivated. If you know a nurse who needs a little encouragement right now, I hope one of these nurses inspires nurses mug choices on this list will be exactly what they need!
More Great Gift Ideas For Nurses
Download Nurse Bingo Today!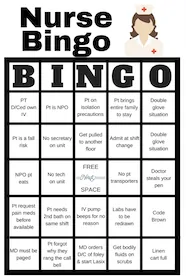 Liven up any shift with a fun game of bingo. See who can fill a row first!
Fill a whole card and lose grip with reality.
Your privacy is protected. We will never spam you.