*articles contain affiliate links*
There are some practical and creative ways to show a nurse how much you appreciate them. And then there are awkward or cringy things you really shouldn't. Learn how to thank nurses and some things you should probably avoid too.
How to Thank A Nurse
Maybe you just went through something traumatic in the hospital and a nurse was there for you. Their kindness, knowledge, and strength is a welcome refuge during scary medical experiences. It's understandable that you'd want to find the nurses and thank them in some way.
Please understand that there are appropriate and inappropriate ways to express your gratitude. It's wonderful that you want to show how much you appreciate them, just do it within the proper boundaries.
That's what I'm here to share with you. That way the nurse will be able to receive your gift with pure joy and no apprehension at all.
Can a nurse accept a gift from patients?
Yes, a nurse can accept a gift from a patient, within reason. Small gifts like a fruit basket, a box of chocolates, a mug that encourages and inspires, or even a warm note of appreciation written to the head nurse are all welcome.
However, it is unethical for a nurse to accept lavish gifts like large sums of money or expensive watches or pieces of technology. Also,  most hospitals have a limit on the monetary value of gifts a nurse can receive. Hospitals I worked at set that value at around $25. So there's no need to invest in something that a nurse can't keep due to ethics or hospital politics.
How To Thank NICU Nurses
NICU nurses have emotionally difficult jobs, caring for babies that struggle to survive. When these babies do get to go home, the nurses feel the family's joy and relief too.
A NICU nurse can also be a pillar of strength during these scary days. If you go through this ordeal, you will probably want to share how much you appreciate the nurse being there for you through all of it.
Here are three really effective and ethical ways you can thank your NICU nurses.
#1 Write It Out
Buy It Now
Handwritten notes mean even more today than they did before the days of social media. Even a short card that says "thank you for always showing up and listening to me," will mean the world to this nurse.
Send a note to the head/charge nurse as well. Let them know what the nurse did right and how much it meant to you. Receiving glowing notes of appreciation from patients doesn't happen very often and it can make a big difference in a nurse's job, especially if they are trying to move up in their career.
#2 Make A Donation in the Nurse's Name
If you want to give the nurse something over the top, you can make a donation to an organization like March of Dimes in their name. This way they know that their work meant so much to you that you gave money to help fund research so more babies survive premature birth.
#3 Send Flowers
Buy It Now
Finally, just giving them a few flowers or a small bouquet with a handwritten thank you card can mean the world to them. Even their favorite latte and a hug can turn a hard shift into something they can handle.
Just because an action seems small doesn't mean the impact is small.
How to Show Appreciation To A Nurse
When you want to show appreciation to a nurse, put yourself in their shoes. What kind of things would you like to receive from someone that you interacted with while at work? Respect their personal and ethical boundaries, but don't let this fear stop you from expressing your thanks.
Be Genuine
The first rule of thanking a nurse is to be genuine. Tell them what they did that made such a huge difference. Don't be over the top or make a huge show of it. Sincerity is such a rare thing these days. When it's expressed, it means so much to the nurse that worked for you.
Keep It Small
Next, keep the token of appreciation small. Nurses aren't allowed to accept large gifts, so please respect this rule. A small bouquet of flowers, a tiny box of chocolates, a cup of coffee, or their favorite candy bar is all acceptable.
Give Something They Can Share
A common rule in lots of hospitals is that if a patient wants to show appreciation, they have to give a gift that can be shared with the entire shift. This avoids any potential ethical quandaries about the nurse giving special attention in the hopes of getting any kind of personal gifts.
What Not To Do When Thanking A Nurse
When you are expressing your thanks to a nurse, please avoid these blunders. Even if you mean well, making these mistakes could affect the nurse's job.
#1 Do Not Give Expensive Gifts to a Nurse
Buy It Now
It is completely unethical for a nurse to accept expensive gifts from patients. This can be seen as a bribe for giving extra good care, so it isn't allowed.
If you try to give it, your gift will be rejected, so don't even try.
#2 Don't Make a Big Show Of It
Next, don't make a big social media show of your gift complete with live video. If the nurse made a difference, thank them personally and privately. Maybe even write a letter to the head nurse praising them for a job well done. But creating a social media experience will embarrass the nurse and could get them in trouble too.
#3 Don't Make it A Personal Gift
Finally, give gifts the nurse can share with the entire shift or ward. This can be things like boxes of chocolates, popcorn tins, or even a box of Panera bagels and cream cheese.
When the entire staff accepts a gift, you are avoiding the ethics issues entirely, it's a great way to express your gratitude safely.
It's Ok To Thank A Nurse
It's so important to express how much you appreciate what they did for you. There just isn't enough gratitude shared every day. And as nurses, we do give so much without ever knowing if it made much of a difference.
Thank you for wanting to express your gratitude. Spread kindness around and this world will become a better place.
For More Ideas on How to Thank Nurses check out:
"Thank You" Greeting Gift Stylus Pens For TouchScreen Devices

Nurse Craft Bags (1 Dozen) (Original Version)

40 Thank You Cards with Envelopes – Floral Watercolor with Yellow Envelopes – Weddings Bridal Showers Baby Showers

Thank You Gift Pen for Your Boss Coworker Wife Husband Dad Mom Doctor, 3 in1 Stylus+ Ballpoint Pen+LED Light up Flashlight-Compatible with Most Phones and Touch Screen Devices, Multicolor 7 Pack

12-Piece Gift Tumblers filled with Hershey Bar & Popcorn /Awesome Thank You/Employee Appreciation Gifts/ Admin Office Gifts/Holiday Mug/Teacher Appreciation Gift/Corporate Thank You Travel Mugs/Nurse's Day Gifts

Download Nurse Bingo Today!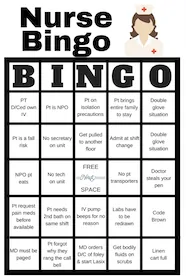 Liven up any shift with a fun game of bingo. See who can fill a row first!
Fill a whole card and lose grip with reality.
Your privacy is protected. We will never spam you.