*articles contain affiliate links*
Guest Blogger: Kati Kleber – FreshRN – Author of Becoming Nursey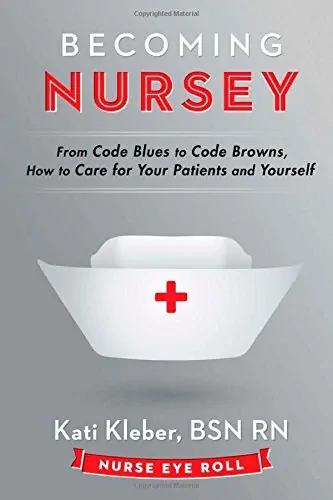 First Days as a Nurse
When I first walked onto the busy cardiovascular and thoracic surgical step down unit on my first day out of nursing school in 2010, I had no idea what I was doing. All of those things that seemed obvious in school were suddenly not so obvious. The protection school provided me was gone because suddenly these patients were responsibility. I was a licensed registered nurse that was supposed to know what I was doing – but I didn't.
Why Isn't This Stuff Written Down Anywhere?
As I started learning things on the fly, day by day at the bedside from my amazing coworkers, I thought to myself, "why isn't this stuff written down anywhere?!" So, that's what I did. I wrote down all of the things I learned on the job as I started out. Once I got my head around what being a nurse actually looked like from the bedside, I wanted to make it easier to understand for those that were just getting ready to walk through that journey.
Unasked Questions in Nursing
I also noticed that there are a lot of unasked questions in nursing. I started to wonder why no one even asks these very necessary questions… and then I realized something. People don't ask questions because they don't want to look stupid for asking the question in the first place. Additionally, people don't want to admit their mistakes because they don't want people to think, "how could he or she not know that, he or she is nurse. Nurses are supposed to know those things."
Because of that, people don't ask the basic, simple, and sometimes complex, questions they need to ask to make themselves better and their patients safer – because we're scared of not living up to our nursey title. I mean, we just got out of school, so we should know everything.. right? Wrong. This is the time we need the most support and need to be the most honest about what we understand and don't understand. And experienced nurses need to respond with understanding, not frustration.
Nurses Eat Their Young
I believe this insecurity eventually manifests into the whole "nurses eat their young" phenomenon. This attitude produces a false sense of confidence and security, which only grows when you demonstrate that you're smarter than others. So, eventually we have a culture of scared and alone newbies, overly confident (yet experienced) mean nurses, and the nice (but quiet) nurses that try to stay out of the unit culture because it's so unhealthy.
How messed up is that?
Being Honest About What Nurses Know
I believe that if we're truly honest about what we know and what we don't know and the mistakes we've made, and people aren't judgmental or condescending in response, we can then start to break down that barrier. I believe that this ultimately makes our nurses happier and our patients safer.
Being honest and humble is the first step to being an awesome nurse. Conversely, being gracious and understanding is the first step to nurturing awesome nurses. Once this is done in a healthy way, I think we'll all discover more personal and professional satisfaction with our jobs.
We All Deserve to Be and Have Awesome Nurses
We're all patients ourselves at some point in our lives and we all deserve to have awesome nurses every single time. I truly believe that starts with instilling confidence, support and promoting a humble spirit in our front line nursing staff. I wrote this book to help new nurses be more confident. I also wrote this book to identify with seasoned nurses that have had similar experiences and to help them better understand and support the new nurses on their unit.
We're all in this together; it should not be a fight for survival for new nurses. It's a team working together towards the same goal – to give every patient remarkable and supportive care and support each other in doing that. Patients may forget your name, but they will never forget how you cared for them. And that starts with caring for each other.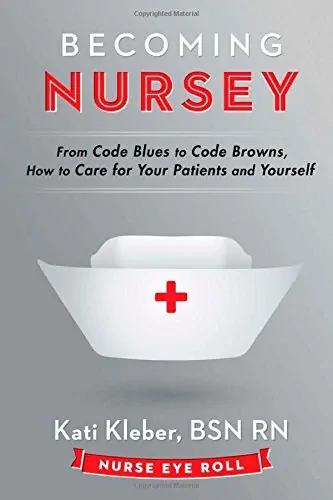 Nursing isn't a career; it's a calling. Learning how to be a great nurse at the bedside while maintaining your sanity at home is no easy task. This book talks about how to realistically live as a nurse, both at home and at the bedside.. with a little humor and some shenanigans along the way. Comprised of both stories from the bedside and practical and honest advice, this book will provide you the tools you need to become a safe, caring, and efficient nurse as fast as possible. Based off of the popular nursing blog, Nurse Eye Roll, this ebook aims to ease the challenging transition from overwhelmed graduate nurse to successful bedside nurse. Get ready guys, it's about to get real, real nursey

Read More From Nurse Eye Roll
About the Author: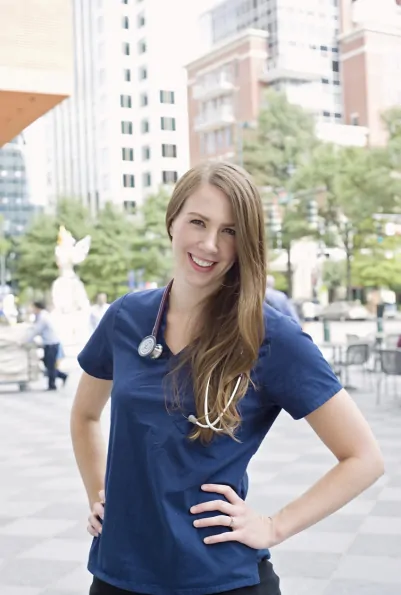 From Kati Kleber herself:
I'm a twenty-something married lady with two adorable rescue dogs. I work in critical care in Charlotte, NC and graduated from Iowa Wesleyan College in 2010 with my Bachelor's of Science in Nursing. I played basketball for a short time in college before nursing took over my life. I love writing for nurses and those interested in the field. I love critical care, geriatrics, and neuro. I enjoy trying (and occasionally ruining) Pinterest recipes, trying new beers + wines + coffees + teas, all things Apple, and buying my clothes in talls. I write a nursing blog (FreshRN) and am a content creator at Nursing.com. Oh, and if you quote the Office or 30 Rock, we're instantly best friends.
Download Nurse Bingo Today!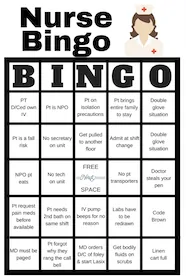 Liven up any shift with a fun game of bingo. See who can fill a row first!
Fill a whole card and lose grip with reality.
Your privacy is protected. We will never spam you.