*articles contain affiliate links*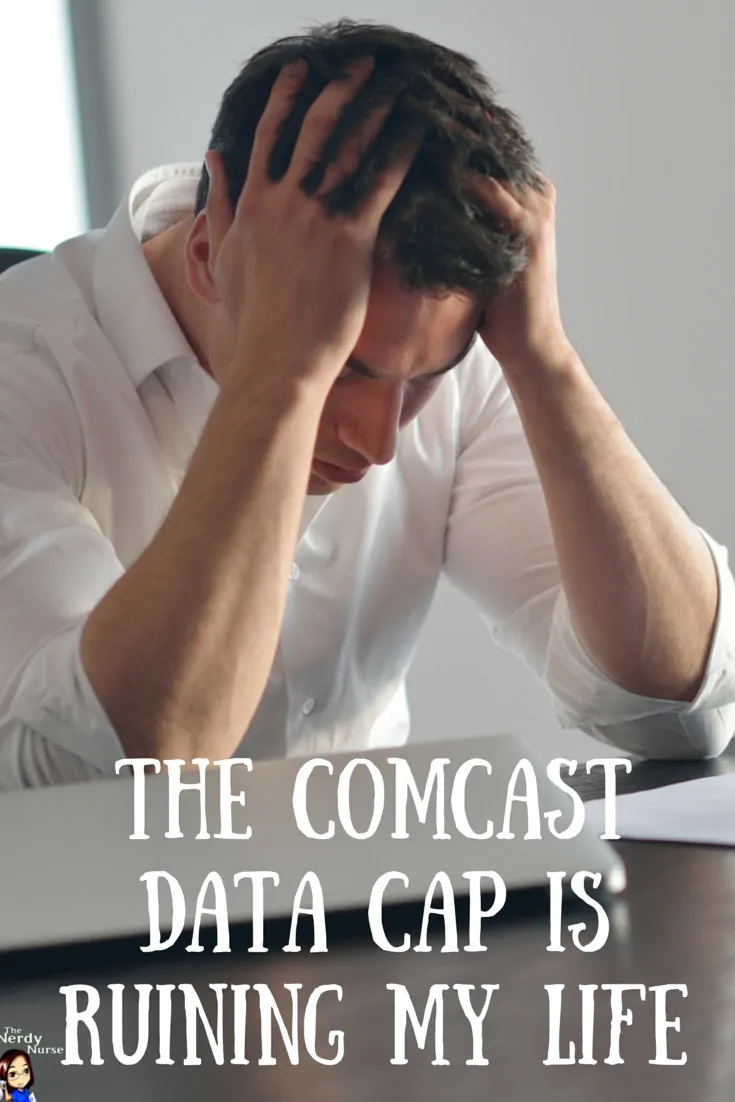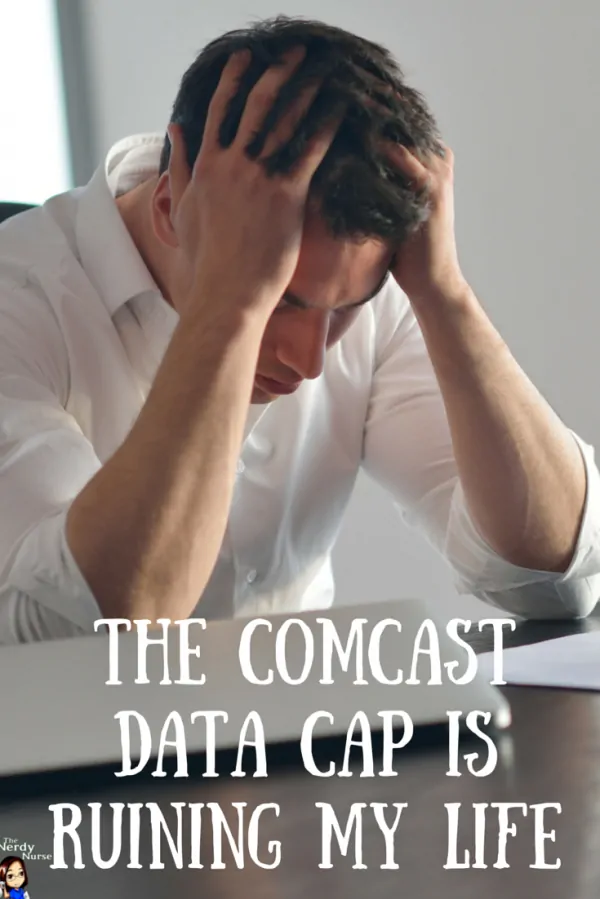 The Comcast data cap that has been put in place within the last year is causing serious issues in my household. For the first time in forever (yes, I just quoted Frozen), I am forced to be conscious of my internet usage or else be forced to pay the price (literally). At $10 per extra 50gbs, it can add up fast. To make matters worse, it's leading to disputes between my husband and I over who is entitled to watch Netflix, update our iPhones, or any other data-hogging activities. We are also frequently forced to have conversations with my son over whether or not he can watch another Youtube video.
It's stress that I just don't need in my life.
Comcast Data Cap?
From what I have been able to gather, before 2008 Comcast had no set data limits. There were some instances of throttling, but few "cut-offs" or limits prior to that. However, due to bittorrents and other bandwidth hogs, or so they claim, Comcast put data caps into place in 2008. Most customers were given grace bandwidth after that point, but many Comcast customers were actually cut off when reaching 500-800gbs of data usage. In some cases, customers were locked out of Comcast internet for months or even a year for failure to monitor their internet usage.
In 2008, Comcast made the data cap official.
We Didn't Need As Much Data in 2008
Back in 2008 we didn't use nearly as much internet as we do today. Comcast stated that the median average for their customer's internet usage was between 2-3gb per month. A survey in 2007 reported that over half the respondents used less than 100gb per month.
People used the internet differently in 2008. Netflix only began streaming content to PCs in 2007. It would take several years for Netflix, Hulu, Amazon Prime, and other content to be readily available on smartphones, internet TVs, tablets, and other streaming devices.
The very first iPhone was released in 2007 and wasn't widely adopted until Verizon began offering iPhones in 2011. They are now cemented into our way of lives, and it's hard to imagine the world without them. Consider the data we use from these devices alone and you'll agree that we consume way more data now than we did back in 2008.
Data Caps Suspended
In 2012, Comcast began testing a new data cap program in several markets and increased the data cap from 250gb to 300gb per month. If your data usage exceeded the 300gb allotment, you would automatically be charged an additional $10 per 50gb for data used. However this only applied to a few target markets, and the rest of Comcast customers had the data caps lifted and there were two glorious years of internet usage without the fear of exceeding the Comcast data cap.
These were the good years.
The Comcast Data Cap Return
In early 2014, Comcast began imposing a data cap in certain markets. The new capped plans include 300gb of data regardless of what your broadband speed might be. If you exceed the allotted 300gb, $10 will be charged for each increment of 50gb. Except for Tucson, Arizona, who is somehow blessed with 600gb of data on the Extreme 105 plan.
The markets affected include:
Huntsville and Mobile, Alabama
Tucson, Arizona
Atlanta, Augusta and Savannah, Georgia
Central Kentucky
Maine
Jackson, Mississippi
Knoxville, Nashville and Memphis, Tennessee
Charleston, South Carolina
I was fortunate enough to be included in the Atlanta market. You don't be too jealous of me, however. Apparently Comcast plans to reimpose it's data limits on all customers within the next 5 years.
But for now, I will bear the burden for you.
We Like Our Internet and Lots of It
We're a connected family.
My husband plays online games like Destiny, Call of Duty, and several other Xbox One titles. He has also recently developed an obsession with the show Parks and Recreation. Before that, he was in love with The Office.
My son watches Youtube and Netflix. He's used an iPad since he was 2. He's been reading since he was 3. Consequently, he has a larger vocabulary at 5 than many adults I know. So I don't buy the argument that technology stunts a child's ability to learn. If anything, it has amplified his knowledge.
I work from home and spend 8-12 hours a day online. Occasionally I stream music and have been known to watch an episode or two of the Gilmore Girls since it became available to stream on Netflix.
We have no less 3 computers, 2 tablets, 3 smartphones, 1 Roku, 1 Apple TV, 1 Chromecast, and 1 smart TV in our home. At any given time at least 3 of these devices are being used concurrently.
We like our internet, and we like it a lot.
Making a Choice About What Data is Important
Thanks to Comcast's recently imposed data limit, I know have to make a choice about the data I consume. I can no longer switch on the Gilmore Girls for a quick pick me up. I can't listen to something that is not at all age appropriate on Pandora to get me motivated to clean the house. I can't let my son watch another Minecraft video on youtube without fearing we'll meet our data cap more quickly. Because it's not a matter of if, but when.
The funny thing is that according to the Comcast data calculator I should not be exceeding the 300gb limit, but somehow I am. They also state they cannot give an itemized list of usage stating "We don't track that information," but we all know they do.


What About Business Class Internet?
We have actually been so concerned about our internet usage and the potential for it to cost us greatly that we've looked into business class internet. Of course, Comcast is the only thing available in our area. The plans start at $70 a month and go from there. To get a plan with speed comparable to what we currently have, it would be $200 a month. We'd also be forced to sign a contract for a minimum of 12 months. If we moved, we'd have the choice of transferring our service to our new address, the new homeowner or paying a hefty fee. In fact, recently a man was faced with a $3,000 fee after signing a Comcast business class internet contract and then moving out of their service area. It was only dropped after the story began hitting the media. That's a gamble I don't want to take.
Check Your Comcast Data Usage
Comcast has been thoughtful enough to give us a handy tool to check our data usage. You may do so here.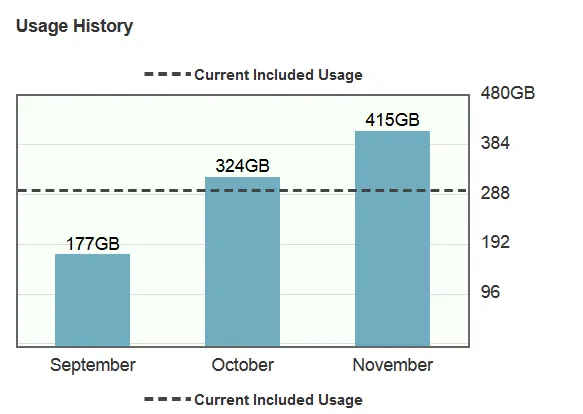 Nearly every time I check I am reminded of the restrictions that have been placed on our lives and the arguments that occur when I ask my husband to stop binge-watching Parks and Recreation or Trailer Park Boys. Every episode cuts into my child's college education and at this rate he's probably going to have to settle for community college or forgo the experience altogether.
Having an an argument about how watching a TV show may or may not prevent your child from growing up to become a software engineer is not exactly the way I thought I'd be spending the Friday nights in my late 20's.
Comcast Data Cap Pop Up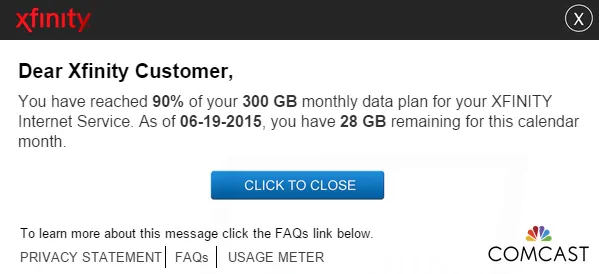 Starting in May, I began noticing a pop-up notifications alerting me that I was approaching the data limit. This is in addition to the email and phone call I had already been receiving. I'm thinking this notification is a bit much, and it almost seems like it is mocking me. The phone call almost always comes first and this pop up usually just results in putting me a bad mood.
Is Comcast Removing the Data Cap?
Since writing this article, I've heard increasing rumors that Comcast will be removing the data cap. These have come from Comcast technicians, Twitter friends who have roommates and friends that work for Comcast, and other sources. I have called myself to ask if the data cap will be lifted, but I have been told "no" by every representative. I frequently speak with the @ComcastCares representative on tTwitterand nearly everyone of my tweets is replied to with a link to their policy referencing the data cap. So while I'd like to give hope that the data cap will be coming to an end in the near future, I haven't heard or read anything that clearly indicates this is the case.
What Can You Do to Get Rid of the Comcast Data Cap?
Nothing.
We'll, probably nothing.
Data caps themselves are a funny thing, and it's worth examining how they work. Even though extra data used costs Comcast nothing, or practically nothing, there's enormous profit to be made in enforcing it, and Comcast uses its lobbyists to give millions of dollars to politicians making it nearly impossible to get legislature against the media giant. In fact, in 2014 Comcast spent $17,020,000 on special interest lobbying activity.
Comcast is the biggest provider of home internet service in the United States and has been given the lowest customer service rating in a recent survey. So customers already hate them, and I'm sure they get an earful about how terrible they are on a regular basis. Even so, I'm sure they just cry all the way to the bank and wipe their tears with wads of money because in 2013 Comcast brought in $64.657 billion in revenue.
But we shouldn't go silently into the night and accept our data-altered lifestyles just because Comcast says so. So here are a few things you can do about the Comcast data cap:
File a Complaint with the FCC
News reports state that the FCC may look into Comcast's data caps if they are implemented nationwide. However, those of us are in test markets will need to act now if we want to get something done sooner. You cane file what is called an "informal complaint" (which just means without paying a fee) online at https://consumercomplaints.fcc.gov/hc/en-us. A Reddit post event suggests that if you file a complaint with the FCC about the data cap that it will be forwarded to Comcast and a high-ranking customer service representative called an ESL will likely suspend the cap for you.
Monitor Your Data Usage and Argue for the Fees to be Removed
One of the most frustrating things about the Comcast data cap is that they don't tell you what content, activities or devices are hogging all the data. In many cases (myself included) data continues to be consumed even when you are not in the home. This leaves many to question the validity of the data use stated by Comcast.
To fight them directly on your data overages you need to be able to support your claims with facts. One of the best ways to do this is to monitor the data in your household with your own wireless router. In order to do this, you will need to make sure your router supports 3rd-party firmware and can use DD-WRT, or another firmware, to monitor the data usage of all you devices in your household.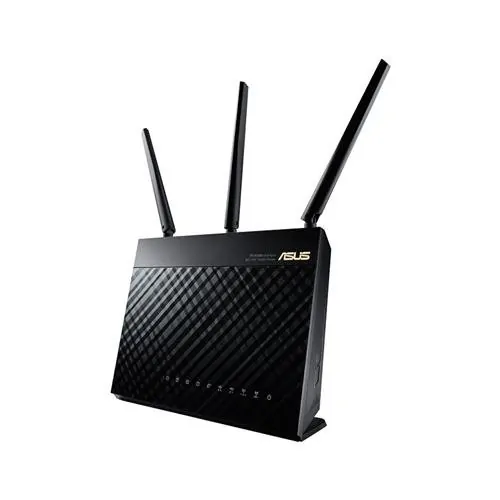 The Asus RT-AC68U Dual-band Wireless-AC1900 Gigabit Router is a good choice, but there more routers available and many other types of firmware that support data monitoring and a ton of routers that support the firmware.
Find out more details on How to Monitor Your Internet Bandwidth Usage and Avoid Exceeding Data Caps
Stop Using Comcast's Modem
Most people are using the modem that Comcast provides. Unfortunately, modems they typically provide are unreliable, have terrible wifi, and cost you $10 a month! I've had multiple Comcast technicians tell me how bad their modems are and how frequently they have to be replaced. Also, many have reported that once they replaced the Comcast-provided modem with their own, their data usage was sliced in half. If you are using Comcast's modem, replace it today. You can pick up a Motorola ARRIS SURFboard SB6141 DOCSIS 3.0 Cable Modem for around $80 and a basic wireless router for $20. They will pay for themselves in less than 10 months because you'll be saving that $10 a month and potentially overage fees.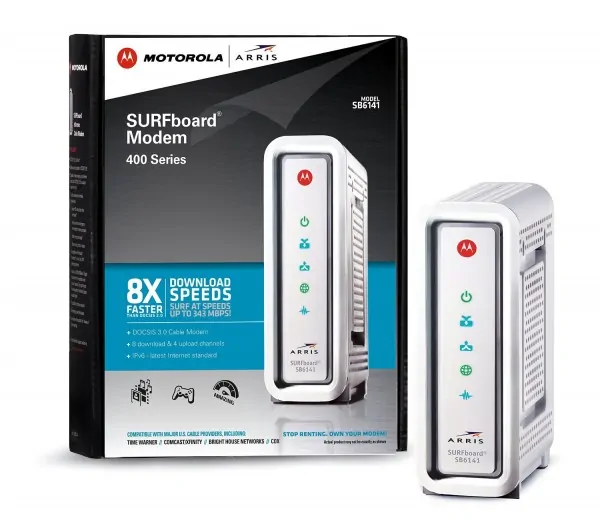 Move to a Place With More Internet Options
If relocation is an option, then you can perhaps find another internet provider without a ridiculous and unadjusted data cap. Google Fiber is ever-expanding, and if fast and limitless data is important to you, it might be worth relocating to one of the current or emerging Google Fiber markets. This is an option I am seriously considering. When Google Fiber actually exists in Atlanta, I will begin the hunt for my Google-Fiber-accessible dream house.
Call or Tweet Comcast and Complain
1-800-COMCAST – @ComcastCares
With most companies if you call and complain enough they change their practices for fear of losing customers. Most companies don't have a monopoly on a market, and the fear that you will leave and go to a competitor is a real and pressing danger to their bottom line. This is not usually the case with Comcast. In markets where Google Fiber or other competitors exist, however, customers can demand a lot more from Comcast, and they will often deliver. But in markets where there isn't competition your have less bargaining power. However, you should still call and express your frustration and disappointment. You should make it clear that other companies do not have data caps and those that do usually don't enforce them. Rolling over and taking it is the last thing you should do.
Stay Informed About Comcast Data Caps and Other Broadband Limits
Even if you're not currently affected by a data cap, if you're a Comcast customer you will be in the near future. Sites like Stop the Cap will keep you informed on broadband data caps and other internet restrictions. Make sure you stay up to date on these caps and take any opportunity you can to express your dissatisfaction. The moment you read that the is cap coming to your area call Comcast to complain and ask your friends and neighbors to do the same.
Adjust Your Netflix's Setting
By default, Netflix is consuming a ton of data to give you the most beautiful picture possible. When you're on a stingy broadband provider like Comcast, you have to conserve where you can. If being able to see the pores of skin of what we assume are flawless movies stars isn't high on your priority list, then this might be a viable option to help shave off some bandwidth. By adjusting your Netflix data usage you can shave about 90%  (3gb per hour down to 0.3 gb) off your streaming video streaming bandwidth total.
Share This Article
I've called Comcast to complain until I am blue in the face. We need numbers to really make an impact on this issue. Comcast needs to know that the data caps that have only been adjusted 50gbs in the last 6 years are unrealistic and not conducive to modern lifestyles. They need to know that data caps are only adding to the disgust many of their customers already have for them. Comcast needs to be spending so much time and money on phone support for complaint calls about the data caps that the extra money they are trying to squeeze out of us for going over the data cap is just not worth it.
Sign This Petition
We need to come together in large numbers to let Comcast know that these arbitrary data caps are not okay. Sign this petition to get the data caps removed.
Call Comcast. Alert the Media. Get the Word Out.
Technology is evolving too fast to live in a world with data caps.