*articles contain affiliate links*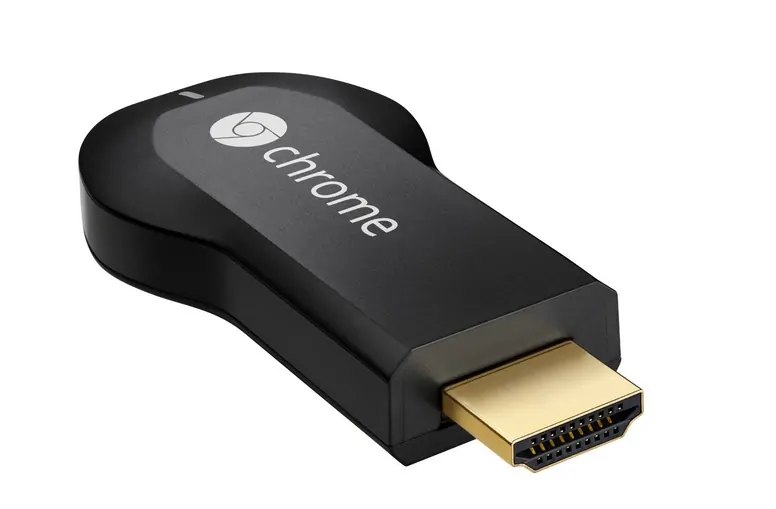 While we love Apple TV, we wanted to explore new technologies and help answer the question: Is the Google Chromecast HDMI Streaming Media Player worth it?
Admittedly, I am not as gushing as many of the Apple fan girls and boys, but I totally dig my iPhone, iPad, and even my Apple TV. But these are just a few examples of how much we full on Nerdgasm over all things Apple. So when a product is released that throws a beat down on one our Apple products we  figured we owe it to you to let you know. For this very reason, and well, because it's awesome and CHEAP, we wanted to provide you with a Google Chromecast review take some time to tell you why Chromecast may be a better option than Apple TV.
Google Chromecast HDMI Streaming Media Player Review
When we received out Chromecast adapter the first noticeable difference is size. While the Apple TV isn't very big itself, comparably they look like child and adult side by side. The dimensions are 72mm × 35mm × 12mm with Apple TV a giant in comparison at 28mm x 197mm x 197 mm, making this fight seem mismatched. As they say big things come in small packages. And although it's smaller in size, the Google Chromecast sure hits hard. They do many of the same functions including stream media to your TV and shares screens (in some manner) from your devices to your TV.
However, there are some differences that are worth mentioning. For one: the Chromecast is a tiny adapter that plugs into your television HDMI and USB (for power) ports in the back. Apple TV needs to take up some actual space on your entertainment center not much, but still its takes room. The Chromecast takes zero space dangling hidden in the back. There are also differences in the types of media available for streaming. For example, currently Chromecast supports Youtube, Netflix, and Hulu as well as any content that is viewed on a Chrome tab and shared via screencast. Apple TV, has many more native content streams available and allows for screen casting. However, what Chromecast lacks in native content streams it makes up for in it's screen casting and low price.
We love to have guests over and stream funny videos or pictures onto the TV eliminating the need to pass your phone around or have a large group huddled around you straining to see the latest Batdad quip from YouTube on your tiny device. Even then it sometimes turns into a game of video poker to see who can bring up the funniest or best video to get a rise out of the group, but not every phone has mirroring and in that the Apple device falls short. Chromecast easily remedies that with simply downloading the cast app and connecting to the device inside the local Wi-Fi network, thus allowing all to join in and stream Youtube right to the TV nice and simple.
As I said earlier it's in those subtle differences that won me over to the Chromecast side after realizing I could queue up multiple videos inside YouTube while streaming. I literally loaded up my que and played over an hour of videos from phone to TV as I relaxed calmly with my phone on the nightstand next to me. I never needed to fumble around and try to load up something to watch, Chromecast provided me with  a seamless mobile to TV experience I had been craving. That's another round for the Chromecast, sorry Apple TV we still love ya though. Chromecast comes nicely priced at thirty-five dollars with Apple TV costing around ninety-nine. Oh yea did I mention you can stream your Google browser from any computer? Game set and match Chromecast with the far and away victory and the tech crowd goes wild.
Pick up your own Chromecast  (with free shipping) via Amazon today.