*articles contain affiliate links*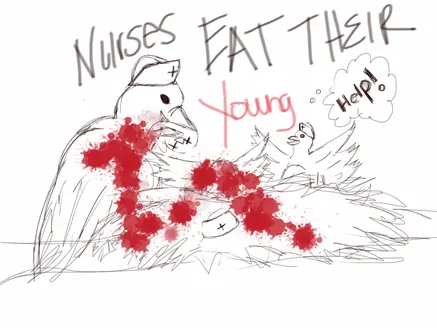 The phenomena that is often laughed off in the nursing profession when nurses refer to it as how "Nurses Eat Their Young" is known by many other terms. These include: Bullying, Horizontal Violence, Lateral Violence, Hostile Work Environment, Harassment, Nurse to Nurse Violence,  Horizontal Hostility, and likely many more that I have not directly stated.
When you are victim experiencing lateral violence it is very easy to attempt to write the treatment you are receiving off a necessary due you must pay in order to join the nursing profession.
It's not.
Lateral violence is an issue that hinders nurses from reaching their full potential as professionals. It takes up valuable clinical time that can be spent on patient care. And it often forces many excellent and skilled individuals to leave the nursing profession. It is unacceptable and as nurses we should see it as an embarrassment.
If you have landed on this page, you may be unsure if what you are experiencing is part of bullying in nursing. If you are unsure, then likely you are experiencing it. The incidences can ranges from mild to severe, but learning what you're rights are, and what you can do to combat this injustice is the first step you can take towards helping the nursing profession to scrub this stain free from our image.
On his page I will attempt to group and arrange the resources I have found for myself and any reader submitted resources including articles, laws, and professional standards in a list below. These resources range from Books, Articles, Websites, Blogs, and Discussion Forums. Some of the articles even include CE credits. Resources listed as "Articles" were intended to be specific to those that could be utilized for scholarly research and writing.
Lateral  Violence Resources for Nurses
Books:
Articles:
Websites:
The Mobbing Encyclopaedia – Bullying; Whistleblowing – Information about Mobbing at the Workplace –Professor Heinz Leymann, PhD, MD sci
Actions to Tackle Bullying At Work – bullyingonline.org
Blogs:
When the Nurse Is a Bully – well.blogs.nytimes.com
Horizontal Violence – Advance for Nurses
A sad myth: nurses eat their young – Scrubsmag.com
Why Do Some Nurses Eat Their Young? – LPN2RN.com
Why Do Nurses Eat Their Young? – NurseTogether.com
Healing Wounds between Nurses– How to bring unity back to nursing – RealityRN.com
Afraid at Work – Nurses must confront workplace abuse – RealityRN.com
R-E-S-P-E-C-T– 4 tips for training others to respect you.– RealityRN.com
Forum Discussions
Posts on This Blog:
Even Bullies Don't want to Work with Another Bully
NG Tubes Suck: Gastric Contents from Patients and the Life out of me!
I will continue to add to this list as additional links and resources are brought to my attention. Please feel free to comment below with any additional information, links, or insight you have on the matter.
Nurses need to support each other in order to progress as professionals.
We need to Stop Nurses Eating Their Young!
Download Nurse Bingo Today!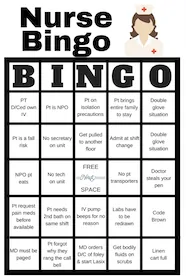 Liven up any shift with a fun game of bingo. See who can fill a row first!
Fill a whole card and lose grip with reality.
Your privacy is protected. We will never spam you.