*articles contain affiliate links*
What does an orthopedic nurse do? Learn everything you need to know about this in-demand nursing specialty including orthopedic nurse certification requirements, salary, typical duties, and much more.
Orthopedic nursing is a growing and popular field of nursing that's more than simply treating broken bones. It's a diverse field that focuses on helping patients who suffer from a wide variety of musculoskeletal injuries, diseases, and disorders.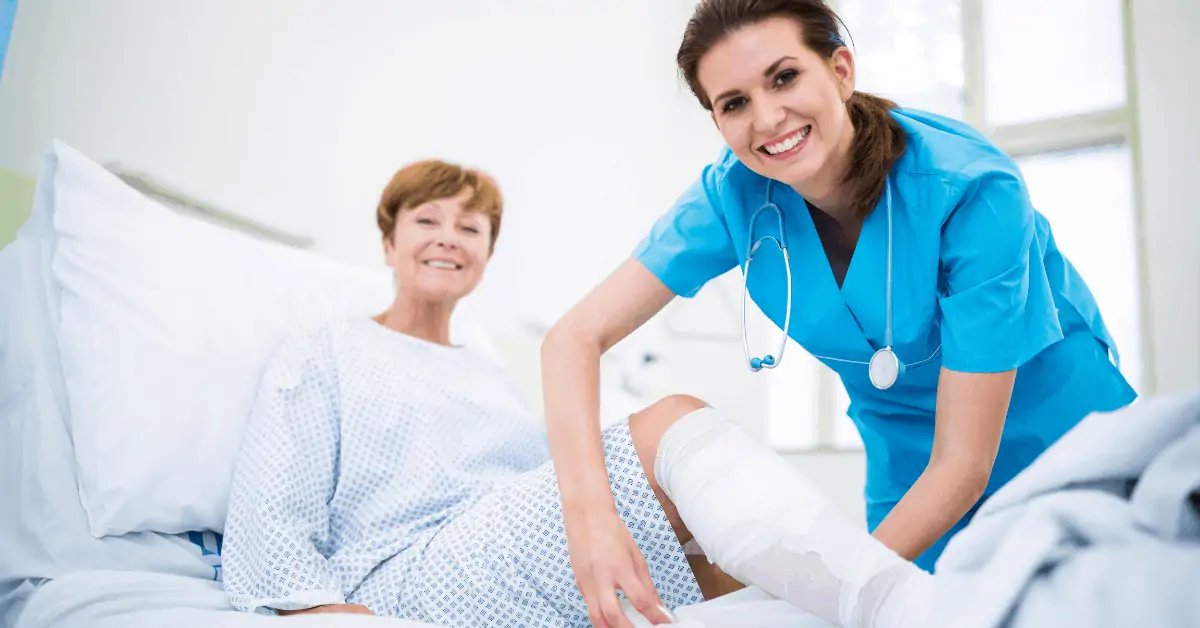 So what does an orthopedic nurse do? The specialty of orthopedic nursing treats patients who suffer from:
Bone fractures
Broken bones
Arthritis
Genetic malformations
Joint replacements
Osteoporosis
Degenerative disorders
Musculoskeletal tumors
Neuromuscular disorders
Pediatric conditions
And more
Typical Duties: What Does An Orthopedic Nurse Do?
As part of such a versatile specialty, ortho nurses work with patients recovering from orthopedic injuries or surgery and may even work in operating rooms. They aid doctors with procedure preparation as well as help patients manage their pain and regain strength and range of motion through their postoperative recoveries.
With such a large variety of needs, orthopedic nurses possess a vast knowledge of nursing to cover basic nursing tasks as well as those that most other nursing specialties may not work with very often.
Basic ortho nurse duties include:
Seeing new patients
Assessing symptoms
Wound care
Dressing changes
Monitor vital signs
Collect tissue samples, blood work, and urine samples
However, ortho nurses also perform much more specialized duties specific to orthopedics, including:
Perform musculoskeletal health exam
Mobility devices
Motion therapy
Casting
Traction
Implement strategies to reduce pain and prevent complications
Training patients and their families on their care and recovery, including any developments that might require coming back in to see the doctor
Educating patients is the crux of this nursing specialty. For this reason an orthopedic nurse excels at educating their patients about their conditions and giving them comprehensive information regarding:
Their injury or diagnosis
How to prevent disease
Medications
Pain management
Potential complications
Ongoing treatments
Where Do Orthopedic Nurses Work?
You will most frequently find orthopedic nurses in hospitals, outpatient care clinics, and private practices. However, because this field is very versatile, you may also find ortho nurses working in other areas including rehabilitation centers, assisted living centers, physical therapy offices, sports medicine clinics, and even health home agencies.
How To Become An Orthopedic Nurse
If this sounds like an interesting field of nursing (and it is!), you'll need to first obtain your nursing degree from an accredited program.
To become a registered nurse (RN), you can either get your Associate's Degree in Nursing (ADN) in 2 years, or your Bachelor's of Science in Nursing (BSN) in 4 years. More and more hospitals prefer to hire an ortho nurse with a BSN degree, but there are still hospitals that will hire nurses with ADN degrees.
Once you've received your nursing degree, you'll need to sit for the NCLEX-RN exam to become a licensed nurse and then apply to the Board of Nursing in your state to become a full RN. If you want to take your education even further, you can get your master's degree in nursing.
Additional Orthopedics Certification and Training
Once you have become a licensed nurse and decide to pursue orthopedic nursing, you'll need to gain experience as an ortho nurse. After 2 years of orthopedic nursing, you'll have the ability to take the Orthopaedic Nurses Certification exam (ONC). Both ADN and BSN nurses are able to take this certification exam.
In order to qualify to take the ONC exam, you must:
Complete an accredited nursing program
Have worked as an RN for 2 years
Possess a current and unrestricted RN license
Accumulate at least 1,000 clinical practice hours as an ortho nurse in the last 3 years in any of these areas: adult care, critical care, emergency room, medical-surgical nursing, operating room, clinic, pediatrics, and more.
This certification is valid for 4 years and receiving it can mean a boost in your salary.
How Ortho Nurses Gain Experience
Orthopedic nurses will gain experience regarding orthopedic conditions through their employer by working in the emergency unit, critical care, surgical unit, or other areas that work with ortho patients.
Orthopedic Nurse Salary
Nursing specialties that require more extensive training translate into higher salaries, and orthopedic nursing is a great example (check out the highest paid nurses). Currently, an orthopedic nurse salary can expect to range from $69,500 to $120,500, with a national average coming in around $96,000 per year.
Please note that I'm simply providing average numbers to give you an idea. There are many factors that can affect salary levels including medical setting location, education, certification, and experience.
Orthopedic Nurse Job Outlook
As the population continues to age, the demand for orthopedic nurses will continue to increase. The need for orthopedic care and surgeries (ex: hip replacements and knee replacements) will continue to increase. Other ailments that afflict the older population such as arthritis will also create high demand for nurses specializing in orthopedic care.
All this means that there's a very favorable job outlook for ortho nursing!
If you've been wondering "what does an orthopedic nurse do?" I hope I have answered all your questions about this exciting and versatile field of nursing. If you have any questions I didn't answer, please share them in the comments.
If you're interested in helping patients with these types of injuries and care needs, you'll likely find orthopedic nursing to be a very stimulating and rewarding career.
More Resources