*articles contain affiliate links*
For nurse entrepreneurs, there are a lot of businesses they can start. While the possibilities are endless, here is a list of 24 small business ideas for nurses. These businesses can be run from home with little space and require minimal start-up costs.
If you are working as an experienced nurse and have an entrepreneurial mindset, you may start your own business. However, if you are the only nurse in the family, this may feel like an overwhelming process to take on alone. Several companies come to mind if you want to start a company that does not require large amounts of capital and can be managed without too much time commitment.
A study by RN Network found that 50% of experienced nurses consider leaving their jobs due to burnout, overwork, high-stress levels, and unfulfilling work. However, when they explored the idea of starting their own business, 57% said that they would consider making a move because it could offer a better quality of life and more flexibility in their schedule.
Business Ideas for Nurses
Starting your own business can help you in many ways, whether you would like to work less or be your boss. There are many business ideas for nurses who want to manage their own time and control their income level.
What Are Your Interests and Skills?
Before starting your business as a nurse, there are some things that you need to know about yourself.
What are your interests?
What do you like to do in your free time?
Are you more introverted or extroverted, and what is your personality type?
These questions can help narrow down the right business idea for nurses.
For example, if you love taking photographs on the weekends, starting a small photography company would be an excellent choice. You can use your nursing knowledge to offer photo shoots for new mothers who may want some professional shots of their children without having to leave the comfort of their homes.
12 Top Business Ideas for Nurses
Now, let's see our main point, which is " business ideas for nurses " that are trending nowadays.
Nurse Health Coach
Due to Covid-19, many people don't go anywhere and sit in the home 24/7. This is not good for health. Health is wealth. As a nurse, you can help people in gaining their health. You can start your own health care training business as a registered nurse – RN. Thanks to the latest technology and apps, you don't have to go anywhere to give health coaching and advice to your patient. You can provide health coaching online or in their home itself. You can use technologies like zoom, google meet, streamyard, and more for doing online sessions with your patients. You can help them create individualized health plans to help them live healthily and save their time and money. Because health is essential, we know that HCP (healthcare providers) don't have enough time to give individualized attention to their patients. So, this is a perfect opportunity for you as a nurse to help people in your spare time and add additional income sources.
Nurse-Family Partnership (NFP)
If you want to make mom happy and make more money simultaneously, then the Nurse-family partnership business idea will be best for you. Nurses are highly trained in helping mothers with pregnancy and postpartum periods. They give nursing guidance, childbirth education, observation, and counseling about their child's health which helps them through life-changing moments of parenthood. You can easily become a child care provider. Childbirth educators are in demand in the USA. It is one of the most successful and profitable businesses, and you can earn a lot of money. In 2020, there were around 2.02 million marriages in the United States. That means you can add more ideal clients to your daily list. It's not just limited to mothers but also fathers looking for services that help them be good parents. You can advertise on social media or other platforms for parents and get more customers.
Concierge Nursing Services
Concierge nursing is a new concept where people hire nurses on an hourly basis to be available 24/7 at their service. It means that if anyone needs any home care like first aid, medication, nutrition, and personal hygiene, they can pay you directly on an hourly basis and keep them happy on demand anywhere anytime without worrying about costs or time taken by others. As there are not so many concierge nursing companies globally, it is a highly sought-after company that gives new entrepreneurs tremendous opportunities. You can call the concierge nursing "nurse-on-demand" business. You can advertise on social media or local magazines to attract customers and make money quickly.
Fitness Nurse
As stated above, because of Covid-19, people's physical activities have been reduced. Due to this lack of physical activity, people are more prone to diseases like hypertension, diabetes, gaining weight, etc. These diseases can be very harmful to adults and even kids because many kids today face obesity problems.
Thanks to the latest technologies, you don't have to go anywhere to give fitness training because now many apps help you do all this stuff from your home facility itself. You can advertise on social media or local magazines for children or adults according to their needs and make money quickly. So, a nurse can help people regain their health by getting them involved in regular physical activities and having a healthy diet to stay away from diseases.
Rehabilitation Nurse
Rehabilitation has been an integral part of ancient times in the nursing field, but its importance increases day by day with time. A rehab nurse helps patients who suffer from disabilities after significant surgeries or accidents get back to their everyday lives. They help them recover and bring them back in their daily activities by assisting them in the following therapies:
Art Therapy
Helps patients express themselves through painting, sculpturing, and other art forms. Music Therapy: Helps patients find peace and comfort through songs Yoga Therapy: Helps people keep their mind calm, and body relaxed Physiotherapy (physical therapy): It is a technique that helps people regain strength, balance, and stability in all parts of the body like a hand, legs, etc
Occupational Therapy
Helps patients to remain active mentally and physically during the recovery phase. These therapies make the recovery process faster for a patient with less effort. Rehab nurses should know about all kinds of treatments and how they work on the body, internal systems, etc. You can advertise on social media or local magazines and make money quickly.
Specialized Care Provider
The healthcare industry is massive, with different business opportunities for entrepreneurs. The need of the hour is to provide specialized care for patients with rare diseases or conditions that require long-term treatments. This is a huge opportunity, especially for nurses with the necessary qualifications and training to deal with such issues. If you know someone who has a disease like cancer, HIV/AIDs, etc., then contact them directly through word of mouth marketing or social media marketing and tell them about your services, which can help them get treatment from their home without wasting time going to hospitals. By providing personal care and support, you can make money quickly and build a good network simultaneously, which can become very beneficial in the future. Patients who are not able to afford expensive treatments will be willing to pay you to get quality treatments in their comfort.
Online Nurse Consultant
This kind of nursing business is perfect for nurses who like to stay in touch with people and help them make good health choices. We often fail to understand the importance of our own body and how it works, which results in many complications that can be avoided if we take proper care of our body and mind. An online nurse consultant should know and expertise about various issues and diseases and should guide people via email or phone calls to get rid of such problems. You can advertise your services on social media platforms or write blog posts on popular fitness, wellness, etc. There are also websites where you can provide your consulting services according to your requirements; this way, you don't even need your website. You can make money quickly through this business idea.
Legal Nurse Consultants
A legal nurse consultant (LNC) is a registered nurse (RN) who has acquired additional legal education. The practice of an LNC varies depending on the area of law or laws that the individual or firm encounters.
For example, an LNC may serve as an expert witness, act as a liaison between a client and other medical specialists, explain medical terminology to laypersons, draft reports for attorneys or advise lawyers on how best to present evidence in court.
Being a lawyer has become much more complex than before; therefore, it's sometimes hard for people to understand which case they should take, their chances of winning that case, etc. That's where you come into the picture as a legal nurse consultant who can help them through your expertise in the latest medical knowledge and nursing background.
Which makes you unique and gives you an edge over others who are providing similar services. This kind of nursing business is perfect for those nurses who like to work from home and help people make good decisions related to legal matters.
Provide Quality Nursing Services at Home
Patients with critical conditions always need professional care and attention, which trained nurses can quickly provide during the recovery or post-surgery. You don't need any special licenses or expensive equipment, as well as the best part is you don't even have to leave your home! All you need is a computer with a high-speed internet connection and a phone which will be used by the patients calling on your landline number to contact you whenever they want directly. Many companies are coming up with flexible working hours and good pay for such work, and you need to check each one out and pick the best suitable for your requirement.
Nurse Blogging or Freelance Writer
This is something that most nurses don't know because they spend most of their time taking care of patients and helping them. The blogging platform offers different opportunities to make money online, one of which is writing about various health and wellness issues and other regular topics like health-care tips and tricks, home remedies, fitness, etc. There are many websites where you can find beautiful themes for your blog or website related to the nursing field, or it can also be a separate website where people will come looking for expert advice. If you know the right topic to write on, then you will gain a massive audience in no time who will be eagerly waiting for your next post. You don't need any particular qualification in journalism, just solid knowledge about what you're going to write; once that's done, you only have to come up with creative ideas every time you sit down to write about something new. This is something that nursing schools should teach to nursing students.
Start a Youtube Channel and Share Your Knowledge
Youtube is the second largest search engine and is widely used by people who want to learn something new. You can start a youtube channel or join as a partner with someone else and create your videos related to the nursing field, and it doesn't have to be anything fancy, just simple, straightforward stuff that others will find helpful. You can start any training programs.
There is no limit on the type of content you can produce for your audience, but the most popular videos are about makeup tutorials, healthy recipes, etc. If you don't have what it takes, you can hire freelancers from Fiverr, one of the best online market places where individuals can offer their services at a very cheap rate starting from $5! You can also promote your affiliate links throughout your video so that whenever someone purchases an item through your link, you will get a good percentage of that money.
Writing an eBook and Sharing it with People
Yes, you can also write eBooks related to nursing or health care which you can then sell on Amazon Kindle or any other ebook selling website. This is the quickest way to make money because once your book is ready, you have to come up with a title for it and upload everything online!
A thoughtful way to promote your book would be uploading teaser content on various social media platforms like Facebook, Twitter, etc. You can also join forces with some nurse bloggers who are willing to share their experiences about what they learned during their years of practice in exchange for writing a few chapters of their eBook!
There are many ways you can go about this, and the best part is you don't even have to leave your bed!
So above are the business ideas that you can opt for if you are a nurse or thinking of starting something on your own. Because you've got the required knowledge and experience, all you have to do is develop a unique way to offer your service or product and start making money!
How to Start a Nursing Business – 5 Tips
Knowledge and experience are not enough to run a successful business; the thing you need is a good guide and action plan to make your dream come true. Here are some helpful tips that will help you in starting a successful nurse business:
Select your Nursing Niche:
The first step you have to make is to choose a topic or niche when it comes to your business. Niche is a marketing term for a specific group of people who you're selling your product or service.
Understand the Demand:
A business without demand means you're wasting your time! You need to study the market and analyze the demand and supply where you think potential is potential for your product or service. Things like population rate, economic growth, social issues are some factors that will help you in understanding the market better before you launch your business idea.
Get Licenses and Permits:
Healthcare professionals with a permit have more power and reach than someone running an illegal business without any valid documents. So this is one of the most critical steps you need to take if you want your business to succeed, first find out what kind of licenses and permits are required for selling your product or service, then apply for it on time!
Be Patient & Enjoy:
The final step is to be patient and enjoy the ride! If you are expecting overnight success, then it's not going to happen. You have to work hard, learn from your mistakes and keep moving forward. Never expect things to be handed over on a silver platter; if they were easy, everyone would do it!
Conclusion of Business Ideas for Nurses:
There are many different opportunities for nurses available, but the trick is finding the one that suits your interest. The most important thing here is not giving up when things get tough because there will be days when everything goes wrong, and you feel like quitting – it's those very moments that test your real strength as an entrepreneur. When it comes to the price, you can decide hourly rates according to your nursing skills.
For More Business Ideas for Nurses Also Check Out:
Download Nurse Bingo Today!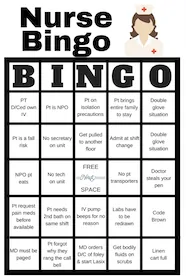 Liven up any shift with a fun game of bingo. See who can fill a row first!
Fill a whole card and lose grip with reality.
Your privacy is protected. We will never spam you.