*articles contain affiliate links*
A nursing binder is so important. This one tool can keep you organized in nursing school and help you locate all your notes quickly. This is how to put together the best one.
Every nursing student needs a nursing binder. It's where you keep all your notes organized in one place. Read these essential tips and you'll have one all the other students envy.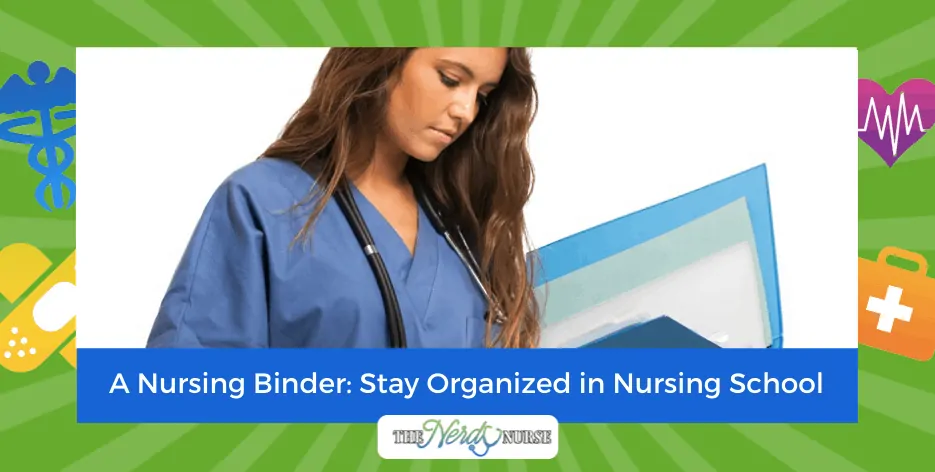 What is A Nursing Binder?
A nursing binder is an essential item in surviving nursing school. It keeps all your notes, handouts, and lose worksheets in one place so they never get lost. Seriously, these things contain basically everything you need to pass nursing school. That's why it's so important to put together an organized one that will last. After nursing school consider upgrading to a clipboard with storage to keep documents close by and safe.
How To Put Together A Nurse Binder for Nursing School
Now that we've established why you need a nursing binder, let's get into how to make one. Follow these simple steps to create your own. It's easy and you can create your own systems within it.
#1 What Size Binder Do You Need?
The size of the binder you choose depends entirely on your feelings. Do you want a huge binder for all of your nursing classes? Or would you rather make a small binder for each class? The choices are entirely up to you.
If you choose to store all your notes from your classes together in one binder, you will need at least a 3-inch thick one. To keep it organized, only store your notes in this binder. Keep all the other papers in another folder.
If you want multiple smaller binders, a 1-2 inch binder should do the trick.
#2 How to Customize the Front of Your Binder
Always choose a binder that has plastic on the front and back, so that you're able to customize it. This will also allow you to reuse your binder for different classes.
If you're using one binder for everything, you may find it helpful to include your class schedule in the front pocket.
If you're using multiple binders, you could put your class syllabus in front of each one. This will help you remember what class that binder is for, while also having the deadlines and projects handy.
#3 Create Sections For Your Notes
This is the part you will either love or hate. Before dividing your binder into sections, determine how many sections you will actually need. Always add at least two additional sections on top of what you need for your class(es) for loose-leaf paper and for reminders or notes.
#4 Create a Table of Contents In Front of Each Folder
Creating a table of contents for each folder in your binder will help you decipher what your binder actually contains. This will make it easier when quickly scanning for a section of notes, or cleaning your binder out mid-semester and determining what you can toss or what you need to keep ahold of.
#5 Use a Binder Pouch
This is one of the most useful inventions ever. Seriously, get a binder pouch.
Keep extra pencils, highlighters, colored pens, calculators, and sticky notes inside your binder. You never know when you may lose or forget supplies at home or in another class!
Take Charge of Your Nursing Career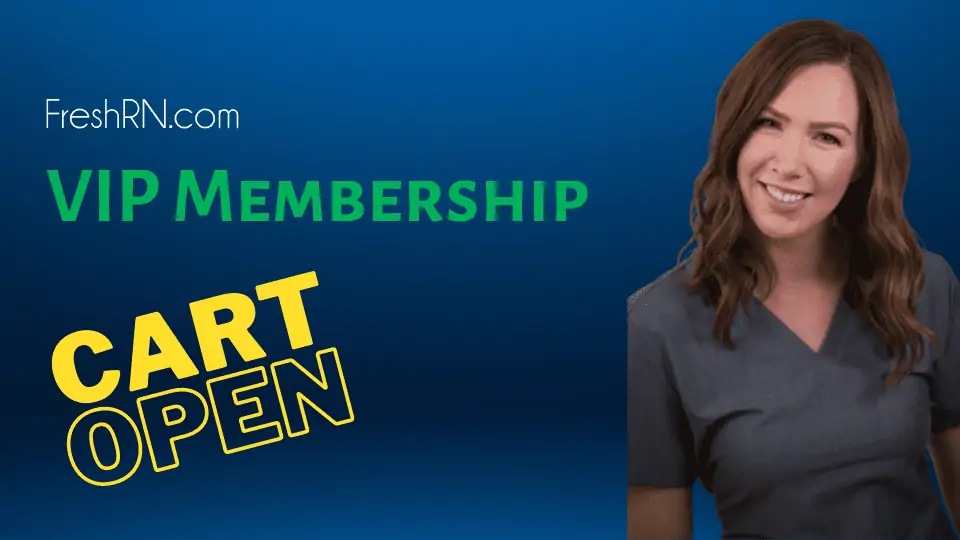 Your first year as a nurse is daunting. You need someone in your corner telling you what your managers really need from you, helping you learn to interact with your preceptor, and really just manage your life. Find all that an more with the FreshRN VIP - Membership.
I'm Ready to Thrive
#6 Color Code Your Nursing Binder
Create a color-coding key in the front of your binder and use this system as you take notes. You can use highlighters, colored tabs, or colored sticky notes. This will keep you further organized and reduce time when searching for a specific definition or a specific subject.
#7 Use Plastic Paper Protectors
Protect really important notes in your nursing binder like the class syllabus with a plastic protector. You will thank me when none of your pages are ripped in the corners when you're studying for the final. Plus, it will keep the ink or pencil markings from smudging.
Nursing Binder Final Thoughts
Nursing binders are a lifesaver among most nursing students. They help you stay organized and keep your mind on task by having all of your class materials easily accessible. Do yourself a favor- create a nursing binder!
More Nursing School Help
Nursing school is one of the most difficult things you will ever do. Here are some more tips and advice from a nurse who has been there.
WhiteCoat Clipboard- Teal – Nursing Edition

Officemate Ringbinder Clipboard Storage Box, Charcoal (83309)

Refoc Handcrafted PU Leather Removable 3-Ring Binder Padfolio with Notepad and Presentation Sheet Protectors

Samsill Earth's Choice Biobased Durable 3 Ring Binders, Fashion Clear View 2 Inch Binders, Up to 25% Plant Based Plastic, Assorted 4 Pack