*articles contain affiliate links*
You've finished nursing school, taken the NCLEX, and even applied for nursing jobs before graduation. Now it's time to celebrate. Browse this list of the best and most creative nurse-themed cakes. It's worth it to invest in a designer cake when you are celebrating a nurse! Need some ideas on Nursing Graduation Party Ideas? We've got you covered there also.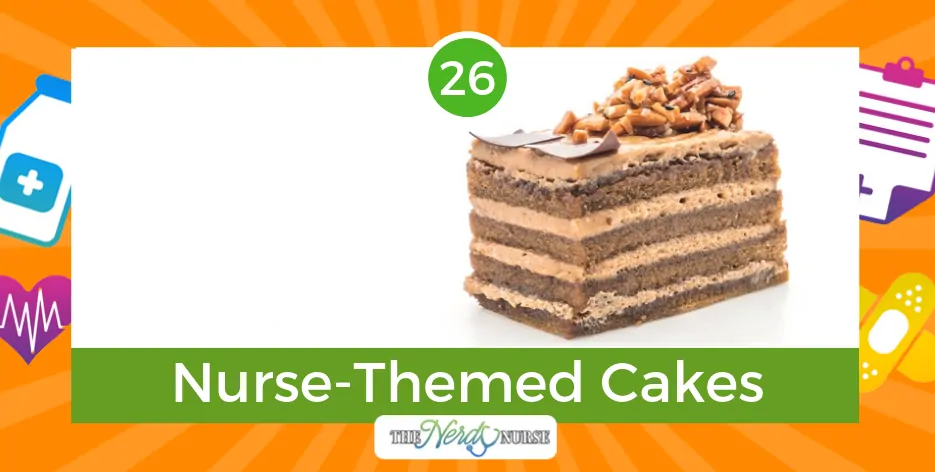 Nurse-Themed Cakes
There's always a reason to celebrate nurses! Whether you are celebrating graduation from nursing school, a birthday, or an anniversary, these cakes will steal the show.
These are literally the best of the best. They are thoughtful and intricate, displaying everything that a nurse does and celebrating their dedication and hard work.
1. Karolyn's Kakes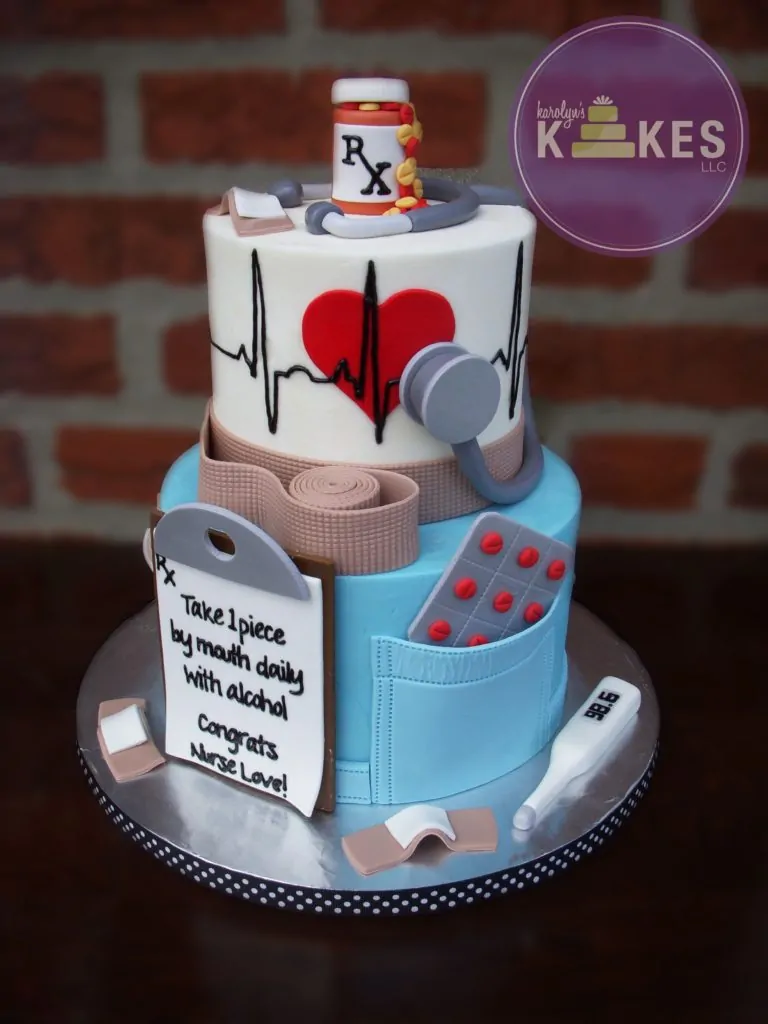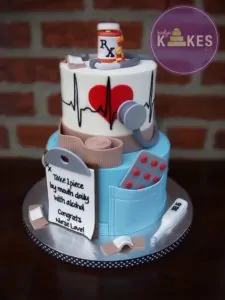 There is so much to see here! From the heart on the top layer to the clipboard on the front. The entire cake is a masterpiece.
Designed and created by Karolyn's Kakes.
2. Read Eat Repeat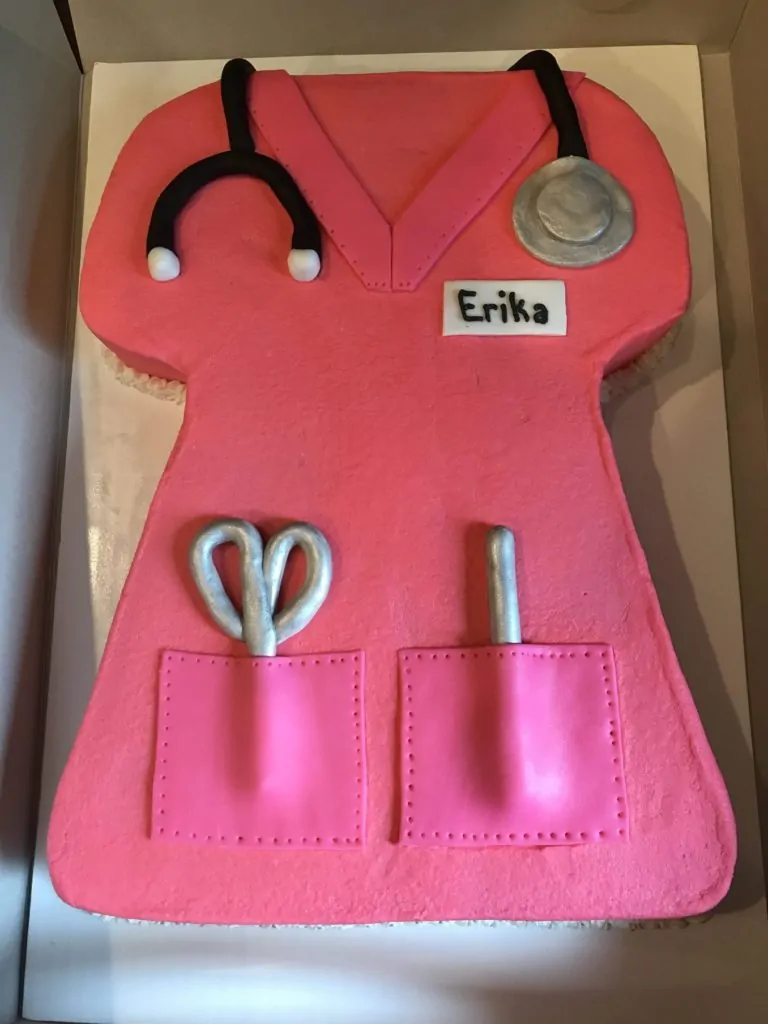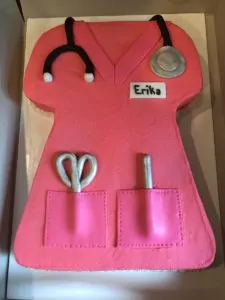 The best thing about this cake is the simplicity of it! It's so colorful and beautiful. Every detail is well-crafted, down to the stitches around the pockets.
This cake was found on Read Eat Repeat.
3. Sweet Pea Cake Studio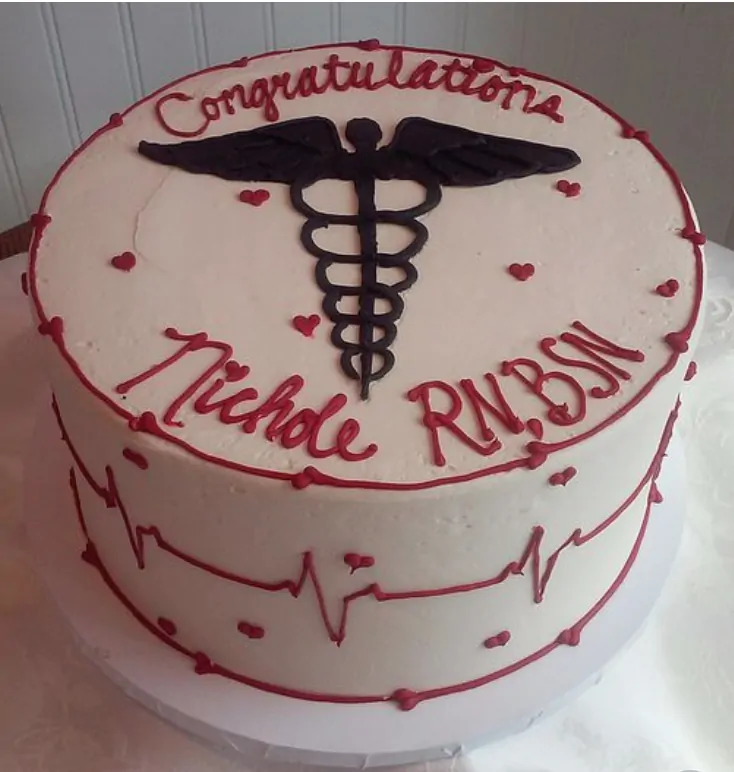 The red icing stands out against the white. It's a dramatic cake that is timeless as a little black dress.
Cake made by Sweet Pea Cake Studio.
4. Always With Cake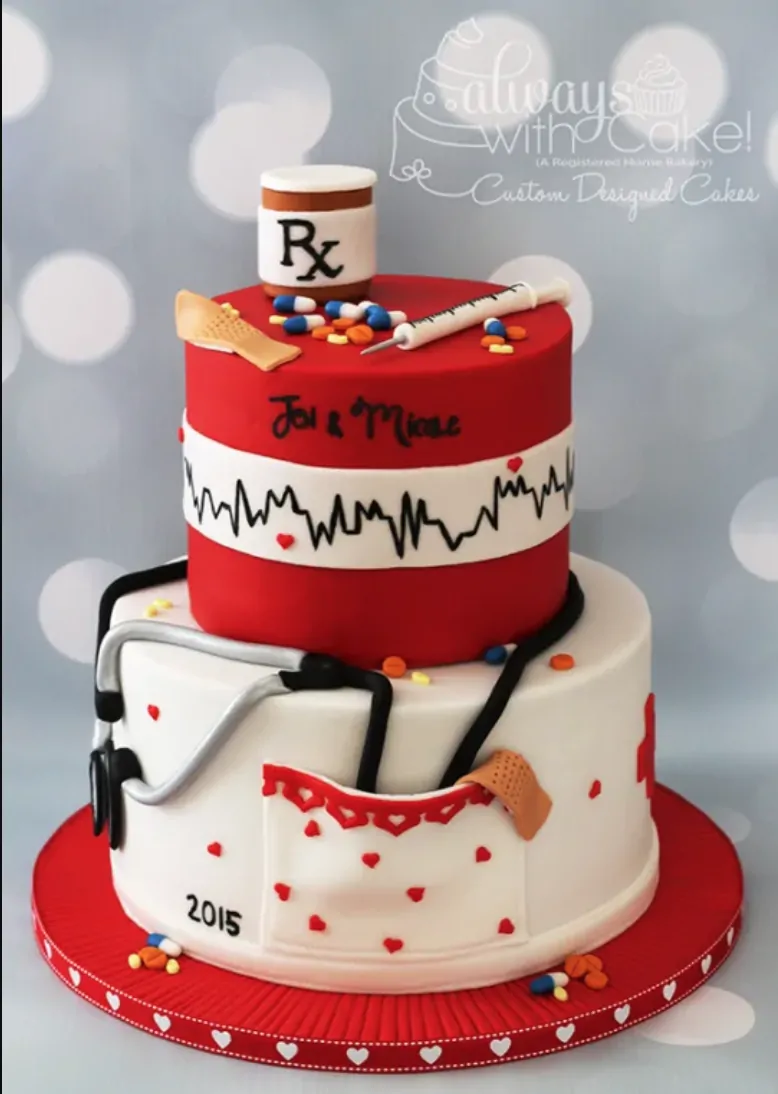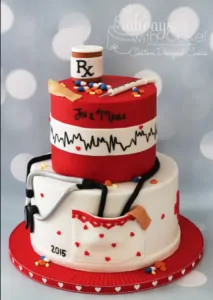 I love how the stethoscope wraps around the entire cake. There are so many details that pull your interest. The pill bottle is actually made out of rice cereal treats.
This cake was made and designed by Always With Cake.
5. Pink and Blue Cake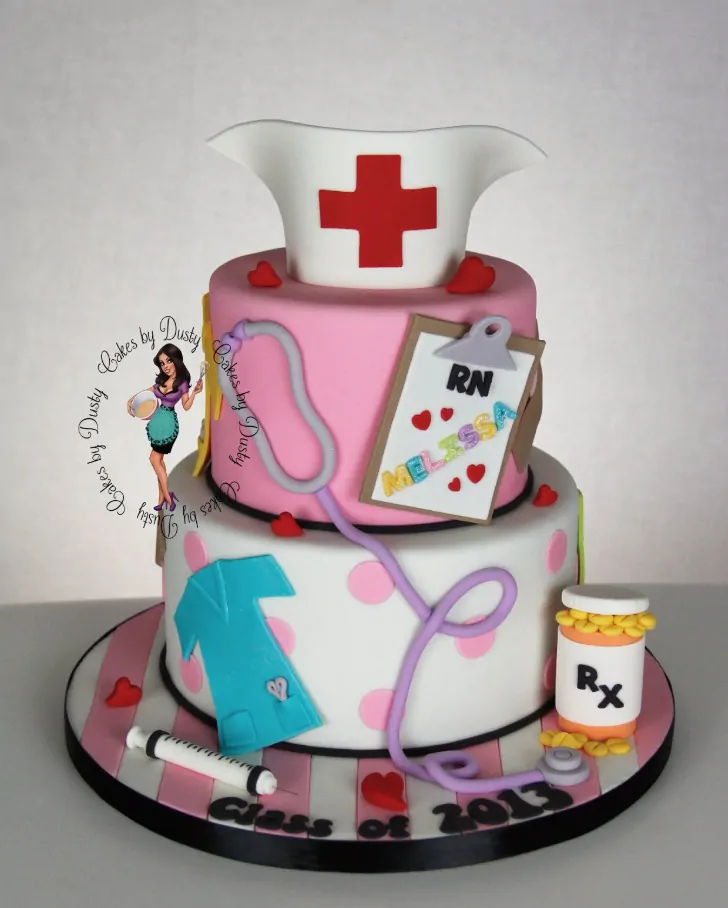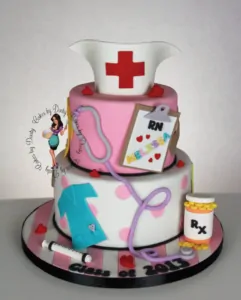 The nursing hat on top is the perfect flair for this playful cake. The blue scrubs on the bottom tier contrast the pink and white theme.
This cake was found on Cakes by Dusty.
6. Graceful Cake Creations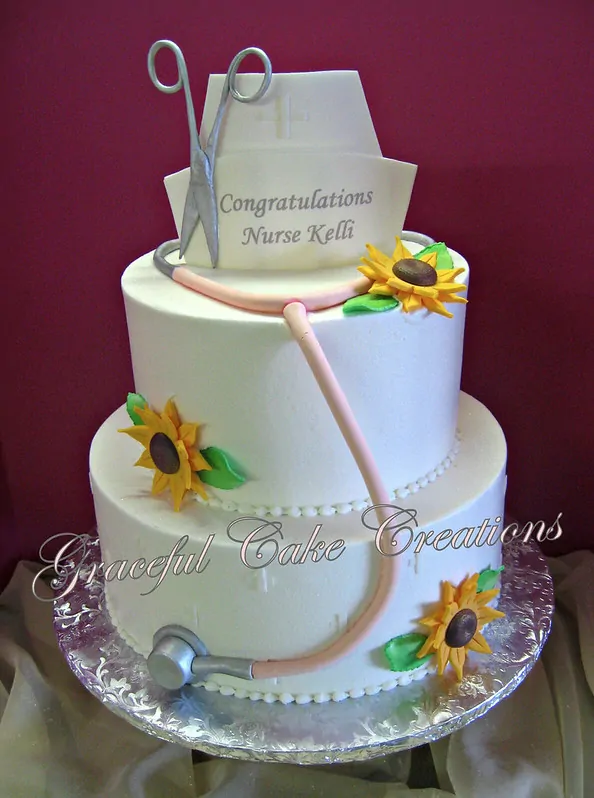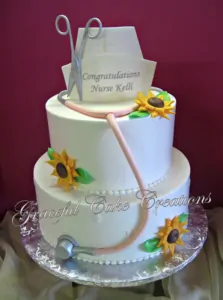 When you want something simple, go for a 2-tiered round cake. The sunflowers are a lovely touch. And the personalized nurse hat is elegant.
Cake found on Graceful Cake Creations.
7. Hope's Sweet Cakes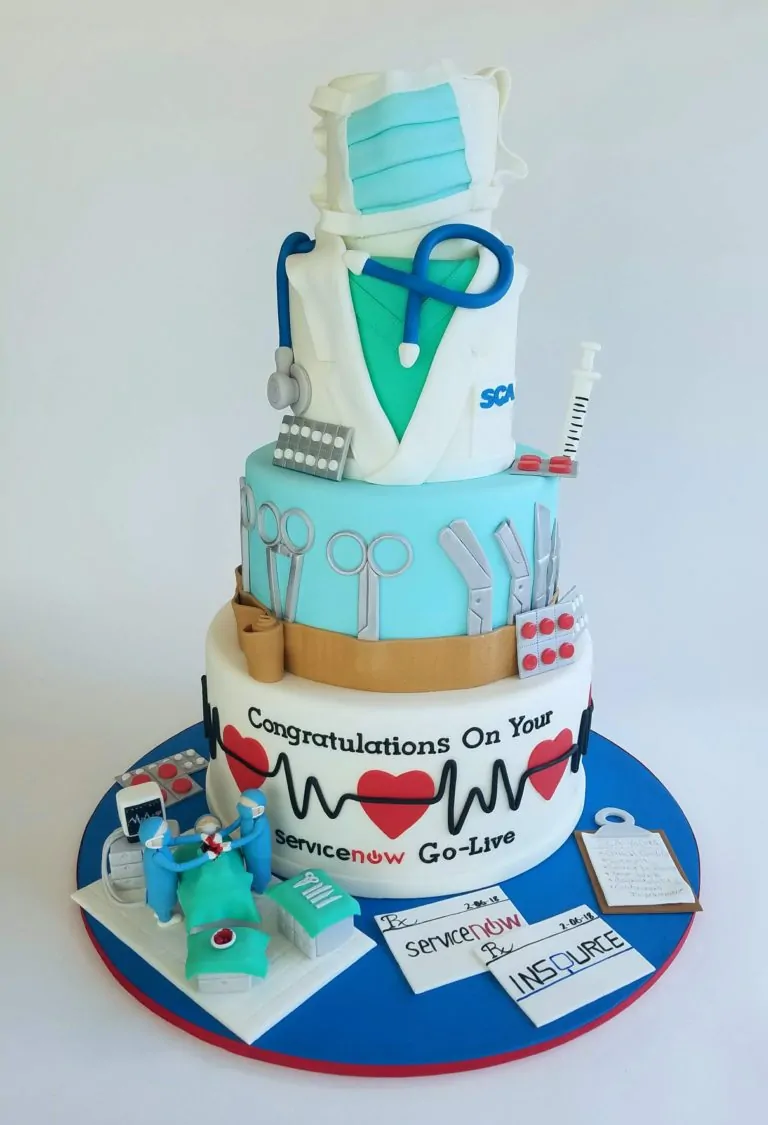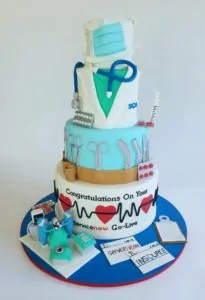 When you want a cake that has details galore, this one is perfect! The colors are bright and there are so many parts to it. From the scrubs on the top, to the tools around the middle and the face mask on the top. It's a complete work of art.
This cake was made by Hope's Sweet Cakes.
8. Kind Words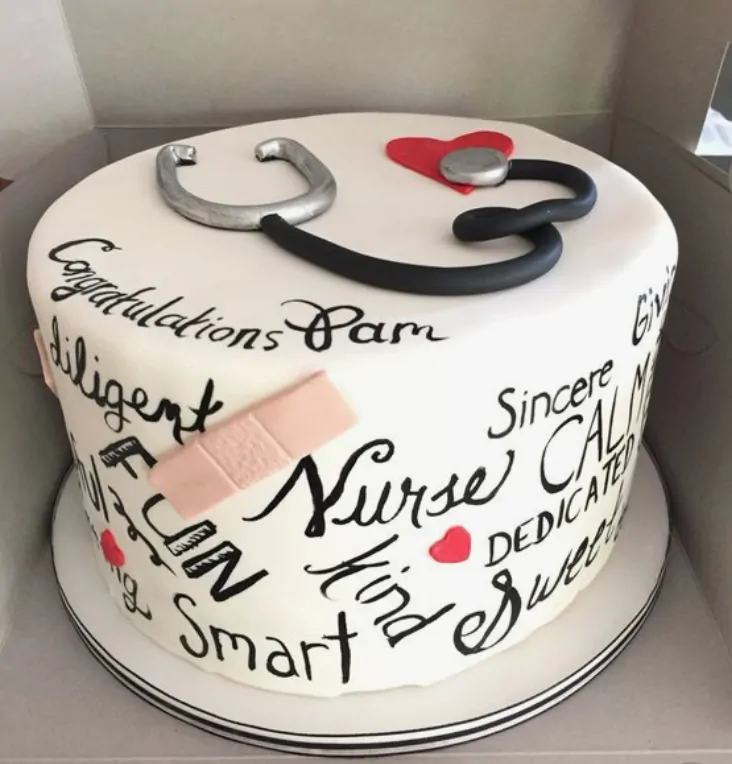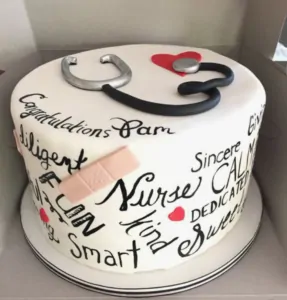 This cake has so much thought and heart. Choose all the encouraging words that describe the nurse and write them on the cake. It's a way to remind them that you appreciate all they do.
Found on Pinterest.
9. DIY Nurse Cake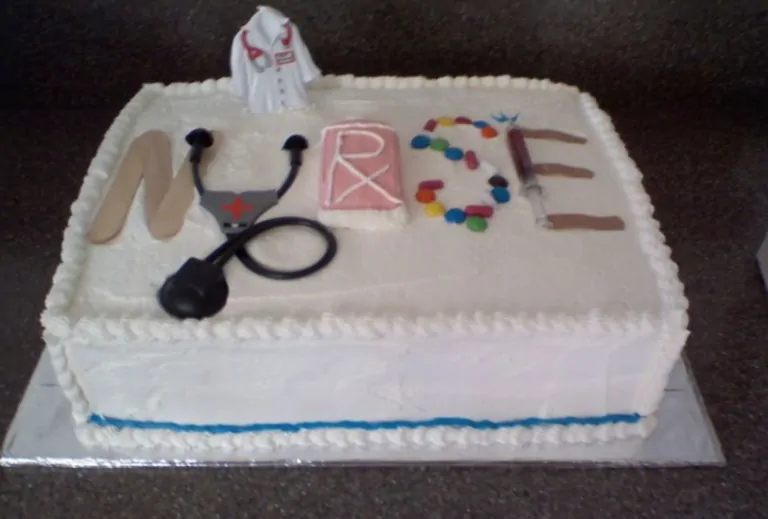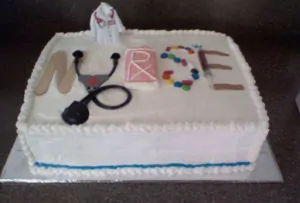 If you are looking for a simple sheet cake, this one is the best. It uses things that you use every day as a nurse as the letters. And the best part is that fondant use is minimal.
Found on Cake Central.
10. Sweet Traditions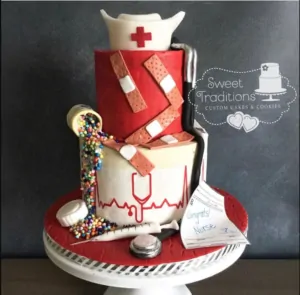 The best thing about this cake has to be the congratulations written on a prescription form. But the spilled pills and bandaids are all amazing touches too. There is so much to see on this cake.
Cake made by Sweet Traditions.
11. Rachel's Sugar Shop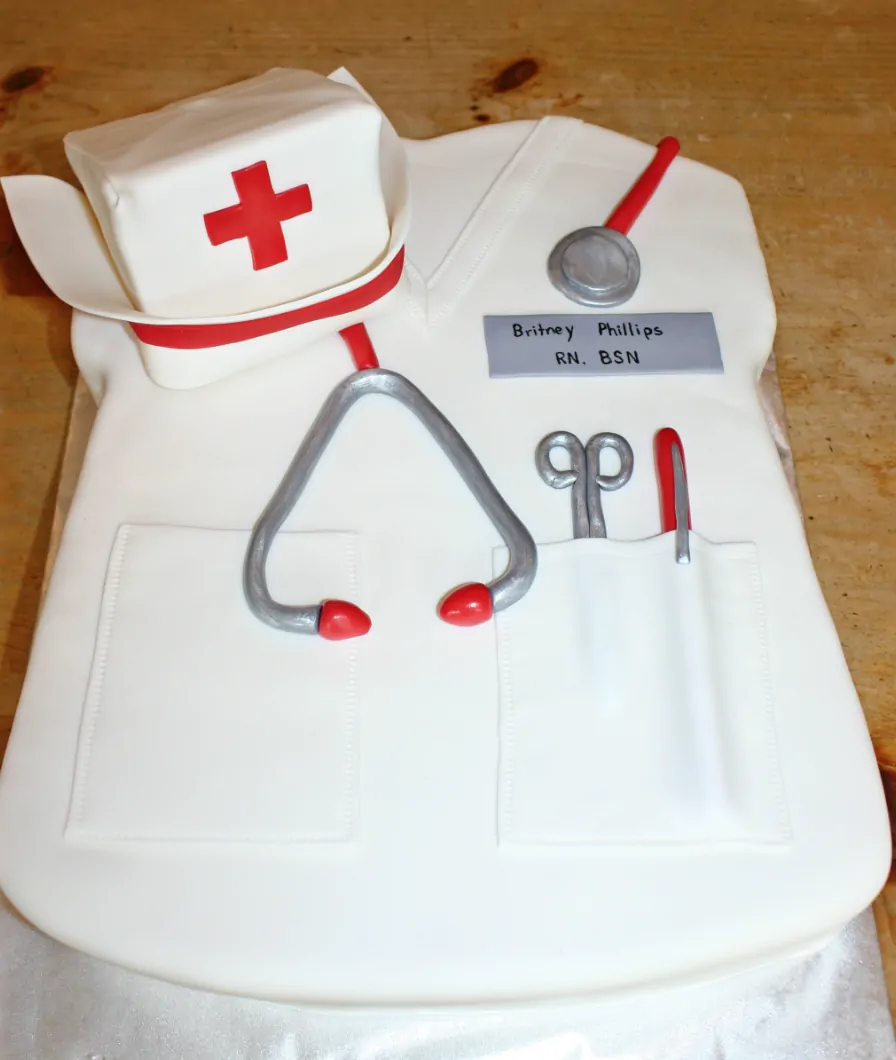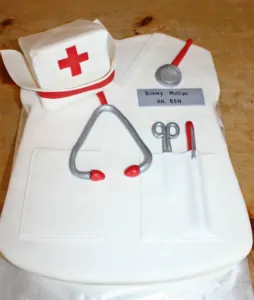 Even the hat is a cake! This cake is just stunning. It is a glamorous white scrub top with bright red accents. It's almost too beautiful to eat.
Made by Rachel's Sugar Shop.
12. Happy Nurse Cake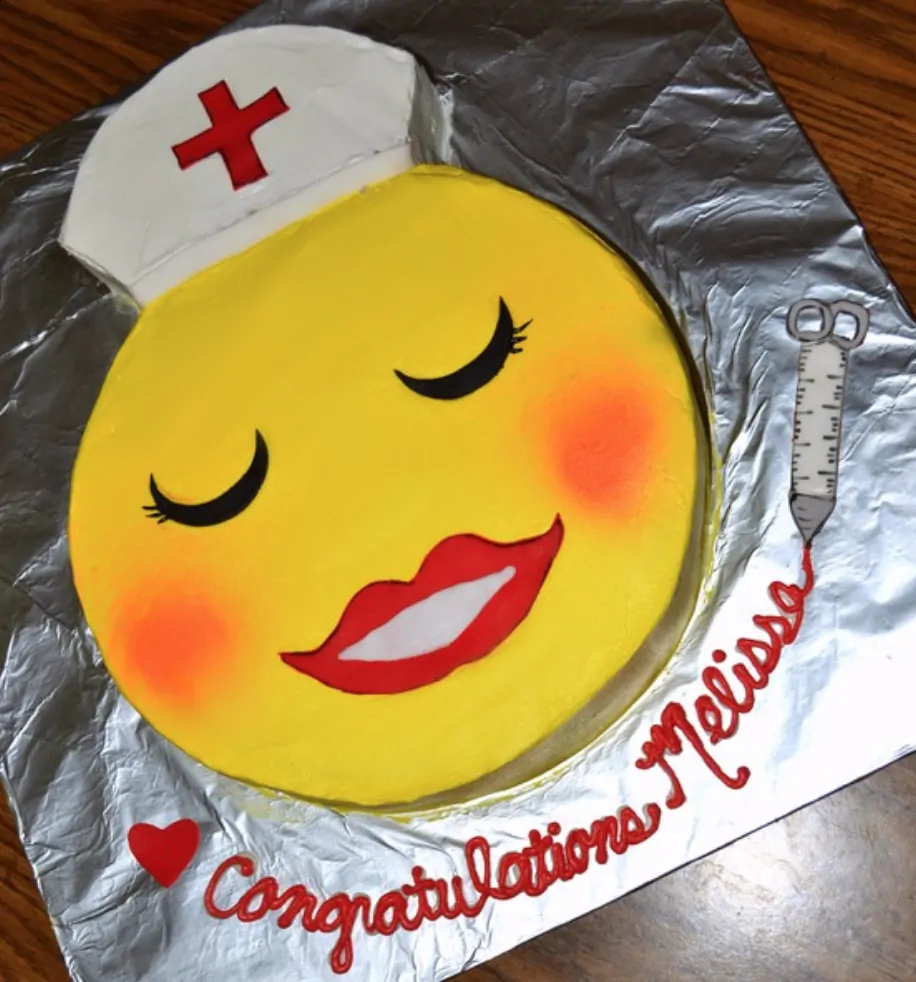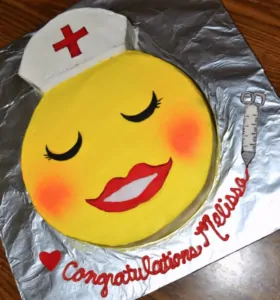 You can't help but smile when you see this round cake! It's a really fun cake for a nurse that always has a smile on their face. The bright yellow alone fills you with sunshine.
Found on Pinterest.
13. Angles on Earth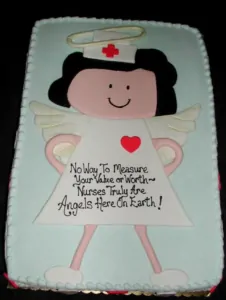 This cake has the sweetest poem on it! It reads:
No way to measure
Your value or worth –
Nurses truly are
Angels here on earth!
Found on Pinterest.
14. The Cake Mamas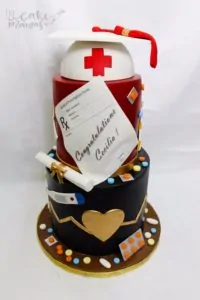 This cake is a red, black, and gold masterpiece. It brings elegance with the gold heart and solid black fondant. It's perfect for nursing school graduation since it has a diploma on it.
Made by The Cake Mamas.
15. Silver and White Elegance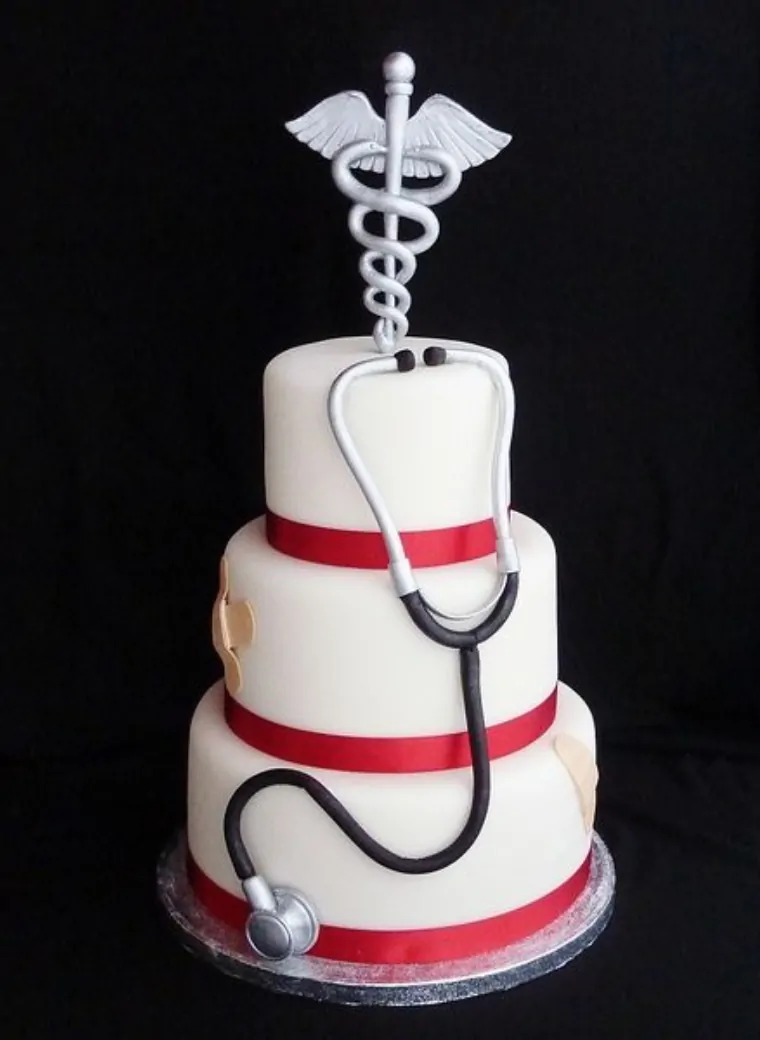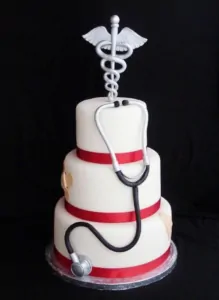 This is another elegant and simple cake. The cake topper is stunning. This is a really fantastic cake for mature and professional nurses that prefer things be kept simple.
Discovered on Pinterest.
16. Sweet Treats By Joy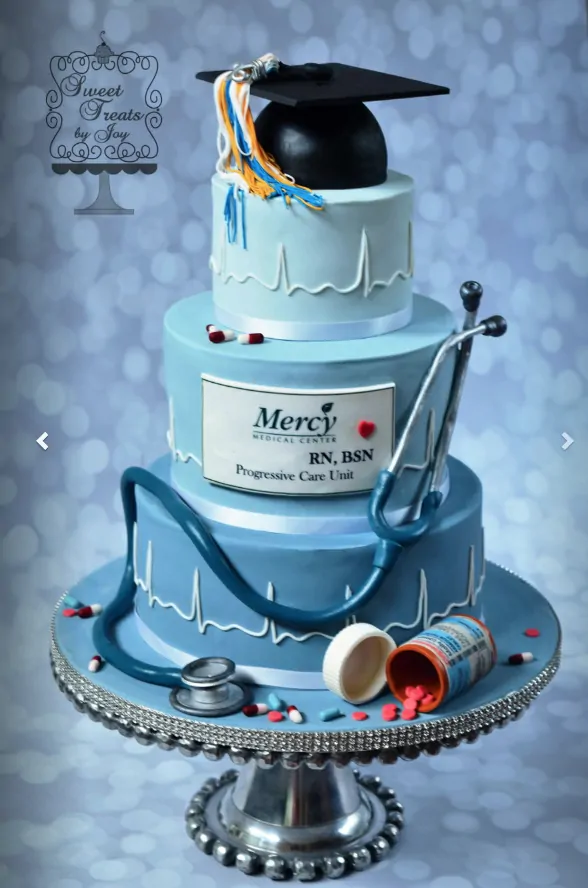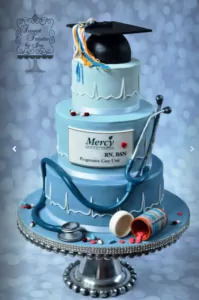 This is a vision in blue! The graduation cap on top is a really fun touch. But the best part is the personalized name tag. Every detail is created with painstaking precision.
Made by Sweet Treats by Joy.
17.  Anatomy Book on a Cake
What is the one thing that nurses use the most in nursing school? BOOKS! So much reading. So much studying. This cake is incredible. It's a really creative way to celebrate making it through nursing school!
Found on Flickr.
18. Pink and White Cake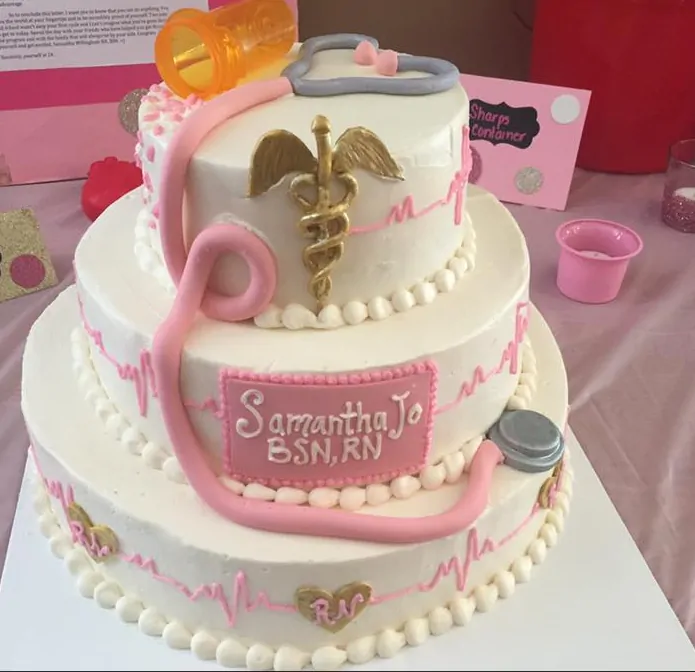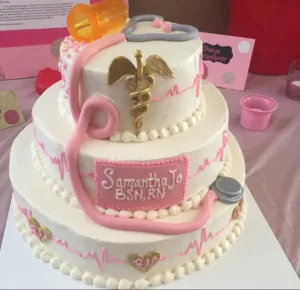 This is a perfect cake for anyone that loves the colors pink and white. Even the stethoscope has elegant swirls and the same pastel pink shade. The gold accents dress up the cake with additional elegance.
Found on Pinterest.
19. Prescription Form Sheet Cake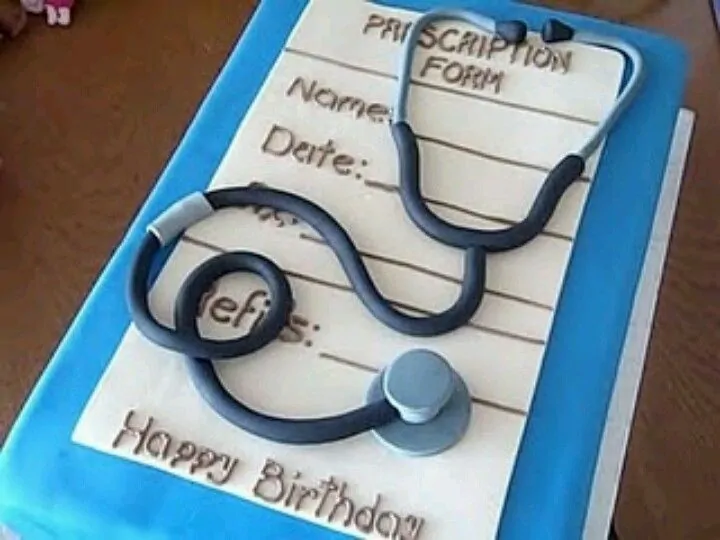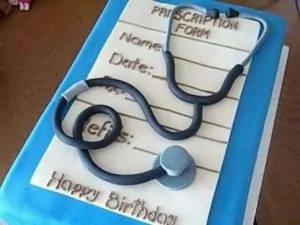 This is another super simple sheet cake that has a really creative take on a "nurse themed cake idea." It looks like a clipboard with a prescription form on it. You can make it better by adding their name and birthday in the fields.
Found on Pinterest.
20. Next Level Cakery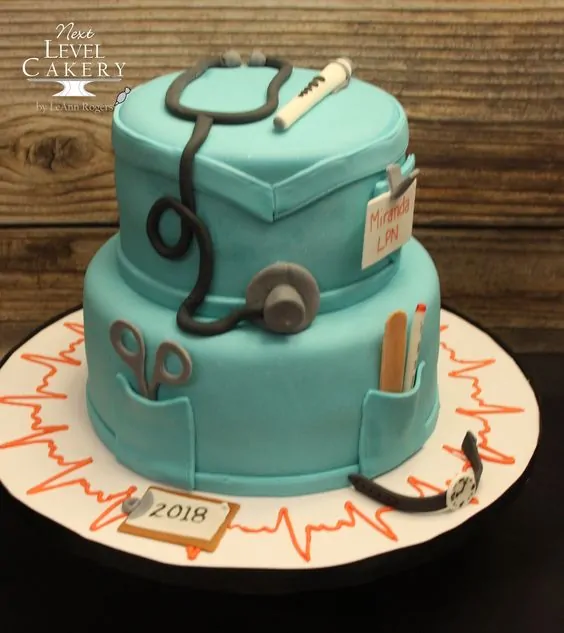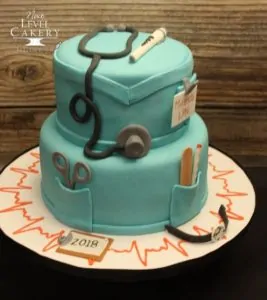 The colors on this cake are beautiful. Even though it is a round 2-tiered cake, it looks like functional nursing scrubs. It even has the nametag clipped to the pocket. The orange heartbeat design on the platter sets this entire thing off.
Found on Pinterest.
21. Beverly's Best Bakery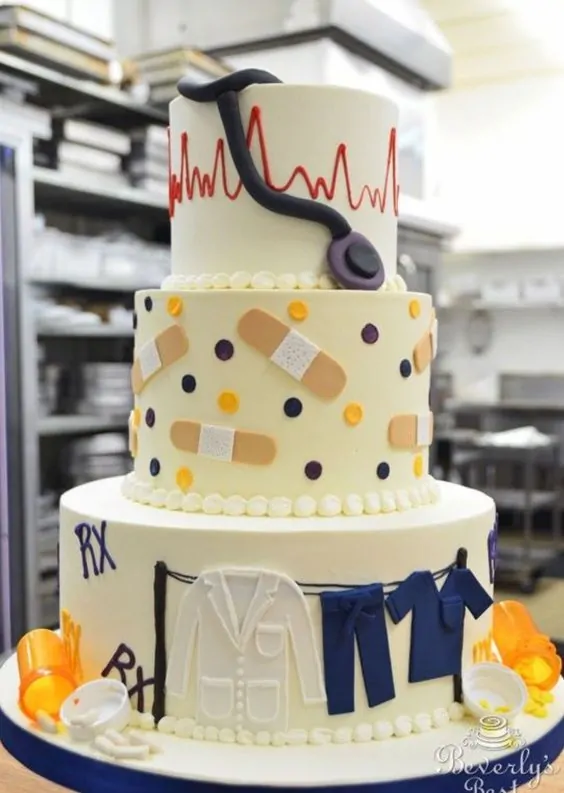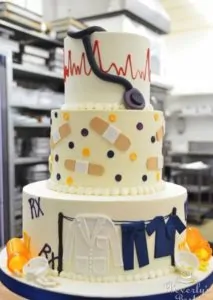 This cake takes a fresh approach to show off nursing scrubs. It shows them hanging on a clothesline. It's such a creative and whimsical cake.
Found on Pinterest.
22. Neon Pink Nurse Cake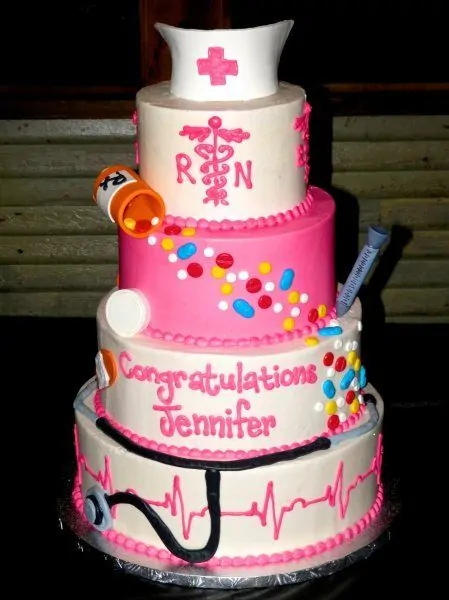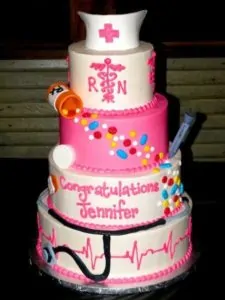 Know someone that loves pink? I mean really loves the bright color pink? Then this cake is for them. The colors are bold and the cake has a youthfulness about it.
Found on Pinterest.
23. Phlebotomy Cake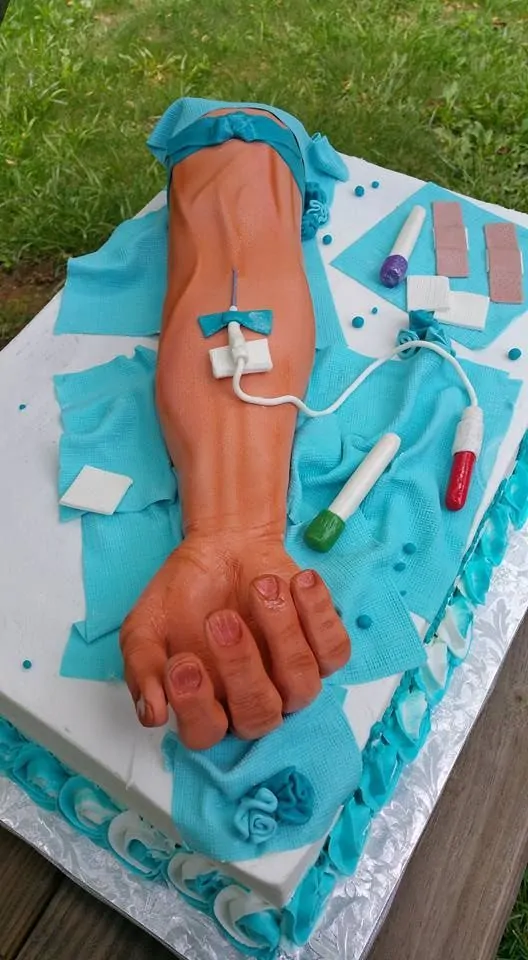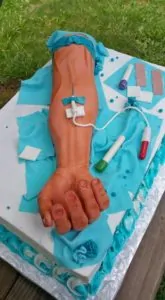 This is not for those that are queasy or take life too seriously. It's a really funny nurse cake. Not sure who will want to eat what looks like an arm, but it will be memorable for sure!
Found on Pinterest.
24. 5-Tiered Surgical Nurse Cake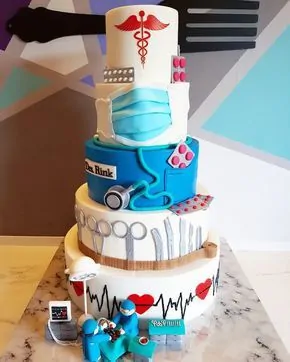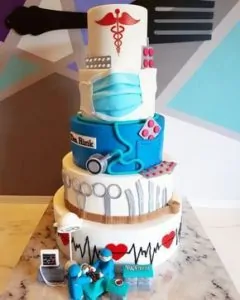 This cake has 5 amazing tiers – each with stunning graphics. Everything about it reminds you of all the hard work surgical nurses do. It's a complete work of art that is too amazing to eat.
Found on Pinterest.
25. A Pocket Full of Sweetness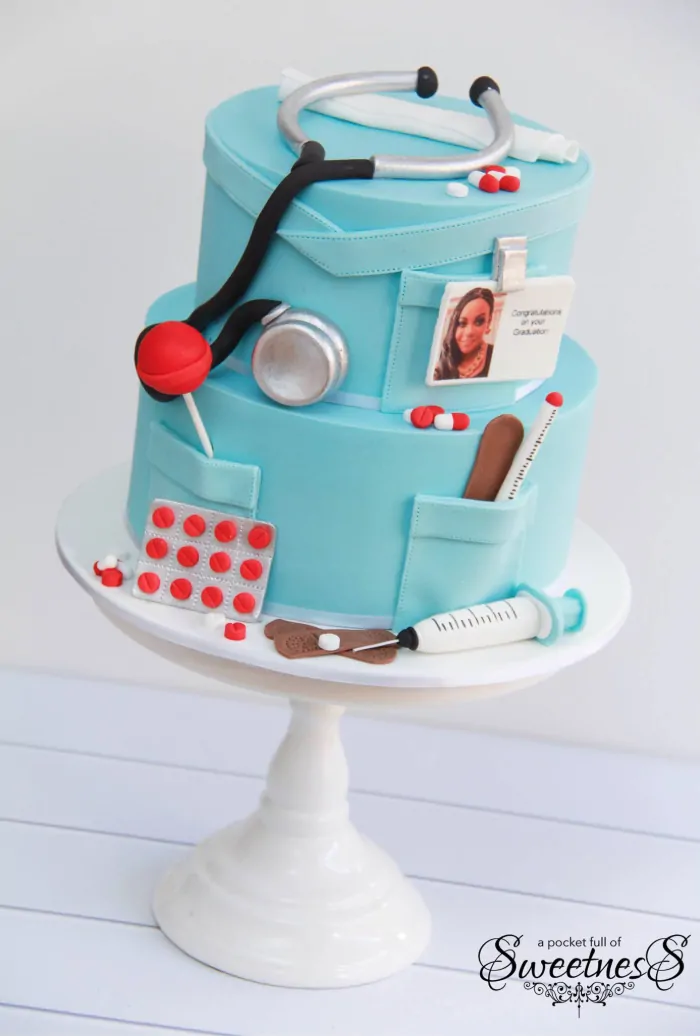 This cake even uses the person's picture on the name tag. It has so many customized features. The sucker in the pocket is another really fun touch that takes from real life.
Made by A Pocket Full of Sweetness.
26. Floral Accents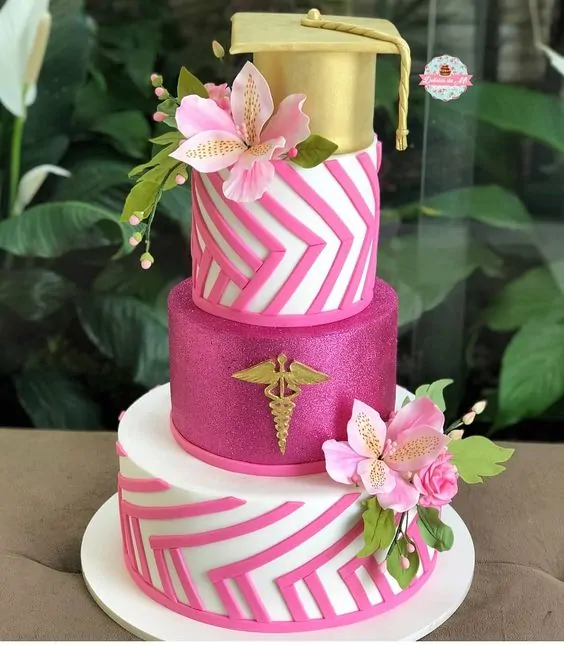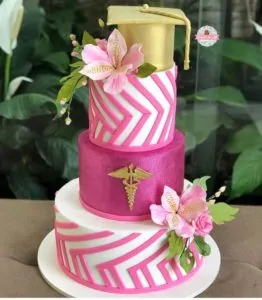 Finally, if you or someone you know loves flowers, use them on the cake! The accents really elevate the elegance of this round, 3-tiered cake. And the glitter is glamorous too.
Found on Pinterest.
More Nurse Cakes and Free Printables
When it comes to making a nurse cake, the most important thing to remember is personalization. What reminds you of that nurse? What are their favorite colors? You can go as simple as a sheet cake or as impressive as a 5-tiered cake. All that matters is creating something that will make them smile and know you care.
Here are even more nurse cakes from Pinterest. Plus, you'll also find free printable nurse cupcake toppers too! If cakes aren't your thing check out these Best Nurse Graduation Cookies For Your Nursing School Grad.
Download Nurse Bingo Today!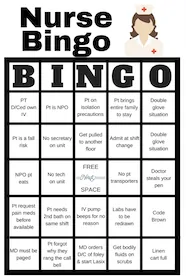 Liven up any shift with a fun game of bingo. See who can fill a row first!
Fill a whole card and lose grip with reality.
Your privacy is protected. We will never spam you.