*articles contain affiliate links*
Understanding pathophysiology can really make a huge difference in your role as a nurse. Learn what it is and why it's such a vital part of your career.
What is Pathophysiology?
According to Merriam-Webster, the definition of pathophysiology is "the functional changes that accompany a particular syndrome or disease." In other words, it's the changes that happen after a disease or syndrome. Like someone with Bell's Palsy not being able to use a straw.
If you are still in nursing school, you'll have to take an entire class all about this. In this class, you will not only have to define pathophysiology, but you'll have to understand how it affects people in real life.
Why is Pathophysiology Important for Nurses?
Pathophysiology is vital for nurses to understand. It answers the question "why are they experiencing this?" Understanding what is going on in someone's body at the cellular level helps you understand how to help them.
Let's take a headache, for example. If you mastered Pathophysiology, you'd be able to problem solve and determine whether that is caused by dehydration, a pinched nerve, stress, or some other more serious reason.
Yes, it is a doctor's job to diagnose illnesses. But as nurses, it is our job to reassure patients and help them stay calm so they can heal. Explaining why they are undergoing tests, will give them peace of mind.
Understanding it also helps you react to abnormal changes in patients faster and with more accuracy. Why are they all of a sudden experiencing this change? What do we need to do to help them? Is this an emergency? These are all questions we answer on a daily basis.
How to Understand Pathophysiology in Real Life
Pathophysiology is a pretty difficult class for your nursing degree. The best way to pass it is to understand how it relates to your job and real life.
This article from LSU at Alexandria has some excellent examples. It points out correctly that doctors and nurses all work as a team to help the patient. As nurses, we interact with patients constantly – something doctors do not do. So our ability to assess a situation will be extremely accurate, especially if we understand everything the patient is experiencing.
We can suggest to doctors that a symptom might be caused by a recent change the patient experienced.
As you study for your class, personalize it. Create example situations and really try to understand how this can be applied in your future job as a nurse.
More Articles About Professional Nursing
Now that you understand what pathophysiology is and why it is so important to nursing, here are some more articles that will help you.
Pathophysiology: The Biologic Basis for Disease in Adults and Children

Clinical Pathophysiology Made Ridiculously Simple

Pathophysiology

Understanding Pathophysiology

Pathophysiology: Introductory Concepts and Clinical Perspectives

Download Nurse Bingo Today!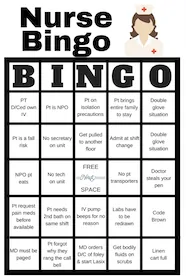 Liven up any shift with a fun game of bingo. See who can fill a row first!
Fill a whole card and lose grip with reality.
Your privacy is protected. We will never spam you.