*articles contain affiliate links*
There are a lot of student loan forgiveness programs created just for nurses. Keep reading to see if you qualify and how to get it.
Student Loan Forgiveness For Nurses
Nursing school is not only hard on your schedule and your brain, but it's hard on your budget too. It's almost impossible to graduate without a heavy student loan debt.
Can nurses get loan forgiveness?
Yes, they can. There are both state and national programs that you might qualify for. In this guide, I'll show you how to get student loans forgiven.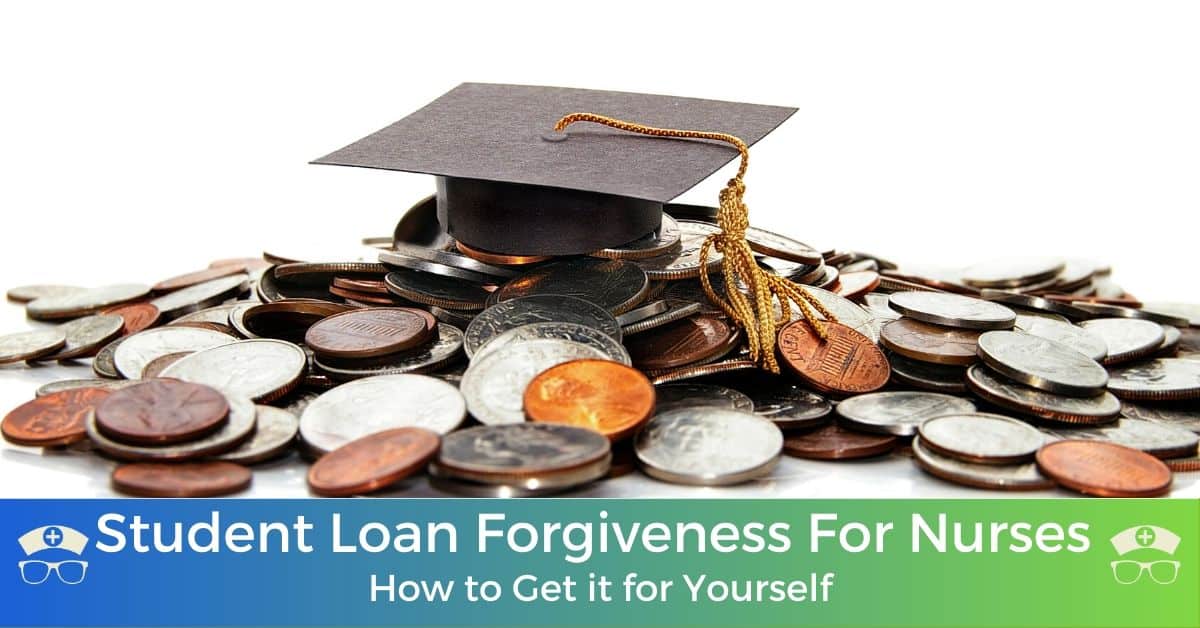 How To Get Nursing Student Loans Forgiven
There are three main ways to get your student loans forgiven – through a national program, through your state, or by taking a job that offers to pay them off.
Let's look closely at these options and help you pick out the best one.
National Programs That Offer Loan Forgiveness
There are four very popular national programs that offer loan forgiveness. How you decide which to do will depend on the type of student loans you have, what kind of degree you have, and where you choose to work.
#1 Nurse Corps Loan Repayment Program
If you have private student loans, then this is the best program for you.
It will repay 60% of your unpaid nursing student loans. The catch is you have to agree to work for the Nurse Corps full-time for 2 years. If you work a third year you might get an extra 25% of your original balance paid off.
You will have to pay taxes on the money from the program and only certain nurses will qualify. These are the types of nurses that qualify for this program:
Licensed RN or Advanced Practice registered nurse
You must work in a qualifying hospital or clinic with a critical nursing shortage before applying.
You can apply for the program online.
#2 Public Service Loan Forgiveness Program
The Public Service Loan Forgiveness Program (PSLFP) is one of the most popular ways to get rid of nursing student loans.
If you work for a nonprofit or the government, you probably qualify for this program. You don't even have to be a specific kind of nurse. If you work for a nonprofit or the government, you qualify. Easy!
Even better, they offer tax-free forgiveness of your student loans. But first, you have to make 120 eligible payments while working full time for a qualifying employer. Also, it only pays off public loans, not private ones.
Complete an employment certification form online to get the process started if you work for a qualifying employer.
#3 Federal Perkins Loan Cancellation and Discharge
Personally, this is my favorite one of all, because every single nurse that has a Perkins loan qualifies. It's so easy.
If you are a nurse who still has Perkins loans, you automatically qualify and they can be forgiven in tax-free increments over 5 years. You just have to be working full-time as a nurse.
To get your Federal Perkins Loans forgiven, you have to apply for cancellation through your school's financial aid department.
#4 National Health Service Corps (NHSC)
This is very similar to the Nurse Corp loan forgiveness program, but you can only use one of them.
Just like the Nurse Corp program, if you work for two years in a Health Professional Shortage Area you could qualify for student loan forgiveness through NHSC.
The best thing about this program is that they offer it to both part-time and full-time nurses. You'll get more of your student debt paid off if you work full-time. And you don't have to pay taxes on the payments received through this program.
Check out their website to see if you qualify.
Nursing Jobs That Pay For Student Loans
There are jobs that qualify you for national and state programs that pay off student loans quicker. Sometimes if you have a nursing specialty your employer might have a private program that includes student loan forgiveness over a period of time.
Most likely, if you work in a place where there is a severe nursing shortage, you probably qualify for one of the programs mentioned above.
It's always a good idea to bring up the question with your potential employer and see what they offer.
Student Loan Forgiveness By State
Some states also have their own programs in place too. Even if you didn't get approved for a national program, research what your state offers.
Again, you'll most likely have to work in an underserved community. For some states this means an urban area, for others this means rural.
You cannot double-dip. If you are already getting money through a national program, you are ineligible for a state program.
Here are a few states and what they offer to give you an example of what is out there.
West Virginia
The West Virginia State Loan Repayment Program provides student loan forgiveness if you work full-time for a minimum of two years in an underserved rural area.
Take Charge of Your Nursing Career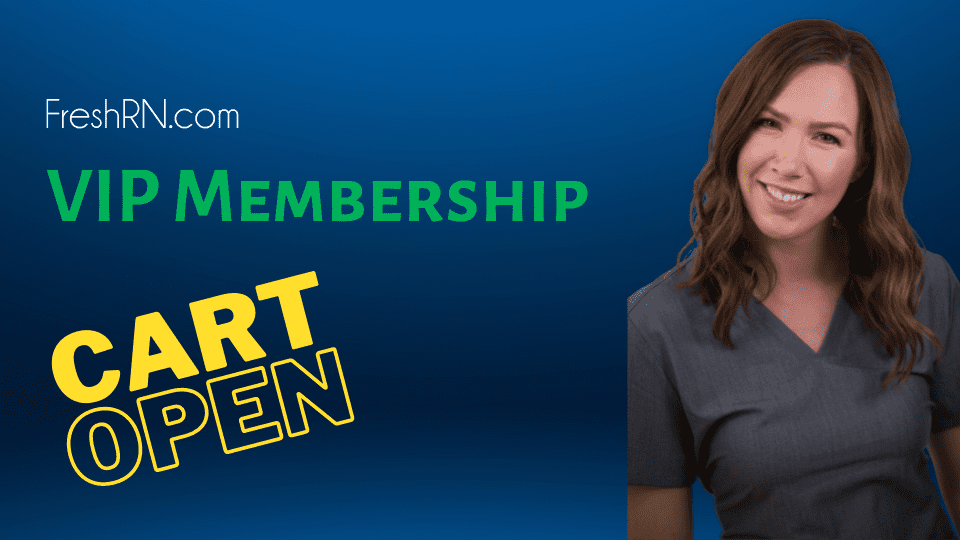 Your first year as a nurse is daunting. You need someone in your corner telling you what your managers really need from you, helping you learn to interact with your preceptor, and really just manage your life. Find all that an more with the FreshRN VIP - Membership.
I'm Ready to Thrive
If you work for a place that is in a designated Health Professional Shortage area, you might qualify for up to $40,000 for a 2-year commitment. You could also receive an additional $25,000 for another two years if the contract is extended.
Pennsylvania
The Pennsylvania Primary Care Loan Repayment Program is another state program that offers student loan forgiveness for registered nurses who serve in designated Health Professional Shortage Areas.
In Pennsylvania, you could receive up to $60,000 if you work full-time or $30,000 for working part-time for a 2-year commitment.
Kansas
Kansas has a Kansas State Loan Repayment Program too, but it's only for nurse practitioners who commit to working in a Health Professional Shortage Area for 2 years. The repayment amount only goes up to $20,000.
As you can see, it varies widely from state to state. Just because your friend in Kentucky gets $40,000 towards their loans doesn't mean your state offers the same amount. Always check before agreeing to work in one of these underserved areas.
What Is a Health Professional Shortage Area
Since all of these programs require that you commit to working in these areas, it's important to know exactly what they are.
The Health Resources and Services Administration defines a Health Professional Shortage Area (HPSA) like this:
Health Professional Shortage Areas (HPSAs) are designations that indicate health care provider shortages in primary care, dental health; or mental health. These shortages may be geographic-, population-, or facility-based.
If you want to search for the HPSAs near you, use the online tool from the HRSA. With this tool, you can see how large the demand for health care professionals is.
Student Loan Forgiveness for Nurses Exists
It's really good to know that even after taking out enormous student loan debt there are plenty of national and state programs that will help you pay them off. Sure you have to agree to serve for a set amount of time. But these are often places that really need health care professionals, so you will be making a big difference in people's lives.
More Nursing Jobs Resources
There are so many nursing jobs out there, it can be tough to pick a specialty. Here are a few guides you can read over and help you as you decide where to work.
Student Loan Debt Bible: 16 Things They Don't Want You to Know About Student Loan Forgiveness and Student Loan Repayment

Dealing with Student Loans: A Comprehensive Guide

Applying to a Student Loan Forgiveness Program: A Guidebook

The Student Loan Forgiveness Program: The Ultimate Guide for Handling Your Student Loans, Understanding Your Student Loan Payments and for Getting on a Student Loan Repayment Plan!

Download Nurse Bingo Today!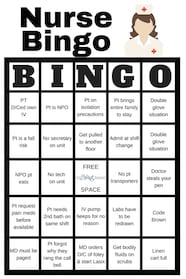 Liven up any shift with a fun game of bingo. See who can fill a row first!
Fill a whole card and lose grip with reality.
Your privacy is protected. We will never spam you.