*articles contain affiliate links*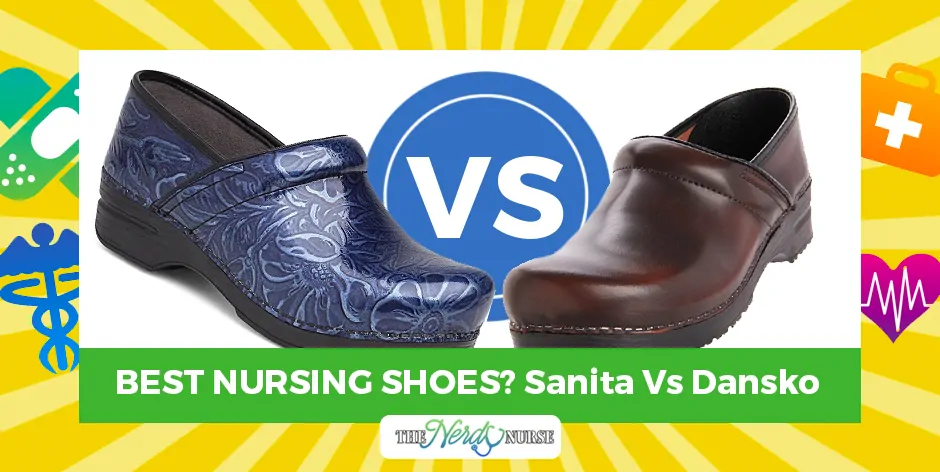 The comfort of a good shoe is truly irreplaceable, especially when you're in a profession that entails long hours and shifts, where you really wish you could fall asleep on your feet, if it was physically possible. Nursing may be one of the oldest and noblest professions on the planet, but that doesn't make it any less grueling. Comfortable shoes really are a godsend when you spend that much time on your feet, which is why we've put together a list comparing the best nursing shoes that two of the best footwear brands in this industry can offer, to ease your hunt for the perfect shoe. As a result, we give you the low-down on Sanita Vs Dansko!
What to Look for in the Right Shoes!
As a nurse, it's important to have shoes that fulfil a number of criteria. Are the shoes comfortable? Do they support your body movements and weight? Do they reduce stress on your joints? Do they protect you from slipping and other accidents that could happen at the workplace? Studies show that nurses face a high risk of musculoskeletal disorders, and one of the influencing factors is the kind of footwear worn.
Sanita Vs Dansko – What are the Best Nurses Shoes?
We've outlined some of the best shoes in Sanita VS Dansko in this comparison table to make it easier to find the one that is right for you. You can click "Read More" on any of the items in the table to jump to the section in this article outlining more information about it. Or, you can click the "Buy from Amazon.com" button to pick it up immediately.
Dansko Clogs
One of the best footwear brands in the industry, Dansko is the most popular choice made by nurses for comfortable footwear. This American brand sells stylish, affordable footwear that is a godsend on days with longs hours and endless shifts. Dansko clogs keep your feet happy and make your work a little more comfortable, and may be even a little easier for it!
Professional Stapled Clog by Dansko Unisex Nursing Shoe Rainstorm Patent

This patent-leather stapled clog is one of the most comfortable finds for nursing. With its contoured midsole, the clog keeps your foot secure and supported. Even better, the clog has super shock absorption to ease the stress on your joints, and is available at a price of $109 from Amazon, in an irresistible shade of blue that's sure to brighten up any room it's in, as well as a more sober black.
Why It's Irresistible
Firm foot and arch support due to the contoured midsole
Superb shock absorption
Unisex
Anti-fatigue rocker bottom that keeps your feet going all day long
High-quality patent leather that makes the shoe durable and easy to clean
Roomy toe box that gives your toes lots of wiggle space
An antimicrobial sock lining that keeps bacteria away despite the long hours
A 2-inch heel
Dansko Unisex Professional Espresso Oiled Full Grain Clog/Mule 39 (US Men's 5.5-6, US Women's 8.5-9) Regular

This range of professional clogs offered by Dansko is a perfect combination of comfort and style. These clogs keep you going all day by easing joint strain and pressure, and provide a level of shock absorption that's only rivaled by superb athletic footwear. These clogs are even endorsed by the American Podiatric Medical Association for good health. Available at a starting price of $129, these clogs come in a range of colors. You're sure to love the fit, comfort and look of these! Pick yours up from Amazon.
Why It's Irresistible
High-quality leather that keeps the clogs durable and makes them easy to clean
Unisex
Antimicrobial lining
Anatomical insole for foot support and security
Great shock absorption
Plenty of space for your toes
Synthetic sole
2-inch heel and 1-inch platform
Dansko Women's Professional Mule,Botanical Patent,40 EU/9.5-10 M US

These professional mules by Dansko are made keeping in mind style and comfort, and are even referred to as the "Cadillac of Nursing Shoes"! Available in a variety of catchy colors and patterns, these shoes have a starting price of $74 which can go up to $185 on Amazon, depending on the pattern or color you choose. Made from a combination of oiled leather and synthetic material, this clog is perfect for the hard-working nurse.
Why It's Irresistible
Wide heel for greater stability
High-quality material which makes it incredibly durable
Heel measurement of 1.75 inches and platform measurement of 0.75 inches
Polyurethane outsole with a rocker bottom for shock absorption
Padded instep collar
Roomy reinforced toe box for space and protection
Dansko Women's Professional Mule,Black Oiled,38 EU/7.5-8 M US

These clogs are a great fit, designed with a breathable foam bed that absorbs perspiration and regulates the temperature inside the shoe, a stapled welt and a faux wood platform. Available in 18 different colors and patterns, this shoe is completely waterproof and is easy to clean. And if you're on a budget, then look no further! Starting at $84 (much lower than most other Dansko clogs), these shoes are the best value for money you can find! Get yours on Amazon today.
Why It's Irresistible
High-quality leather
Foam footbed that absorbs perspiration and keeps your feet cool
Rubber sole that is slip-resistant
Perforated comfort insole
Polyurethane outsole for durability and shock absorption
Stapled welt and faux wood platform of 0.75 inches
Roomy toe box
Sanita is a brand that has quickly gained repute. Initially the manufacturer of clogs for Dansko, this European company went solo in 2007, selling clogs under its own brand name. With a legacy in shoemaking going back over 100 years ago, Sanita clogs come with innovative designs that could make your feet sing.
Sanita Women's Professional Cabrio Clog,Black,38 EU/7.5-8 M US

These clogs are the perfect blend of style and comfort. Made with a rocker bottom, slip-resistant outsole and a brush-off upper finish, the Cabrio clogs are a great fit and an even better investment for the price of $79.95 that you'll be paying. Available in seven different sizes, these clogs are designed to follow your foot's natural shape, making them ideal for people suffering from sciatica, joint pain and back pain. Available on Amazon.
Take Charge of Your Nursing Career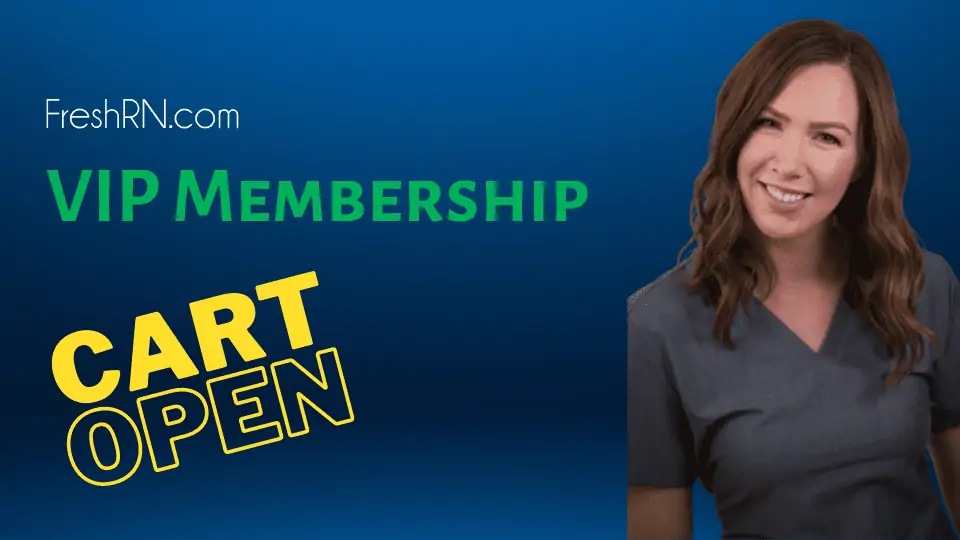 Your first year as a nurse is daunting. You need someone in your corner telling you what your managers really need from you, helping you learn to interact with your preceptor, and really just manage your life. Find all that an more with the FreshRN VIP - Membership.
I'm Ready to Thrive
Why It's Irresistible
Sturdy and supportive
Premium quality leather
Rocker bottom and slip-resistant synthetic outsole
Brush-off upper finish
Follows the shape of your foot
Roomy toe box, contrast piping at topline and full-welt stitching
Padded insole with inclined forefoot
Sanita Women's Professional Gwenore Clog,Black,39 EU/8.5-9 M US

The perfect combination of class and comfort, the
Why It's Irresistible
Durable
Slip-resistant and flexible outsole that also provides great shock absorption
Anatomically shaped footbed that creates a rocking motion to propel your foot forward while reducing pressure
Rocker bottom to ensure a comfortable gait
Heel measurement of 1.75 inches and platform of 0.75 inches
Sanita Women's Professional Ariana Closed Back Clog

These glamorous clogs can brighten up any gloomy day or room and help you beat the "Monday morning blues"! Designed with patent leather that's got a glossy finish, this shoe is easy on the eyes and your feet! The synthetic outsole provides traction control and durability, making them a worthy long-term investment at a price range of $70.85-119.95. Available in three different colors, these shoes blend glamour and professionalism, and are so comfortable that you can wear them straight out of the box without getting your feet bitten! Get yours from Amazon.
Why It's Irresistible
Made of premium quality leather
Synthetic sole that provides traction control
Durable
2-inch heel and 1-inch platform
Anatomically shaped footbed to suit the contours of your feet
Roomy toe box
Shock-absorbent polyurethane sole that is sturdy and comfy
Lightweight
Sanita Women's Original Professional Croco Closed Clog,Black,41 EU/10.5-11 M US

A shoe that's ideal for both formal and casual occasions, the Croco Clog is one of the most comfortable shoes that Sanita offers. With an embossed patent leather upper, anatomical footbed that provides arch support and contoured comfort, this shoe is even approved by the American Podiatric Medical Association (APMA) for its orthopaedic construction. These amazing clogs are available in seven different colors, ranging from $109-$139 on Amazon.
Why It's Irresistible
Polyurethane rocker bottom that's reinforced with a hard plastic frame to provide durability and stability
Approved by the APMA
Embossed patent leather upper
Perfectly padded
Anatomical footbed that provides arch support and contoured comfort
Synthetic sole that provides traction and durability
1.5-inch heel and 0.75-inch platform
The Final Verdict
Both Dansko and Sanita are highly reputed brands that have always maintained and delivered high standards in footwear, and there can be no clear winner in a case of "Sanita vs Dansko". While Sanita is the slightly less expensive brand, both brands have their own unique features that they provide to the wearer. After all, beauty lies in the eyes of the beholder and to each his own! You can even give both brands a try and pick the one that works for you. However, whatever brand you do choose, you can be rest assured that these comfortable nursing shoes will ensure that your feet will feel like they're walking on clouds!
Dansko Women's Pro XP Mule, Night Rose Patent, 38 EU/7.5-8 M US

Dansko Women's Professional Patent Clog,Petrol Patent,39 EU / 8.5-9 M US

Sanita Women's Original – Pro. Limited Edition Light Blue Leather 39 Regular EU

Sanita Women's Smart Step Piper Work Shoe, Black, 38 EU/7/7.5 M US

Download Nurse Bingo Today!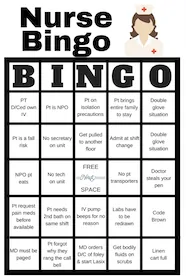 Liven up any shift with a fun game of bingo. See who can fill a row first!
Fill a whole card and lose grip with reality.
Your privacy is protected. We will never spam you.