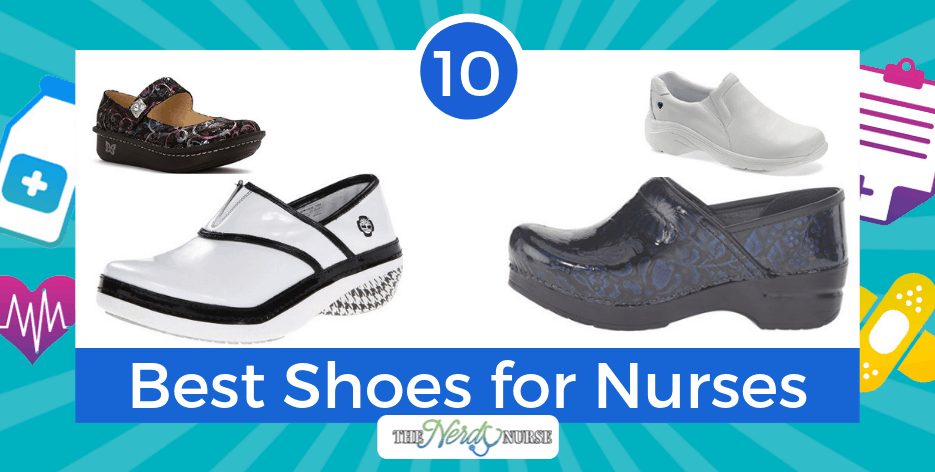 Are you in search of a pair of nursing shoes? Don't know what qualities to look for in order to get the best shoes for nurses? Puzzled about the brand choice? You can find the answers to all these questions and more by reading our guide for the best shoes for nurses. We have singled out the top 10 brands of the best nursing shoes grounding our choice on the information provided at Reviews Bee as well as we have formed a list of the most important things and features that nursing shoes should possess.
Why Good Nursing Shoes are So Important
Nurses are the people who need highly supportive and comfortable shoes especially as they spend most of their working day, which normally comprises no less than 12 hours, walking around. Obviously, the need for comfortable footwear becomes crucial. There are a great number of shoes for nurses available on the market that come in a variety of shapes, styles and features thus it becomes a bit complicated to choose the best one that will meet your needs.
To start with, let's answer the question how nursing shoes or nursing clogs differ from the ordinary ones and are they really worth the purchase? Nursing shoes are surely worth buying because unlike the ordinary shoes they weigh lighter, provide you with high support and will reduce cases of the back pain, shin splints, numbness and other physical aches that you might get if you spend your working day in a pair of low-quality shoes.
'High-quality nursing shoes should provide comfort, support and stability which will contribute to the decrease in foot, back and leg pain.'
How to Choose the Best Shoes for Nurses
We've outlined some of the best shoes for nurses in this comparison table to make it easier to find the one that is right for you. You can click "Read More" on any of the items in the table to jump to the section in this article outlining more information about it. Or, you can click the "Buy from Amazon.com" button to pick it up immediately.
The job of nurses is very responsible and important and in order for them to be highly productive and not get tired easily much depends on the quality of shoes. Here are some essential factors to help you choose the best shoes for nurses:
Stability: High-quality nursing shoes should provide comfort, support and stability which will contribute to the decrease in foot, back and leg pain. Design and material are important for this as well. The best nursing shoes are normally made of leather or rubber. Rubber is the most popular material for nursing shoes as it is comfortable and lightweight. Avoid materials that will create difficulties when cleaning or will add additional weight.
Slip Resistance: Spills and liquids are things you won't miss when working in a hospital so make sure your nursing shoes are slip resistant and have a good grip which will keep you safe during your working day.
Weight: Make sure your nursing shoes are not too heavy and clunky otherwise your productivity and work performance level will decrease. Nurses are constantly on their feet and having a pair of shoes that is lightweight will add comfort and help you avoid getting tired easily.
Shape & Style: There is a great variety of shapes and styles of nursing shoes some of which are meant to fit certain types of feet as well as medical conditions. Some of the most common nursing shoe styles are crocs, clogs, athletic sneakers and tennis/running shoes. So as to choose the right one we advise you to talk to a podiatrist who will tell you which one to buy based on your foot type. Always choose comfort over cute design!
Maximum Shock Absorption: Make sure the shoes support your feet enough to absorb your movement impacts.
Insoles: Good nursing shoes should come with a curved surface cradling the arch of your foot.
Price: Prices differ depending on the material, design and construction however, do pay a little more for comfort and beneficial features.
Benefits of Nursing Shoes
Here is what benefits you will get if you have a quality pair of nursing shoes:
Pain Reduction: As we have already mentioned good shoes for nurses will reduce the pain in heels, legs and back during your hard working day and after it.
Posture Support: Comfortable nursing shoes will provide posture support and eliminate low back pain and leg problems.
Arch Support: This is considered the most important feature of nursing shoes. It will add high comfort when walking around all day.
No More Fatigue Issues: Because of the hard job and endless duties nurses might have such health problems as arthritis, muscle cramps and low back pain. However, with the right shoes you will avoid all of these.
Speed & Flexibility: Lightweight shoes will contribute to your speed and flexibility at work.
Top 10 Best Shoes for Nurses
Now it's high time to have a look at the best and highest quality brands of nursing shoes that have positive reviews and are popular among customers. Here is the top 10 list of the best brands for nursing shoes: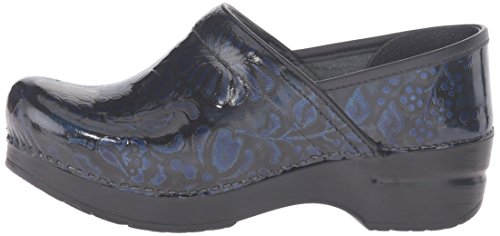 Being one of the most popular brands of nursing shoes,
Dansko Clogs
offer high quality and comfort that comes with durability. Dansko professional clogs are meant for nurses working long hours and being constantly on their feet. They come with such benefits as:
Third party slip-resistance that is officially tested and approved
Scotch-guard stain resistance
Odor and moisture resistance
Elegant leather upper
High posture support
Joints pressure and fatigue reduction
Easy cleaning
With this many advantageous features, it becomes obvious why the shoes for nurses of this brand are so popular. Speaking of the cons of Dansko professional clogs, we should only mention that they are not cushy and the base is not soft. And there might be some size difference if you are a non-European.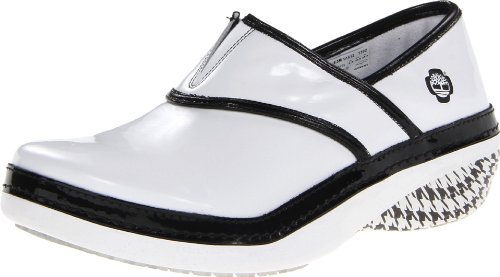 These shoes come with special anti-fatigue technology which means you will have ideal foot shock absorption and all-day foot, leg and back support. Other benefits to Timberland Pro Clog include the safe-grip slip-resistant sole that will eliminate slippage and the heal-to-toe rocker design which will decrease foot pressure.
Due to the design and premium material that these professional clogs are made of you can be sure about their long-term comfort and use. Having the rating of 4.5 among over 115 customer reviews is a good proof of their quality.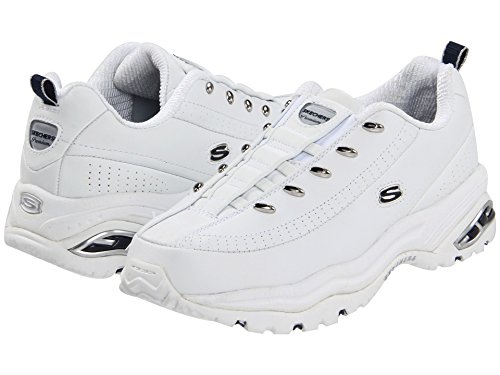 This brand has combined high quality with beautiful design. Here are the main advantages you'll get with Skechers Women's Premium-Premix slip-on sneakers:
Cushioned foot-bed
Supportive rubber sole
Lace-less deign and cushioned tongue add comfort and make the shoe look more fashionable.
These shoes are a great choice for those who want not only comfort and stability but beautiful design as well. Having a rating of 4.3 among 700 customers is more than enough to convince you in their quality.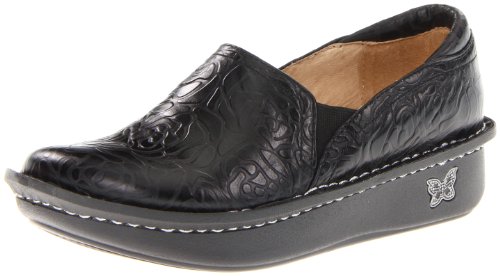 Made from stain-resistant leather these nursing shoes offer high comfort and are very lightweight. The outsole is slip-resistant and offers good stability. Alegria nurse shoes are some of the best around.
These shoes too are not only comfortable enough to be worn during your working day but they also come with a variety of beautiful designs and styles. They are extremely easy to slip on and off due to the elastic materials.
You can find Alegria Debra slip-ons in such patterns as solid black and white or midnight garden, and Aztec tile and aloha. These nursing shoes have a comparatively high rating too: 4.2 among over 280 customers.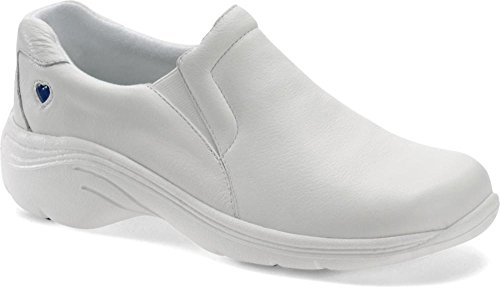 It becomes obvious from the brand name that these shoes have been designed for nurses and are meant for nurses only. They are of high-quality and come with such features as:
Slip-resistant rubber sole
Stain-resistant leather
Lightweight construction
These shoes have a rating of 4.1 among 315 customers and are available in black or white in matte or glossy finishes are are defintely good shoes for walking all day.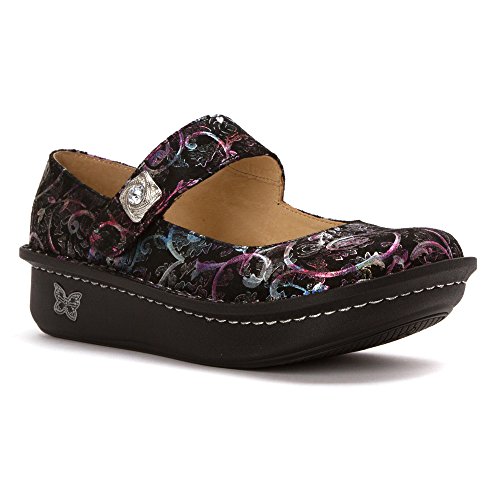 Here is another combination of comfort, fashion, and beautiful design. Alegria Paloma nursing shoes are available in a wide range of colors and patterns and come with such advantageous features as:
Stylish leather upper
Special leather insole with a built-in arch support
Removable factory insole i.e. ability to work with orthotic inserts which means that they are a good choice for those with foot problems
Rocker outsole meant for supporting your posture and gait
Less pressure on the heel
The reviews have shown that Paloma shoes are highly comfortable and don't hurt your feet even after a 12-hour shift. It's not surprising since Alegria nursing shoes are some of the best around.
The only disadvantage that we should mention is the squeaking sound that these shoes are inclined to make. A solution to this can be a silicone lubricant. In any case, you may want to try to avoid patterns that are too elaborate even though nurses shoes have a reputation for having wild patterns.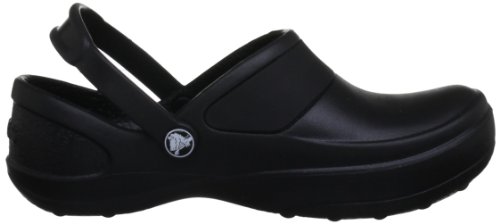 Crocs are one of the leaders when it comes to shoes for nurses. Say what you will about their style, but their legacy in the world of comfortable shoes is nothing to mess with.  Crocs nursing shoes offer lightweight and comfortable shoes that don't put pressure on your feet, hips, and spine. Crocs clogs are durable, stain-resistant and feature the Croslite material.
As for the outsole, it is made from slip-resistant material. These clogs come with footbeds that contribute to the arch support. They are very comfortable to wear during a long working day and not feel any foot or back pain.
And in the end, these clogs come in many colors and styles such as black with a silver flower motif at the top of the foot, white with the same motif, ordinary black and white. This is a great choice for nursing schools that require black nursing shoes.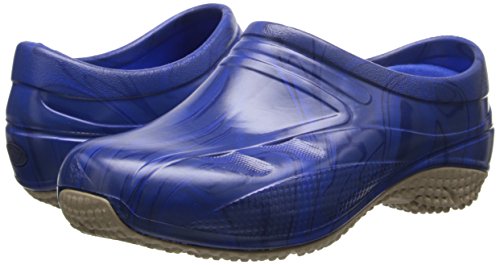 This clog is made of lightweight and flexible compound materials. They come with a 1.25-inch heel with a slip-resistant rubber outsole. The insole is removable making the cleaning and washing of the clog much easier.
Cherokee Women's Exact clogs are available in a wide range of colors and patterns. Speaking of the rating they are quite popular among customers. About 250 customers have left reviews on these clogs and the resulting rating is 4.1.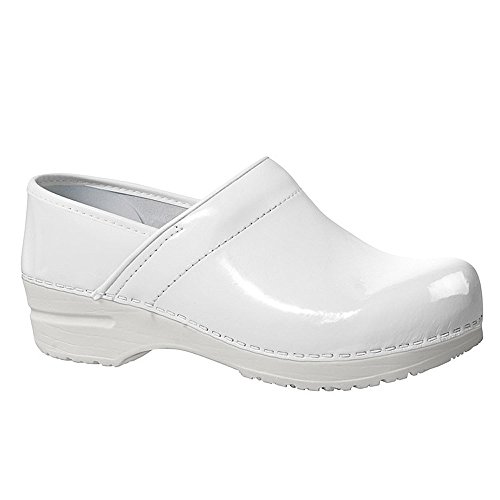 Sanita is a renowned Danish company and is known for its white nursing shoes. Celina clogs are one of those and they come with such features as:
Anatomically shaped foot-bed
Oil and slip-resistant as well as anti-shock and anti-static manmade soles
Other colors besides white are also available: black, brown, green/black, blue/black
Celina clogs are officially certified and qualify for long-term use and high level of foot support and are considered some of the most supportive shoes.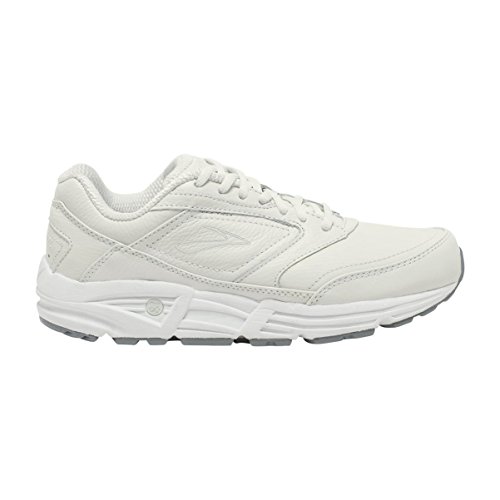 Offering high comfort and durability Brooks nursing shoes are recommended by many therapists and doctors. They are especially good for people with foot, knee and ankle problems and come with the following beneficial features:
Supportive cushioning
Thick rubber and foam sole
Removable insole in case you want to use orthotics
Low-maintenance
Slip-resistant outsole
The extra soft cushion makes your feet sink in the sneaker and adds additional comfort to it making your working day easier. The only thing you might not like is the lack in style and patterns. However, if you  have any strict dress code at your workplace (that doesn't allow patterns) then these nurses shoes would be a great choice, especially since they are some of the best sneakers for arch support.

Twist Slip-On Sneakers
From Easy Spirit, these comfort shoes are absolutely perfect for walking and light activity. They're easy to slip on and off, plus their removable sock liners absorb shock, offer arch support, and provide superior comfort all-day, into-the-evening.
Rubber sole

Removable insole

Durable flexible outsole
These shoes are so easy to take on and off, and the sock liner will provide all day comfort for thoses days when you are on your feet non stop.
Finding the Nursing Shoes that are Right for You
All the shoes listed above offer a great variety of features, designs and patterns to choose from thus making your nursing shoe purchase much easier. Follow our tips regarding the selection of nursing shoes and find the one among our top 10 best nursing shoes list that meets your needs and demands. Choose the best shoes for nurses and start having pleasant, painless and comfortable working days regardless of their length!
If you're looking for the best tennis shoes for nurses, the Brooks is definitely in that category.
More Great Nurses Shoes Resources
For more information on the Best Shoes for Nurses check out: