*articles contain affiliate links*
By: Nitin Ajwani (Guest Blogger)

Changing Trends in Nursing Scrubs
Today many health specialists, especially nurses, are featured with a solitary work wear throughout the medical wards in the hospitals and various clinics. In the beginning of 80's, the nursing scrubs were almost always a simple white dress.

Previously, a nurses dress code may have been the standard apparel of white top, skirt and cap. This type of dress was particularly common to many health professionals before the 1990's. Currently, many dress in the white dress and cap and jump into a world of make-believe nursing on Halloween.
Over the 90's many nurses begun to adopt scrubs. The trend caught on, and quite a few of nurses began to prefer to wear nursing and medical scrubs rather than old traditional white, starched attire.
With the changing trends, many medical doctors and  nurses prefer to wear scrubs as the due to their increased comfort and possibly to look more professional.
Scrubs offer advantages in comfort, convenience and supply. In addition to the fact that they are easily to clean, the variety of colors and styles permits nurses and other healthcare professionals to be individuals and express themselves.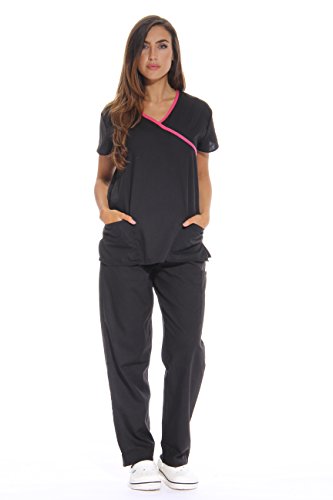 Many nurses' scrubs could even be considered stylish or trendy, and consequently, nurses enjoy wearing them. These days nurses uniforms have the ability to customize their wardrobe with a variety of patterns, colors and styles.
The contributions of many different companies yield a wide selection of scrubs in vivid colors, and patterns that stand out among the crowd. The ability to practice nursing and make a fashion statement can be combined.
For more posts about nursing scrubs, check out these:
Nursing Gear
Caribbean Blue Scrubs
Cheap Scrubs
Best Scrubs
Plus Size Scrubs