*articles contain affiliate links*
Nursing may be a fulfilling profession, but that doesn't make it any less hard. Long hours, continuous shifts, hardly any rest, and nurses are still expected to be at the top of their game at every point. Well, seeing as all this means you're going to be spending long hours on your feet, and while a massage goes a long way in providing temporary relief, something that can provide more permanent relief is wearing comfortable nursing shoes. Bunions, shoe bites, feet ache, joint pain and tendinitis may not sound like very serious ailments, but they could cause serious damage in the long run. How do you find the right shoe, then? Well, we've got two words for you: Dansko clogs!
Finding the Right Dankso Nursing Shoes
Whoever said that you can conquer the world wearing the best nursing shoes, wasn't too far from the truth. And if you can conquer the world, then you can definitely save it wearing the right shoes. As a nurse, it's important to have shoes that fulfill a number of criteria. Are the shoes comfortable? Do they support your body movements and weight? Do they reduce stress on your joints? Do they protect you from slipping and other accidents that could happen at the workplace? Studies show that nurses face a high risk of musculoskeletal disorders, and one of the influencing factors is the kind of footwear worn.
One of the best footwear brands in the industry, Dansko is the most popular choice made by nurses for comfortable footwear. This American brand sells stylish, affordable footwear that are a godsend on days with longs hours and endless shifts. Dansko clogs keep your feet happy and make your work a little more comfortable, and may be even a little easier. So here's our list of the eight best Dansko clogs to make your feet happier!
Dansko Clogs for Nurses
We've outlined some of the best Dansko clogs in this comparison table to make it easier to find the one that is right for you. You can click "Read More" on any of the items in the table to jump to the section in this article outlining more information about it. Or, you can click the "Buy from Amazon.com" button to pick it up immediately.
Dansko Women's Professional Mule

This patent-leather stapled clog is one of the most comfortable finds for nursing. With its contoured midsole, the clog keeps your foot secure and supported. Even better, the clog has super shock absorption to ease the stress on your joints, and is available at a price of $109 (and $18 lesser on sale!) in an irresistible shade of blue that's sure to brighten up any room it's in, as well as a more sober black. Get yours on Amazon.
Why It's Irresistible:
Firm foot and arch support due to the contoured midsole
Superb shock absorption
Unisex
Anti-fatigue rocker bottom that keeps your feet going all day long
High-quality patent leather that makes the shoe durable and easy to clean
Roomy toe box that gives your toes lots of wiggle space
An antimicrobial sock lining that keeps bacteria away despite the long hours
A 2-inch heel
Dansko Women's Professional Leather, Black Patent, 36 EU/5.5-6 B(M) US

This range of professional clogs offered by Dansko are a perfect combination of comfort and style. These clogs keep you going all day by easing joint strain and pressure and provide a level of shock absorption that's only rivaled by superb athletic footwear. These clogs are even endorsed by the American Podiatric Medical Association for good health. Available at a starting price of $129, these clogs come in a range of colors. You're sure to love the fit, comfort and look of these! Get them on Amazon and save off MSRP.
Why It's Irresistible:
High-quality leather that keeps the clogs durable and makes them easy to clean
Unisex
Antimicrobial lining
An anatomical insole for foot support and security
Great shock absorption
Plenty of space for your toes
Synthetic sole
2-inch heel and 1-inch platform
Dansko Women's Professional Mule

These professional mules by Dansko are made keeping in mind style and comfort, and are even referred to as the "Cadillac of Nursing Shoes!" When you think of Dansko nursing shoes, it's probably these that pop into your head. These Dansko clogs are available in a variety of catchy colors and patterns, these shoes have a starting price of $74 which can go up to $185 on Amazon, depending on the pattern or color you choose. Made from a combination of oiled leather and synthetic material, this clog is perfect for the hard-working nurse. Get them in as little as 2 days with Amazon Prime.
Why It's Irresistible
Wide heel for greater stability
High-quality material which makes it very durable
Heel measurement of 1.75 inches and platform measurement of 0.75 inches
Polyurethane outsole with rocker bottom for shock absorption
Padded instep collar
Roomy reinforced toe box for space and protection
The Dansko Wayne slip-on clogs for men are a perfect fit, especially if you're looking for clogs that look great with scrubs or a formal business suit for meetings! Available in black and brown leather, this clog comes with great features such as a lightly padded collar, leather lining, dual elastic side goring and a full grain leather upper. Available on Amazon, the price ranges from $134-346 depending on the seller.
Why It's Irresistible
Leather lining and full grain leather upper
Lightly padded collar
Synthetic sole
High-quality material
Moc-toe stitching detail
Dual elastic side goring
0.75-inch platform
Nitrol slip-resistant sole
Great fit
Removable EVA insole that provides great support and comfort to your feet
Dansko Women's Pro Xp Mule Shoe

Available for both men and women (but with an open back), the Dansko Professional Oiled Leather Clog are designed specifically for everyday use and long hours, with a good arch support that doesn't compromise on comfort. Sold on Amazon at a price range of $123-134 in a variety of glossy and matte colors, these high-end clogs provide protection and comfort.
Why It's Irresistible
Available in high-quality leather with a matte or glossy finish
Rubber sole
Oiled leather upper
Contoured leather insole
Shock-absorbent rubber outsole
1-inch platform
Available in 26 different colors and patterns, the Dansko Women's Pro-XP Mule Shoe gives you a snug fit and great comfort. One of the few shoes to have a memory foam lining and a roomy toe box, this shoe is slightly pricey, available at a range of $134-346.
Why It's Irresistible
High-quality leather
Synthetic sole
Anti-fatigue rocker bottom
Memory foam lining that also absorbs perspiration
1.5-inch heel and 0.75-inch platform
Roomy toe box
Dansko Women's Professional Clog

The Dansko Women's Professional Box Leather Clog are a great fit, designed with a breathable foam bed that absorbs perspiration and regulates the temperature inside the shoe, a stapled welt and a faux wood platform. Available in 18 different colors and patterns, this shoe is completely waterproof and easy to clean. And if you're on a budget, then look no further! Starting at $84 (much lower than most other Dansko clogs), these shoes are the best value for money you can find! Find them on Amazon now.
Why It's Irresistible
High-quality leather
Foam footbed that absorbs perspiration and keeps your feet cool
Rubber sole that is slip-resistant
Perforated comfort insole
Polyurethane outsole for durability and shock absorption
Stapled welt and faux wood platform of 0.75 inches
Roomy toe box
Dansko Women's Professional Mule,Grey Tooled Patent,37 EU/6.5-7 M US

The Dansko Women's Professional Tooled Clog
Polyurethane rocker bottom sole
High-quality leather
2-inch heel and 0.75-inch platform
Embossed clog
Foam midsole that keeps your feet dry
The Final Verdict
It's common knowledge that Dansko nurses shoes are one of the best footwear brands on the market, and their reputation has just increased with their amazing range of clogs for nurses. The long hours and work levels that come with nursing can result in a lot of pain, stress on your joints, calluses and even disorders! Comfortable, stylish and affordable, these clogs keep you on your toes without wearing you out to the bone.
So take your pick from our list and say hello to happy feet!
Where Can I Find a Dankso Clogs Sale?
When I was in nursing school I dreamed about owning white patent leather Dansko clogs, but I knew it just wasn't in the cards financially. Fortunately, my very generous mother scored the local stores to find a deal and gifted me my beautiful nursing school shoes.
So how can you have the same luck and find cheap Dansko clogs?
Search local scrubs stores clearance section
Search eBay for deals discount Dansko clogs (I've seen them sell for as little as $35!)
Always check Amazon for great deals on Dansko professional clogs
Ask your nursing school and nurse friends! Even though Dansko nursing shoes are awesome, not everyone loves them. You might be surprised to find someone that has a gently used pair that they'd let go for next to nothing
Don't let the price stop you from the quest for great nursing shoes. Your feet, back, and legs are worth it. Also, be sure you pick up some great compression socks to really treat your body right.
Download Nurse Bingo Today!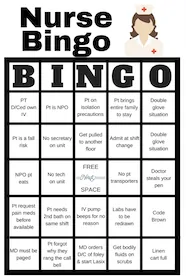 Liven up any shift with a fun game of bingo. See who can fill a row first!
Fill a whole card and lose grip with reality.
Your privacy is protected. We will never spam you.