*articles contain affiliate links*
No one will argue that nursing is a challenging career. But even with the challenge, there are sometimes when we get tired of doing the same thing day in and day out. The monotony of a demanding routine can become too much for us and we need a change.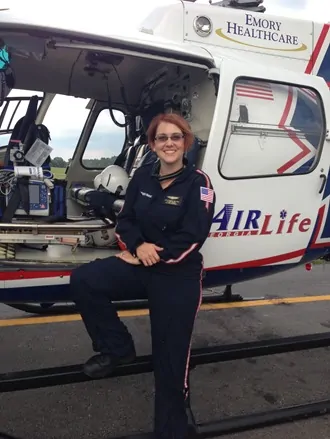 Unfortunately, for many nurses, this is the time when they decide to leave the bedside and pursue different careers. However, nursing has so many diverse specialties in nursing that you can get a breath of fresh air in your career while still practicing nursing. One of the more exciting career changes you can pursue is flight nursing. You may also want to check out Flight Medic vs Flight Nurse: What's the Difference?
What do flight nurses do?
Flight nurses (also known as aero-medical nurses) play a critical role in patient care in some of the most emergent situations possible. They provide life-supporting care while a patient is transported from medical facility to medical facility or in some cases, from the scene of an accident to a trauma center.
A flight nurse will work alongside a flight paramedic to deliver advanced critical care. They follow strict guidelines and established life-saving protocols, processes, and techniques. These nurses play a primary role in direct patient care and are responsible for continual patient assessment. During the flight, they may initiate IVs, apply splints, administer medications, and any other number of procedures that he or she deems appropriate for the situation.
They operate with a great deal of autonomy but must work well in conjunction with a teammate since every flight nurse is paired with a paramedic.
If patients play a primary role from the beginning of the evacuation until the patient reaches the hospital.
Requirements to Become a Flight Nurse
While requirements vary from state to state and company to company, the basis for flight nursing is critical care experience. This of course includes the emergency room and ICU.
Life Flight indicates the following qualifications for RNs who are interested in flight nursing:
Minimum of five (5) years of ICU/ED/Trauma experience within the last ten (10) years.
Previous flight experience preferred.
Flight experience can be substituted year for the ICU/ED/Trauma requirement.
Current licensure and/or certification as listed below:

RN license as appropriate to assigned location
Basic Life Support (BLS) certification
Advanced Cardiac Life Support (ACLS)
Pre-hospital Trauma Life Support (PHTLS) or Basic Trauma Life Support (BTLS) certification
Pediatric Advanced Life Support (PALS) or Pediatric Pre-Hospital (PEPP) certification
Neonatal Resuscitation Program (NRP) certification
Trauma Nurse Advanced Trauma Course (TNATC) or Trauma Nursing Core Curriculum (TNCC) certification. Must have successfully completed the TNATC course prior to assuming independent duties; thereafter either TNATC or TNCC (or equivalent) must be current
Certified Emergency Nurse (CEN) or Critical Care Nurse (CCRN) until certified as a Flight Registered Nurse (CFRN)

Must obtain certification as a CFRN within one year of hire
Completion of Department of Transportation Air Medical Curriculum within six months of hire
Complies with weight restrictions (maximum 250 pounds fully outfitted to perform the job)
Strong leadership skills and ability to communicate and work with a variety of people one-on-one and in large groups, often in highly stressful situations
Ability to work varied shifts and cover fixed wing call shifts
Salary for a Flight Nurse
As with a nursing career, your expected salary will vary based on your previous experience. However, flight nursing is an extremely competitive industry so if you are pursuing this career, do not bid yourself out of a position as there are many other nurses who are eager to fill your spot.
The salary for flight nurses varies from state to state and it is also influenced by your proximity to larger cities. In the United States, the average estimated salary for a flight nurse ranges from $65,000 – $70,000 per year. More information on salary ranges and state-specific amounts can be found at Flight Nurse HQ.
Who Should Consider Flight Nursing?
Adrenaline junkies will definitely get their share of the excite-driven chemical. Flight nursing is face-paced and dynamic and you must be able to adapt and change at a moment's notice. You also need to be ok with flying, because that's a pretty big job requirement. There's also a considerable amount of alphabet soup and certifications that you have to acquire and maintain, so it isn't for the lazy.
Insight From a Flight Nurse
My best friend from nursing school (and maid of honor!) Beth Brown passionately pursued a career in flight nursing and couldn't be happier with her chosen profession. She is able to deliver live-saving hands-on patient care in a unique and exciting setting. If there was any indication of anything that Beth does not enjoy about flight nursing is that there can sometimes be long periods of downtime. She works 24 hours shifts, and sometimes there are no emergencies that require their services. (Which is awesome for the patients!) There are also days when the helicopter cannot fly due to climate weather such as low clouds, heavy fog, or lightning.
Beth, like many flight nurses before her, had some misconceptions about some of the requirements for becoming a flight nurse. The first one is that flight nurses must weigh less than 125 lbs, which is simply not true. She stated the maximum weight for a female flight nurse is 240lbs. So most won't have to go on any major diets to be considered for a role. However, the job is physically demanding and you should be in shape to perform.
Beth's advice for anyone interested in flight nursing is to take advantage of the ride-along opportunities that many medical flight organizations offer. She states that you might have to wait a few days to be able to go on a flight but it would give you the best opportunity possible to see if you would be a good fit for the job.
Beth Daniel is a master's prepared flight nurse practicing in Georgia. Her years of experience in critical care and her passion for nursing and critical care are a tremendous asset to the flight nursing industry and I am honored to be able to call such an amazing woman my friend.
Future Flight Nurse?