*articles contain affiliate links*
The search is on.
I've been networking like it ain't nobodies business in an effort to meet the right people to get me that elusive IT nursing role. It really didn't expect it to be as difficult of a process as it has been so far. The nurses I work with level of technological expertise stops at their iPhones. They have absolutely no interest in working with technology and EMRs as a nurse. In fact, they really don't understand why I would want to leave beside care to work with computers. Although, they all tell me that I should be working with computers. They just don't understand why I went to school to be a nurse.
Why Be a Nurse, then?
I had very defined and definite reasons for wanting to be a nurse. I wanted to work in healthcare. I wanted a job I where I could help people. I wanted to work and be able to go home and sleep at night without feeling like I had lied, cheated, or stolen from someone (which is often the guilt I was left with working in consumer electronics and retail). Being a nurse means making a difference in people lives. It means being part of something bigger than just me. It is just something I was meant to do.
Technology & Nursing Unite!
The fact that I could combine my love for technology and nursing was a brilliant revelation I had during the beginnings of my nursing career. I noticed how frustrated the nurses always seemed to be any time a new upgrade was added to Meditech. They would all harp and complain and get irritated with "just another thing we have to chart". But my eyes always glimmered with excited nerdy joy over each improvement that was made. I would find myself trying to convince everyone of what good these changes would do for us and for our patients. I would tell them how much cost savings it would have for the hospital.
Why Do You Care about Cost Savings?
I always found it funny that when I talked about saving money, no one seemed impressed. Their answers were always "So we can fatten up the higher-ups wallets a little more?" In fact, I know some nurses who have intentionally not scanned or charged for items in some form of passive aggressive retaliation. Don't they understand that ultimately we are the ones that suffer? It drives up the costs of healthcare and keeps the raises for nurses down.
The Bigger Picture:
Becoming a nurse informaticist would allow me to be passionate about the things I love: technology and healthcare. I would be able to make a real difference in an organization by inspiring those around me to get excited about innovation and improvements. I just may be able to convince a few more nurses and doctors to look at the bigger picture when technology is involved. Don't think about the here and now and the minor frustrations you are inconvenienced by, but think about the long-term benefits that you and your patients will experience.
Meaningful use really does excite me. If that's not proof my undeniable nerdiness, I don't know what is.
Now seriously, someone better hire me quick because whoever gets me is getting a heck of an employee!
Download Nurse Bingo Today!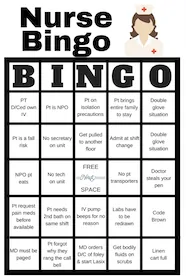 Liven up any shift with a fun game of bingo. See who can fill a row first!
Fill a whole card and lose grip with reality.
Your privacy is protected. We will never spam you.