*articles contain affiliate links*
Be comfortable and safe. These are the best non-slip shoes for nurses. Buy a few as backups for when they wear out. You will fall in love with them on the job.
7 Best Non-Slip Shoes
So you've been on a quest for a long time to find the best non-slip shoes, good enough to handle the slippery hospital floor but also fashionable enough to pass muster in casual settings? That may seem like an impossibly tall order to fill. With a little looking, you can find the best non-slip shoes that will not only handle everything, the hospital may throw at it but also look fashionable. Here is a roundup of some of the best non-slip shoes you can buy right now.
Women's Sure Track shoes from Skechers are one of the most advanced slip-resistant shoes available in the market today. These shoes boast of a special slip-resistant outsole design that has a remarkable ability to grip well even in wet and oily conditions. They feature uppers of solid leather, shape-hugging memory foam insoles, shock-absorbing midsoles, comfortable rubber outsoles, and a composite toe box for maximum comfort, support, and protection.
This pair of shoes from New Balance is perfect for those who spend most of their time walking around on wet and slippery surfaces. Designed to provide a sense of 'sure footing', these shoes have solid non-slip outsoles made of rubber, comfortable leather uppers, and an injection-molded EVA midsole that adds extra spring to your step and offers great cushioning.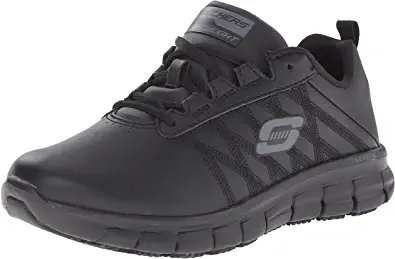 If you want to be more active all day long, you might want to take a close look at these sneakers that are built to make fast feet faster. They're designed just the way nurses want them: Lightweight and comfortable, with sure-footed rubber soles to negotiate the most slippery surface with ease. Then there's the roomy design that provides a great fit and also keeps you comfortable throughout your shift.
This is probably the closest thing to a nursing clog on our list. If your flat shoes are not cutting it, here's a pair of shoes worth looking at. Made of quality materials, these shoes stand up to the challenge and keep you comfortable on your feet throughout your shift. It has a special slip-resistant rubber outsole formed into a unique profile to improve natural human gait and provide traction.
The upper is made from high-quality full-grain leather for better durability. Inside the leather is a detachable EVA footbed that provides full-length foot support and great arch stability. What's more, the Select Fresh treatment helps resist sweat and keeps your feet dry and odor-free.
This pair of work shoes from Skechers is as non-slip as it gets. Designed to provide a sure-footed experience, these shoes have special rubber outsoles that grip the ground well and hold firm even on the most slippery of surfaces. As with most Skechers non-slip shoes, this pair features leather uppers, memory foam topped insoles, soft midsoles with good shock-absorbing qualities, and a special fabric lining to keep your feet feeling flexible, light and slip-resistant.
Stay sure-footed on all wet and slippery surfaces in these black work shoes from Dr. Scholls. The leather uppers, insole channels and a moisture-wicking Dri-lex lining produce one of the most breathable work shoes out there in the market. The springy midsoles provide great cushioning and sufficient stiffness for enhanced support. Furthermore, an antimicrobial shield keeps your feet perspiration-free and controls foot odor.
This surefooted shoe provides go-anywhere traction that keeps it from rolling on slippery surfaces. These clogs are made of high-quality materials that give the comfort and cushioning nurses need. While the midsoles offer great comfort for better agility, the cushioned heel offers stability and comfort. Nicely built and incredibly supportive under daylong loads, these clogs are the kind of shoes you'll never want to retire.
If you wouldn't tread on a wet and greasy road with a bald tire, you shouldn't go on a wet floor with a slippery shoe as well. Lace-up a pair of these best nonslip shoes and enjoy that sure-footed feeling.
More Shoes for Nurses
For more options, check out these Shoes for Nurses:
Download Nurse Bingo Today!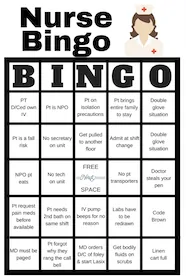 Liven up any shift with a fun game of bingo. See who can fill a row first!
Fill a whole card and lose grip with reality.
Your privacy is protected. We will never spam you.