*articles contain affiliate links*
When you want to use your skills and experience to help others, these are the best volunteer nurse opportunities that need you the most.
Volunteering refills your soul and reminds you why you love nursing so much. There is nothing quite like the feeling of giving back. Plus, volunteer activities look amazing on your resume!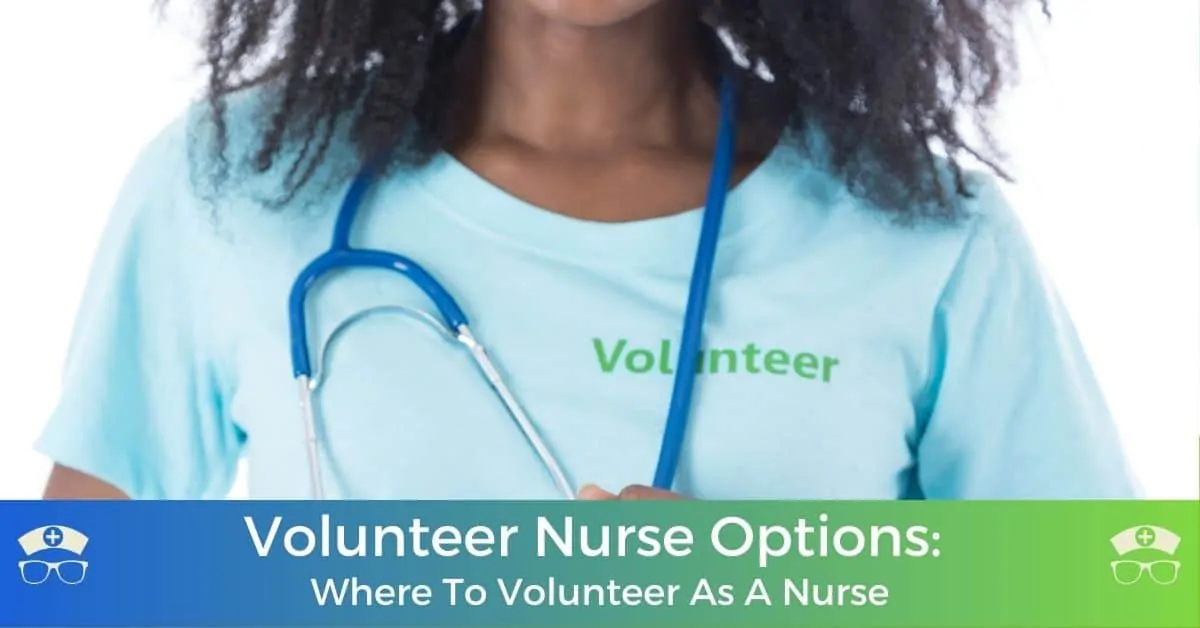 Volunteer Nurse Opportunities
Lots of nursing schools require volunteer hours. Even if your program doesn't require volunteer hours, donating your time can be a fantastic way to give back. When you volunteer, you experience the heart-filling joy of giving. So many of these volunteer nurse opportunities are so needed that you will be able to be part of a positive change in the world.
Check out the following ideas and places that are accepting volunteer nurses and find one that matches your passion and heart.
American Red Cross
The American Red Cross relies on volunteer nurses to help provide relief services around the world. As a student nurse, you can be a part of delivering critical community services. Plus, you'll get some amazing hands-on experience at the same time.
What do volunteer nurses with the American Red Cross do?
Most of their work involves some kind of disaster relief. Other things they do include coordinating emergency communications for military families, helping during blood drives, and operating first-aid or immunization stations.
Disaster Relief
After a tornado rips through an area or a hurricane ravages a state, volunteer nurses are crucial to helping people heal. The American Red Cross is one of the most popular disaster relief organizations you can volunteer with, but there are lots of other organizations too.
Here are a few more places you can volunteer during and after disasters:
Project Hope
If you want to travel, then look into working with Project Hope. Through Project Hope, volunteer nurses can work around the world from South America to Africa, Europe, and even the Middle East.
Nurses do a variety of things including education, treatment of infectious diseases, disaster relief, and helping prevent diseases.
Overseas Volunteer Organization
In addition to Project Hope, there are quite a few other organizations that need volunteer nurses and they offer travel opportunities too.
Doctors Without Borders is a well-respected organization that provides medical care to some of the neediest communities around the world. In addition to providing health care and education, volunteer nurses also participate in valuable research too.
International Volunteer HQ is another travel opportunity for volunteer nurses. These are perfect for medical students and nursing students alike. You'll have the option to choose from things like nutrition, public health, speech therapy, and emergency medicine, among others.
With United Planet you'll have the chance to provide vital services to underserved communities around the world. They are a mission-focused non-profit organization. You'll gain hands-on real experiences that you can't get anywhere else.
Mobilize Other Nurses
If you are already an experienced nurse and want to gain management experience, then consider volunteering to mobilize and organize other nurse volunteers. Lots of the organizations mentioned earlier need people just like you.
Some of the duties that are needed include grant writing, fundraising, and managing groups of volunteer nurses. There are so many behind-the-scenes jobs that need done too.
Nursing Homes
Don't forget about nursing homes and senior care facilities. When you volunteer in these places, you'll be doing things like helping organize and put on events for the residents or providing conversation and interaction with the residents.
This is just as important and providing medical care in a far away country. Loneliness has a huge negative impact on senior health.
Operation Smile
Have you ever heard of Operation Smile? They perform cleft lip or cleft palate operations to children in need all over the world. They are always needing volunteer nurses to help them with these operations. This is a vital service since lots of kids with cleft lip have a harder time eating.
If you want to make a difference in the lives of babies and children, then look at working with Operation Smile. They don't just work oversees – they do work in the United States too. In fact, their headquarters are located in Virginia Beach, Virginia.
Local Hospital
Volunteering at your local hospital as a nursing student is an excellent way to network and build relationships that can help you get a job later one.
For example, if you have your heart set on working in labor and delivery someday, you can volunteer on this floor .
Volunteering at your local hospital will help you see what it's like to actually work there. This could help you realize whether you really want to apply to work there or not. It will also help you stand out from the other applicants.
How Many Volunteer Hours Do Nurses Need?
There isn't a set amount of volunteer hours set by all nursing colleges. Most nursing schools require volunteer hours and it can range from just a hundred hours total to a couple hundred hours.
Ask your local nursing school what they require before you apply.
Do Volunteer Nurses Get Paid?
No, volunteer positions are unpaid. They pay off in hands-on experiences that you will use on the job in your future career. There are some organizations such as Volunteers of America that hire nurses on as staff members.
Volunteer Nurse: Final Thoughts
There are tons of opportunities for experienced nurses and nursing students to all volunteer. You can serve right here at home or gain experience while you travel abroad. Wherever you go, the most important thing to remember is that volunteering will teach you more than you can ever imagine. You will make a huge difference in people's lives when you selflessly give your time to help them.
More Nursing Career Resources
As you keep working hard at your nursing career, here are some more resources that will help you out.
Download Nurse Bingo Today!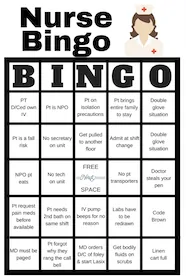 Liven up any shift with a fun game of bingo. See who can fill a row first!
Fill a whole card and lose grip with reality.
Your privacy is protected. We will never spam you.