*articles contain affiliate links*
Is being a telephone triage nurse the job for you? Learn about how much a triage nurse makes, what they do, and how to qualify for this job.
A triage nurse is known as a lot of different things. Some people call it a telehealth nurse, others telepathology, and other times it's called telephone triage. Then there are also triage nurses that work in the emergency room and assess patients in person. No matter what you call it, these nurses work on the phones and talk to patients who can't get to a doctor's office.
Read on and learn more about this job – how much they make, what they do – and see if this is the job for you.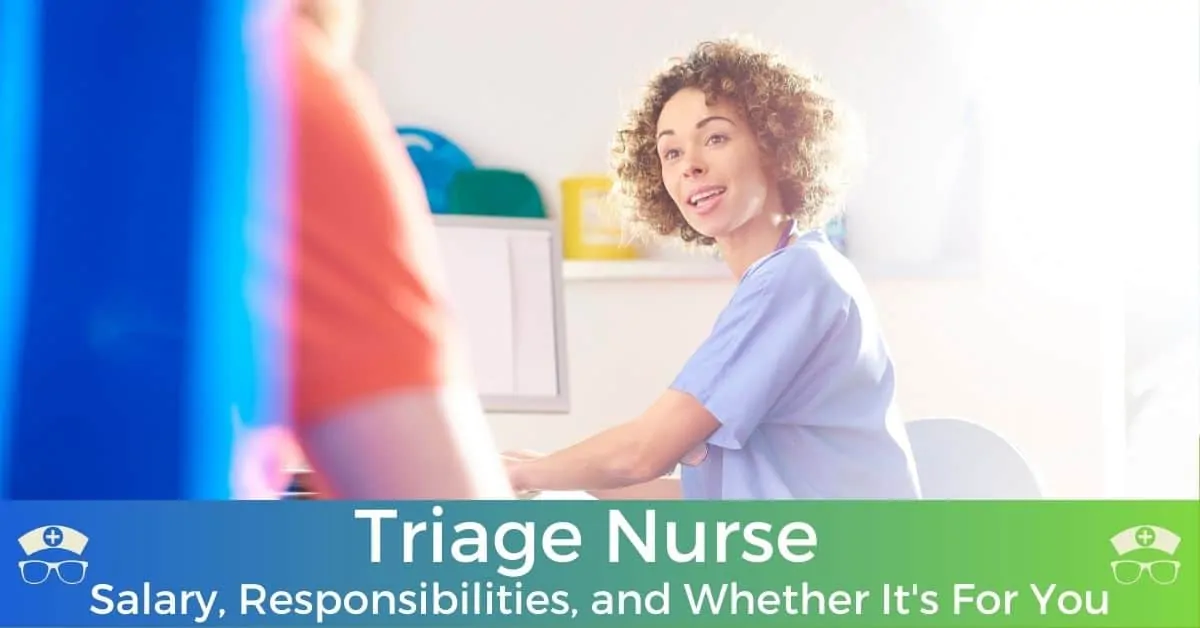 Triage Nurse: All About the Job
Triage nurses are very important. From the telephone triage nurses to the ones that assess people directly in the emergency department, these nurses are vital. They monitor and assess a patient's condition, freeing up time for the physicians and other nurses to give care to patients that need quick care.
Let's take a closer took at a triage nurse – what they do and how much they make.
How Much Does A Triage Nurse Make?
Salaries for this career range widely depending on where you live and how much experience you have. The median annual salary for a registered telephone triage nurse was $70,302 in June 2017. It ranges from $64,000 a year to nearly $80,000.
Responsibilities
The responsibilities will differ based on whether you work as a telephone triage nurse or you work in-person with patients in the emergency department.
Telephone Triage Nurse
A telephone triage nurse works on the phone to talk with patients about a variety of medical issues. They perform a variety of tasks including:
Gather information from patients including age, weight, height, date of birth
Educate patients about different ways to manage their symptoms
Schedule appointments and refer patients to specialists
Consult patients over the phone or via video chat services
Support the medical response teams in bringing patients to the hospital
Assess severity of a patient's condition quickly and recommend the appropriate level of care
Triage Nurse
A triage nurse that works in the emergency department has the following responsibilities.
Assess patients
Initiate emergency treatment if necessary
Reassess patients who are waiting
Manage and communicate with patients in the waiting room
Educate patients and families
Sort patients into priority groups according to guidelines
Transport patients to appropriate treatment areas
Qualifications
To qualify for this job, you just have to be an experienced nurse. Very few first-years will be placed here because it requires skills you learn after a few years on the job. You also need to be an RN.
The skills you need include:
Emergency department experience
Triage education course
Multitasking
Medical expertise in emergency settings
Ability to prioritize patients
The certification from the American Academy of Ambulatory Care Nursing isn't required but will prepare you for the job and make you even more competitive.
What Is Done in Triage?
Triage happens in really busy hospitals and emergency settings. Think of it as a way of sorting and rationing limited care abilities.
They will take vitals and information from patients and then sort them by urgency and other factors set forth by the facility.
How the nurses organize patients varies from facility to facility. Verywell Health has a color-coded system they use.
Can An LPN Be A Triage Nurse?
Very rarely will hospitals hire LPNs in triage. You might find some telephone triage jobs for LPNs, but almost all jobs require an RN. Hospitals want to hire registered nurses because they have the experience to give proper and thorough assessments.
Triage Nurse: Final Thoughts
This role is a vital part of the emergency department. Both telephone triage nurses and nurses that work directly with patients in the hospital provide essential services to the health care workers around them.
This is the perfect job for anyone that loves a fast-paced job where they have to think quickly on their feet. It's a challenging job that requires nurses to pay attention to minor details and prioritize care. They are typically the first point of contact for patients visiting the ER and nurses rely on their assessments.
More Nurse Career Resources
Does this sound like the job for you? If you are still considering different nursing jobs, here are a few more for you to consider.