*articles contain affiliate links*
A study on nurses suggests that spending most of the day constantly walking around following commands and administering care to patients without adequate rest periods might lead to serious lower end extremities and significant discomfort in the knees, legs, ankles, feet and can even lead to back injury.
So, comfortable shoes that provide a great fit and ultimate comfort are so essential to your busy feet. Rightly so, many nurses are walking away from shoes with pointy toes, slippery insoles and narrow wiggle rooms in favor of roomy toe boxes and inner soles and even lightweight and flexible nursing shoes, that just feel wonderful against toes, arches and heels.
As a nurse, very rarely do you have the luxury to sit and relax at a desk with your legs crossed. That's exactly why you cannot afford to take chances with your shoes. You simply can't choose a random pair of nursing clogs and expect to get through your 12-hour shift without any discomfort in your legs.
If you are sick of feeling miserable about your tired feet at the end of your shift every day and are looking for footwear with function, Sanita nursing shoes are a good place to start.
Sanita Nursing Shoes
Sanita is an incredible brand of nursing shoes. They're truly best in breed with a rich history of making first-class European footwear. Since its founder designed the first pair of quaint wooden clogs in 1907, the company has upheld a great tradition of quality, craftsmanship by making first-class shoes and clogs in their Polish and Danish factories.
For roughly 20 years, Sanita manufactured all of the clog collection of Dansko- a household name in the world of clogs. However, they decided to part ways in 2007 and that led to Sanita deciding to produce these shoes in their European factories under their own brand name.
Built to stringent quality standards, their nursing shoes are insanely comfortable and easy on your feet. No wonder why they have been awarded the precious "Seal of Acceptance" by the American Podiatric Medical Association (APMA).
Let us check out some of the best Sanita nursing shoes that can make you feel comfortable all day long no matter what.
Top 3 Sanita Nursing Shoes

Designed to offer maximum support, the Sanita Women's Professional Celina Clog features a safe, anti-static, slip-resistant sole that absorbs shock, and adds bounce and stability to every step you take. Made with long-lasting patent leather, this shoe also boasts of a firm footbed that's an anatomically contoured and offers extra comfort and terrific arch support. If the nursing shoe reviews are to be believed, this Sanita clog could be the right solution to nurses that work in a standing position for extended hours.

Here's a Sanita nursing clog that guarantees ultimate comfort and adequate style without any compromises. Sanita uses premium leathers on the outside to offer rich colors and long lasting use and uses ergonomically designed footbed to support your foot evenly from heel to toe. The outsole simply energizes your feet by providing good underfoot support especially on hard surfaces. Some nursing shoe reviews claim that the clog runs small, so you may need to order one size larger than your standard size.

A classic shoe from Sanita that has got all it takes to keep you comfortable right through your long, strenuous shift. Designed to deliver everlasting comfort, the Cabrio clog features a padded insole for extra cushioning and support, and a slip-resistant sole that offers great protection, especially in slippery surfaces. The toe box is pretty roomy to keep the blood circulation going, and the arch support is good enough to disperse pressure across your foot.
Anyone who's ever spent the day walking around uncomfortably in their sneakers will immediately get what makes Sanita nursing shoes worth having. Whatever you need, there's a Sanita shoe waiting for you that offers supreme comfort, and performance. That combination will truly motivate to get through your shift.
Have you tried Sanita Nursing Shoes? Which ones do you love?
For
more options on nursing shoes
check out these posts:
Download Nurse Bingo Today!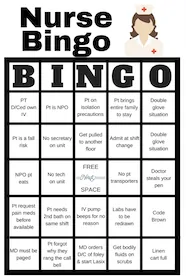 Liven up any shift with a fun game of bingo. See who can fill a row first!
Fill a whole card and lose grip with reality.
Your privacy is protected. We will never spam you.