*articles contain affiliate links*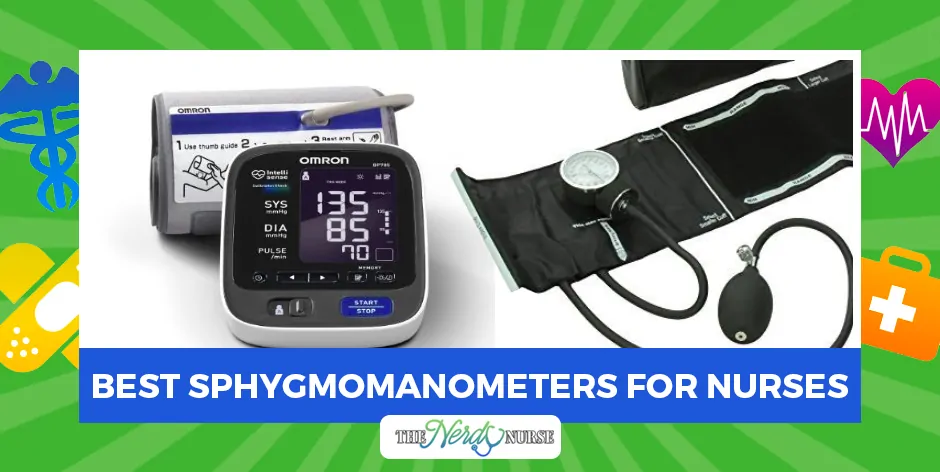 As a nurse, there are two diagnostic devices that play a very important role in your job and you must know how to use them. The sphygmomanometer, also commonly known as the blood pressure cuff and the stethoscope are two extremely vital tools for you as a nursing student, new nurse or a seasoned nurse. Both these tools allow you to check the vitals of your patients and diagnose their condition. You've settled on a stethoscope brand, now lets look at sphygmomanometers.
Best Sphygmomanometers for Nurses
Sphygmomanometers are very important to monitor and evaluate the blood pressure and the health of patients. Choosing the best sphygmomanometer of high-quality can indeed make a significant difference in getting accurate and quick readings regularly.
Digital vs. Manual Sphygmomanometers
A sphygmomanometer is essentially a device that is used to measure blood pressure. You have digital, as well as, manual sphygmomanometers.
Digital Sphygmomanometers
Digital sphygmomanometers can be either manually or digitally operated. These devices make use of electronic calculations in order to measure blood pressure and you don't need a stethoscope to get an accurate reading, making digital sphygmomanometers well-suited for use in loud environments.
To operate a digital sphygmomanometer, you don't need any experience, so it can be used very easily by even inexperienced users and makes it a device that is very commonly used in homes.
[easy-tweet tweet="As a nurse, there are two devices that play an important role in your job and you must know how to use them. " via="no" usehashtags="no" url="http://bit.ly/2FgpdAh "]
Manual Sphygmomanometers
These devices either make use of aneroid mechanism or mercury to measure blood pressure. Mercury sphygmomanometers are the most accurate devices for measuring blood pressure and are commonly used by trained medical professionals to monitor high-risk patients. While mercury sphygmomanometers are the most accurate, their high cost makes them less popular.
On the other hand, aneroid sphygmomanometers are comparatively less expensive and are more popularly used for basic blood pressure measurements. Also, aneroid sphygmomanometers do not contain mercury, so they are safer to use.
Buying the Best Sphygmomanometer
While buying a sphygmomanometer, you should buy one which is of good quality, is reliable and accurate and where you can read the gauge easily. The sphygmomanometer should have a good warranty, as the rubber parts of the device wear out quickly. Also, as a nurse or a nursing student, price is an important consideration, you don't want to spend too much on a BP machine.
With so many models and types of sphygmomanometers available in the market, one is split for choices. Selecting the right one can be quite a stressful task. Here, we have reviewed some of the best sphygmomanometers to make your buying decision simpler and easier.
Reviews of the Best Sphygmomanometers
Santamedical Adult Deluxe Aneroid Sphygmomanometer – Professional Blood Pressure Monitor with Adult black cuff and Carrying case

This aneroid sphygmomanometer has an aluminum alloy manometer that is precision-crafted and has a high level of accuracy. The device has a 2-tube PVC bladder with a big air release valve that helps in efficient airflow. The Santamedical Sphygmomanometer has a nylon cuff which is efficient and prevents miscuffing. The unit comes with a vinyl zipper case for storage.
Salient Features of the Santamedical Adult Deluxe Aneroid Sphygmomanometer
Approved by the FDA
Stress-tested for quality
Large high-contrast dial for quick and easy readings
Large air release valve, DEHP free
Certified 300mmHg manometer, +-3 mmHg accuracy
Get yours from Amazon.
ADC Prosphyg 760 Pocket Aneroid Sphygmomanometer with Adcuff Nylon Blood Pressure Cuff, Adult, Black

This is a very well-designed unit from American Diagnostic that comes at an affordable price. This aneroid sphygmomanometer has a no-pin stop manometer that is precision-crafted and designed for durability. The nylon cuff of the ADC PHOSPHYG has size guide markings so that you get an accurate fit and also prevents miscuffing. The device is equipped with a brass air release valve that is chrome-plated and has a molded latex inflation bladder that ensures high-quality and accurate and reliable readings.
Salient Features of the ADC PROSPHYG Aneroid Sphygmomanometer
Contemporary black enamel design
300mmHg manometer
Chrome-plated brass air release valve
Adcuff nylon cuff with size guide markings to prevent miscuffing
Carrying case made of leatherette with nylon zipper
Unit assembled, inspected and packaged in the U.S.A
Available on Amazon.
ADC Diagnostix 720 Pocket Aneroid Sphygmomanometer with Adcuff Nylon Blood Pressure Cuff, Adult, Black

This aneroid sphygmomanometer from American Diagnostic has a precision-crafted manometer and it also features a nylon cuff that has size guide markings. The luminescent dial of the unit helps to view the readings in low light and the Adflow filter screen protects the valve, as well as, the bulb. The sphygmomanometer comes with a 2-year inflation system and lifetime calibration warranties that ensure long-term use of the unit.
Take Charge of Your Nursing Career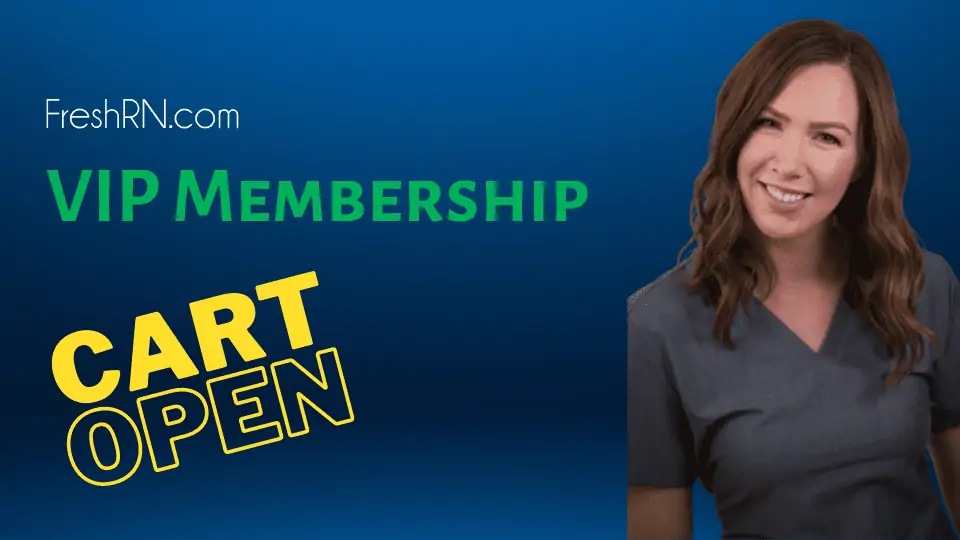 Your first year as a nurse is daunting. You need someone in your corner telling you what your managers really need from you, helping you learn to interact with your preceptor, and really just manage your life. Find all that an more with the FreshRN VIP - Membership.
I'm Ready to Thrive
Salient Features of the ADC Diagnostix Pocket Aneroid Sphygmomanometer
Precision-crafted chrome-plated manometer
Luminescent dial for easy reading in low light conditions
Adcuff nylon cuff with size guide markings to prevent miscuffing
Valve and bulb protected by the ADFLOW filter screen
2-year inflation system warranty
Lifetime calibration warranty
Sold on Amazon for less than retail.
Omron 10-series Upper Arm Blood Pressure Monitor – Bp785 Good Quality From United Kingdom Fast Shipping Ship Worldwide

The BP785 10 by Omron is a digital blood pressure monitor that is loaded with several features. The best feature is that the unit double checks every result, which reduces the chance of it displaying a false result. The unit's advanced computer algorithms check your cardiac rhythm to check for any abnormality. The unit also averages your heartbeat measurements automatically. The unit has a hypertension alert that shows if there is any spike in blood pressure.
Salient Features of the BP785 10
Dual sensors to double check readings for accuracy
Averaging feature displays up to last 3 readings taken within 10 minutes
Detects abnormal heartbeat and provides alert
Hypertension alert indicator
Order with Amazon Prime and get it in 2 days.
Panasonic EW3109W Portable Upper Arm Blood Pressure Monitor White/Grey

The EW3109W from Panasonic is a simple and easy-to-use digital sphygmomanometer. It is very user-friendly and offers an extremely hassle-free way to check your blood pressure. The one-touch button helps you get a reading whenever you want. The display of the sphygmomanometer is quite large, which is very easy to read and the inbuilt memory saves the last 90 readings. The unit comes with a convenient carry pouch.
Salient Features of the EW3109W
Easy-to-use one-touch operation
Accurate measurement due to the digital filter technology
Large LCD display screen
Automatic memory records up to 90 readings to facilitate tracking
Abnormal systolic and diastolic reading alert on the LCD screen
Buy now from Amazon.
Buying the right sphygmomanometer for your nursing needs can be a crucial decision and you must evaluate the advantages and drawbacks of the various options available to you before making your purchase decision.
For more information on Sphygmomanometers check out:
Professional Manual Blood Pressure Cuff – Aneroid Sphygmomanometer with Durable Carrying Case by Paramed – Lifetime Calibration for Accurate Readings – Dark Blue

MDF® Calibra Aneroid Sphygmomanometer – Lifetime Calibration Warranty – Blood Pressure Monitor with Adult Sized Cuff Included – Black (MDF808M-11)

White Coat Deluxe Aneroid Sphygmomanometer Professional Blood Pressure Cuff Monitor with Adult Sized Black Cuff and Carrying Case Bonus LED Penlight with Pupil Gauge

Omron BP742N 5 Series Upper Arm Blood Pressure Monitor with Cuff that fits Standard and Large Arms

Welch Allyn DS44-11 Gauge with Durable One Piece Cuff, Adult

Bluetooth Blood Pressure Monitor Cuff by Balance with Upper Arm Cuff, Digital Smart BP Meter With Large Display, Set also comes with Tubing and Device Bag