*articles contain affiliate links*
Nurses are in high demand across the United States. According to the National According to the National Cancer Institute, one-quarter of new cancer cases are diagnosed in individuals between the ages of 65 and 74. Cancer affects all individuals of all ages, backgrounds, and medical histories. In 2021, there were over 1.9 million cancer diagnoses in the United States alone. One would imagine that oncology nurses are a rare breed, inundated with requests for their singular expertise, but it is not so simple. How does one become an oncology nurse?
Oncology nurses care for all ages diagnosed cancer patients and focus on meeting their emotional, spiritual, and physical needs. Despite the difficulties of the work, many nurses find that a career in oncology is gratifying.
To position yourself for career opportunities in the field of oncology nursing, you need to meet the educational and experience requirements.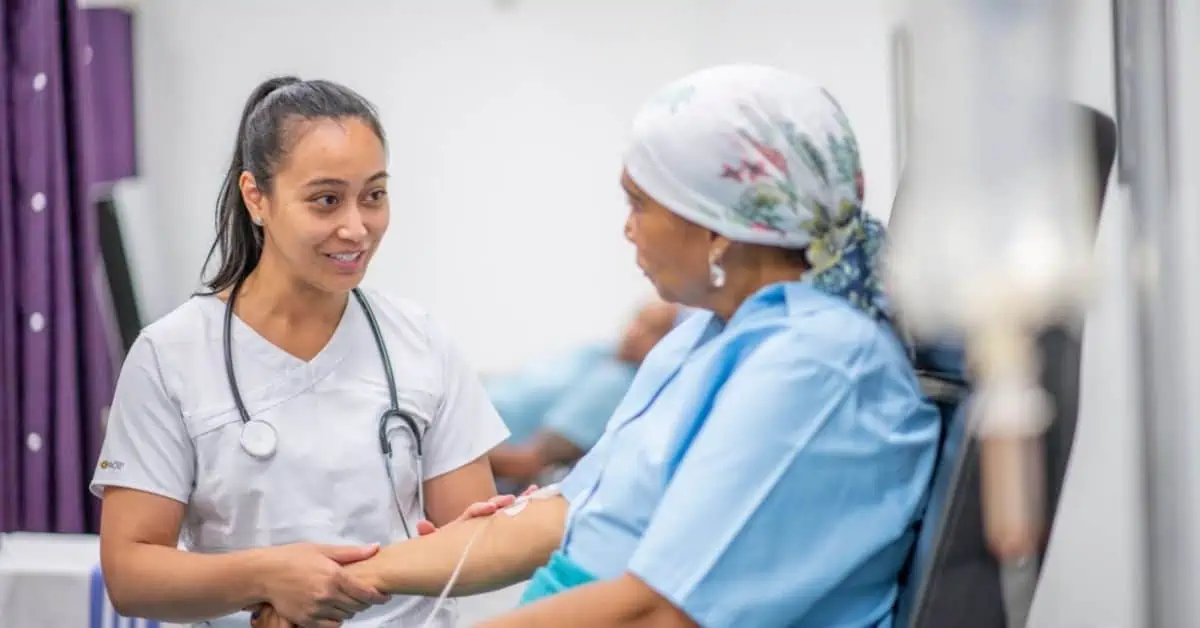 What is an Oncology Nurse?
An Oncology Nurse is a registered nurse specializing in caring for cancer patients. Oncology nurses use their knowledge of chemotherapy, radiation therapy, and other treatments to educate patients on the care they need when diagnosed with cancer.
Oncology nursing requires extensive education to provide the highest levels of patient care. The path you take will depend largely on your previous education and certification history.
Nurses who have already earned bachelor's degrees in another field or specialty may be able to transition into an oncology nursing program directly without losing any credits. Those seeking immediate employment can also use volunteer experience in hospitals, hospice agencies, or clinics to qualify for advanced placement in accredited RN-to-MSN programs in North America.
Because of their constantly changing field, oncology nurses must stay current in the latest developments and treatment methods. Many nurses choose to earn a post-graduate degree in nursing or medicine to make themselves even more marketable. Also, by working toward higher education, many nurses can take on greater responsibility and leadership roles within their hospital systems.
Here Are Five Steps You Can Take to Become an Oncology Nurse:
Following are some educational requirements and steps that you have to follow in order to start a career in oncology nursing.
1: Earn your Bachelor of Science in Nursing, BSN
The first step for becoming an oncology nurse is earning a bachelor of science in nursing degree. An oncology nurse must have some experience with clinical care, so while making your BSN, you can also enroll in an accredited RN-to-BSN program.
If you're already an LPN, you can enroll in an accelerated BSN program to make up for any lost time. You can join any nursing school for this course.
2: Become an RN
If you're not a practicing registered nurse, you will have to sit for the NCLEX-RN exam once you have earned your BSN. This certifies you as a registered nurse and allows you to enter the workforce as soon as possible after completing school. Because you will need to pass this exam, it is highly advised that you enroll in a nursing program close to where you live or work to focus on completing your clinical rotations and still be able to study.
3: Gain Experience as an RN
Before beginning your oncology nurse training, it's essential to gain as much experience working with patients who have cancer as possible. Your employer may offer opportunities for supplemental education through continuing education courses and workshops.
Some employers even offer flexible scheduling options like night and weekend classes to assist their nurses with maintaining full-time employment while attending school. You can also get clinical experience.
4: Get Certified
If you want to become an oncology certified nurse or want to get a nursing license, you will have to take on a rigorous course load. You can choose between three different certification programs:
One through the Oncology Nursing Society (ONS)
One with the American Nurses Credentialing Center (ANCC)
The last is from the National Cancer Institute (NCI).
5: Continue Your Education
Continue your journey of education by enrolling in an oncology nurse practitioner program. This will enable you to become a more effective leader within your organization, mainly because it will sharpen your skills at assessing and diagnosing patients because you are one step closer to becoming a physician.
If you want to work with patients with cancer on an administrative level, you can enroll in continuing nursing education courses or gain certification as an oncology nurse manager. These positions typically require demonstrated leadership ability and prior experience supervising other healthcare staff members.
Duties of Oncology Nurse
The experienced oncology nurses work around the clock caring for their patients both before and after treatment plans have been implemented. They must be able to anticipate patient needs to provide superior care at all times. They may even need to make lifestyle changes for their patients by providing guidance on nutrition or helping them gain access to support groups and other resources.
Oncology specialists must work well in a medical team environment while also demonstrating outstanding leadership abilities. This is why you must get experience working with the different types of people that will comprise your future health care team from day one.
One of the main things an oncology nurse does is patient assessment. This means they assess patients who have cancer treatment side effects. They also assess patients before, during, and after chemotherapy. This means they have to be able to understand pathology results and what they mean.
Another responsibility they have is direct patient care – including coordinating treatments and tests. They have to keep detailed records so that the patient has continuity of care within the nursing team and across the multi-disciplinary group that manages the patient's disease.
Conclusion
In closing, becoming an oncology nurse is a dream many healthcare professionals have had since they were children. Whether you want to specialize in another specialty within oncology nursing or become a leader in this outstanding field, earning your bachelor of science in nursing degree opens the door to endless opportunities for growth and success!
Now let's move to some faqs.
What Are the Education Requirements for an Oncology Nurse?
A BSN degree is considered the standard in the oncology nurse profession, but accelerated BSN programs are available for nurses with an LPN certification.
What Are the Licensing Requirements for an On-Cology Nurse?
To practice as a registered nurse, you will have to sit for the NCLEX-RN exam and become a licensed RN in your state, which typically requires either a diploma or associate's degree in nursing.
How Much Can You Expect to Make When Working As an Oncology Nurse?
According to PayScale.com, the annual salary of oncology nurses can be between $40,059 and $78,731. The salary depends on location, experience, and certifications and it varies widely. According to PayScale, the average hourly rate is $33.38.
What Is the Difference Between Oncology Nursing Certification Programs?
The Oncology Nursing Certification Program (ONCP) is offered through the Oncology Nursing Society. The American Nurses Credentialing Center provides oncology nurses accredited by ANCC-COA and recognized by the National Commission for Certifying Agencies (NCCA). The third option, administered by the National Cancer Institute, certifies oncology nurse practitioners.
These certifications are available, depending on your experience and interests:
Oncology Certified Nurse (ONC®)
Certified Pediatric Hematology Oncology Nurse (CPHON®)
Certified Breast Care Nurse (CBCN®)
Blood and Marrow Transplant Certified Nurse (BMTCN®)
Advanced Oncology Certified Nurse Practitioner (AOCNP®)
Advanced Oncology Certified Clinical Nurse Specialist (AOCNS®)
What Is an Oncology Nurse Leader?
Oncology nurse leaders typically have previous experience in administration or supervisory positions. They are adept at facilitating teamwork among their employees while also demonstrating outstanding leadership abilities.
Where Do Oncology Nurses Work?
In recent years, hospitals with midsize to large campuses often have an oncology team that manages patient diagnoses and treatments. Some patients with rare forms of cancer may seek innovative remedies at highly regarded hospitals or teaching facilities; these facilities are magnets for nurses who wish to be at the cutting edge of cancer treatment.
What Are Leadership Positions Available for ADN Nurses?
Bachelor's degree nurses are RNs who have completed a 4-year degree program. A 2-year associate's degree in nursing is the minimum degree requirement to become licensed as an RN. BSN nurses work in many of the same roles as ADN nurses. However, they have more career opportunities in areas including leadership.
What Does an Oncology Nurse Do?
The hematology/oncology nurses provide advanced medical care to cancer or blood disorders patients. They are part of a highly trained team that includes the patient's family, doctors, specialists, and other interdisciplinary healthcare team members.
What Are the Roles & Duties of an Oncology Nurse?
Provide care to cancer patients suffering from acute or chronic illnesses caused by cancer or exacerbating conditions.
Monitoring the patient's condition, prescribing medication, and managing symptoms through sharing strategies with the patient and family.
Educate and support patients' families
Provide end-of-life care with empathy and dignity
Manage immediate and long-term side effects of chemotherapy
Assess cancer patients' physical, psychosocial, and spiritual needs and status
Plan and implement a care plan based on concrete goals
Utilizes communication methods and skills to convey information to patients, families, and staff
Responsible for own professional development
Demonstrate expertise in safety and legal issues
Assists the interdisciplinary team and family members in advocating for patient needs
Why Pursue Oncology Nurse Training?
The answer to this question depends on you and your motivation for this. There is a strong demand and growing need for oncology nurses who assist the patient's family in understanding the medical condition and treatment procedures and providing comfort to patients with a life-threatening illness—good-paying job as an Oncology Nurse with outstanding benefits like medical, vision, dental, etc.
More Nursing Specialties:
I have lots of guides about other nursing jobs too. Browse through them and keep dreaming about the perfect nursing specialty that compliments your strengths.