Today was my first day of Nursing school. Well, it was my first day of my BSN nursing in school. I'm a thrilled they have shorted the time it takes to achieve the BSN from 3 semesters to 2 and lightened the course load as well. I have 2 classes per semester required and only a small amount of clinical time to be completed in the spring. I should be fairly straight forward and the majority of it is online. (sweet!)
I have 3 classes total this semester: Health Assessment, Professional Practice Issues & Concepts, and Computers in Society. The first 2 are required for the degree, the last one was the shortest, easiest appearing, and most appropriate class I could take to have at least 6 credit hours to get financial aid. Financial aid is a must. Never again will I finance my education with VISA. Never!
I have an A.S.N (Associate of Science in Nursing or A.D.N Associate Degree Nurse). I went to this school because it was local, convenient, cost-effective, and has excellent NCLEX-RN success rates. I did not think of a difference between having an RN as an A.D.N or a B.S.N. But apparently, at least according to our teacher, the reason that nurses are not seen as professionals is because our entry level is not a baccalaureate degree.
I beg to differ.
Professionalism is not about the letters behind your name, it is about the respect you have for your role in what you do. I also think that every LPN would disagree as well. According to hrsa.gov, as of 2008, 45.4% of Registered Nurses are Associate Degree prepared nurses. 20.4% have a diploma level degree, while only 34.2% are BSN prepared.
How can you attempt to eliminate nearly 65.8% of your workforce by making the standard entry level of nurses to be a BSN? These figures don't even take into account LPNs, of which the state of Georgia alone has over 34,947 with an active license.
Seems a little high and mighty to think that it is going to be the "entry level" anytime in the near future. There is already an overwhelming need for instructors at all levels of nursing education. Making the minimum even more challenging to achieve is just going to increase the patient load and not make a significant impact at all on the salary one can expect.
As much as I am all for the pursuit of higher education, I am burned by the fact that this nurse educator feels that the trend of the future, and the only way we can be considered professionals by the general population, is to make entry level nursing a bachelor's degree required profession. I believe there is room in the profession for all level of nursing skill and education. However, I do also think that nurses should constantly be pursuing higher education.
Even before I became a nurse I had a respect for the trade. I knew that what they did was different, important, and beneficial. I also knew that they were specifically trained and educated for the challenges they face. Perhaps I do not understand what is means to be "a professional" or "professional". However, I firmly believe that no matter what you do, as long as you do it well, respect your coworkers, your customers, your boss, your team, your employees, and maintain integrity that those are  qualifications for merits being called professional.
Teach is convinced we will see things differently by the end of the course. I hope she is wrong. There are already too many nurses who are high and mighty. There are too many nurses who want to point fingers of blame, shame, and self-righteousness without having the backbone to pursue the issues any further than that.
The fact of the matter is that a nurse is a nurse is a nurse. So I'll kindly take my LPN or A.D.N nurse with years of experience, professionalism,attention to detail, with care, and compassion over a new grad B.S.N with a holier than though attitude, or a N.P (Nurse Practitioner) who feels that these highly qualified, skilled, and competent nurses should be made to feel any less professional.
I am a nurse. I am a professional. And for now, at least, I have an Associates Degree, and it does not make me anymore or less of a nurse than any of my colleagues.
Download Nurse Bingo Today!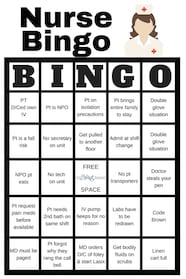 Liven up any shift with a fun game of bingo. See who can fill a row first!
Fill a whole card and lose grip with reality.
Your privacy is protected. We will never spam you.