*articles contain affiliate links*
These doctor and nurse costumes are fun, creative, modest, and appropriate. Browse ideas for both adults and children.
Rethink your Halloween costumes. There are so many more ways to dress up as doctors and nurses without using the "sexy nurse" idea. It can be tough to think beyond the sexy nurse and doctor thing – especially when all the search results for "nurse costumes" come up with miniskirts and low-cut necklines. I browsed all the ideas out there and found the best and most appropriate nurse and doctor costumes for adults and kids.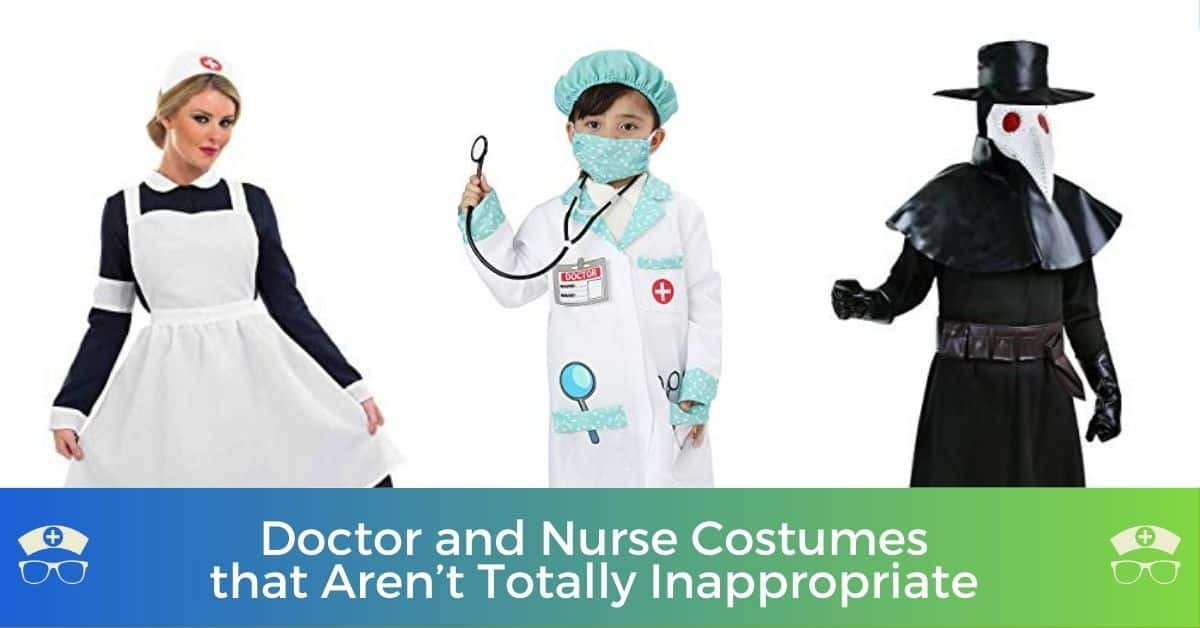 Doctor and Nurse Costumes For Adults
Trying to find a doctor and nurse Halloween costume that is respectful can be kinda tough. I'm taking all the hard work out of it and giving you links to the most fun and appropriate costumes for adults. Beyond sexy, think more in the realm of scary, creative, and even funny. Here are my top picks!
Funny Nurse Halloween Costumes
Want a way to put together a costume without thinking about it? Wear a funny Halloween t-shirt. This is a really funny one that proclaims nothing can scare you – you are a nurse!
Add some devil horns on top of your head, black pants, and this funny t-shirt and you have one of the easiest Halloween costumes yet! This is perfect for school nurses everywhere.
An appropriate nurse Halloween costume that you can wear anywhere is a pair of scrubs and some crocs. Whether you are volunteering at a Halloween event or taking kids trick or treating, wearing your scrubs might seem boring to you, but it's fun for your kids! Add some makeup and a silly hairdo (like pigtails) to make it more imaginative.
Historic Adult Nurse Halloween Costumes
Skip the sexy trope and go for a real-life adult nurse costume like nurses in history.
This retro nurse costume is from the 1950s and even comes with the iconic red cross hat.
You can also go way back in time and dress up as Florence Nightingale. This costume comes with a dress that is ankle-length and long sleeves.
If pop culture is something you enjoy, dress up as Elle Driver from Kill Bill.
Scary Doctor Costume
There are lots of ways that you can make a doctor costume pretty creepy – you just need makeup and a few ideas.
Bloody zombie doctors are always a popular choice. Blood splatters on the white lab coat add the perfect creepy touch.
Another way to add some fright to the doctor's costume is to buy one that looks like it shows bloody body parts. This Scary ER doctor costume looks like his ribs are showing – and his mask his blood on it, for a nice detail.
Finally, probably one of the scariest doctor Halloween costumes is dressing up as a plague doctor, complete with the long white beak-nosed mask. This costume just screams death and fear.
Doctor and Nurse Costumes For Kids
Kids love dressing up at careers they want to be when they grow up. Capture their imagination and love for caring for others with a doctor or nurse costume that looks just like the real thing.
Doctor Dress Up
Encourage your child to find a doctor costume that looks just like doctors in real life. A typical doctor outfit consists of:
White Lab Coat
Nice Slacks
Button-Up Shirt
Stethoscope
There are lots of costumes for kids that look like real-life doctors, and they are adorable! This one comes with blue scrubs and a fake stethoscope.
Another idea for kids is to dress up in a surgeon costume. These are so cute! A surgeon costume like this one comes in green, blue, or 11 other colors of scrubs and comes with a mask and a matching surgical cap.
Toddler Doctor Costume
Little toddlers dressed up as doctors are so cute! Find a toddler costume that also includes props they can play with well after Halloween is over.
Even better, dress your toddler up in doctor pajamas – talk about being comfy all Halloween night! Then, they can go straight to bed afterward.
Nurse Dress Costume
A really cute nurse Halloween costume for kids is to dress up like nurses from the 1960s, with those white dresses.
This cute toddler nurse costume comes with the white cap from the 1960's.
If you want to think more historic, buy this WW1 nurse costume – the dress is ankle length and comes with the traditional head covering.
Final Thoughts
Dressing up like a nurse or a doctor doesn't have to be sexy. There are lots of ways you can dress up that are historic, witty, and even a little creepy. Take these ideas and keep looking until you find that perfect costume for you or your kids.
Funny Nurse Posts
Want more entertainment? Here are some really funny nurse articles for you next!
Download Nurse Bingo Today!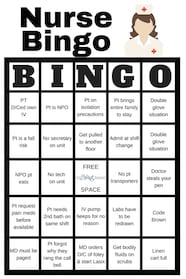 Liven up any shift with a fun game of bingo. See who can fill a row first!
Fill a whole card and lose grip with reality.
Your privacy is protected. We will never spam you.