*articles contain affiliate links*
Not allowed to dress up at work? These Halloween scrubs will help you get in the Halloween mood while still being in uniform.
Many employers don't let you dress up for Halloween citing safety issues. These fun and spooky Halloween scrubs still let you show your festive and fun side while still staying in uniform. Let's take a look at some of the best Halloween scrubs out there that are sure to make you scream with delight.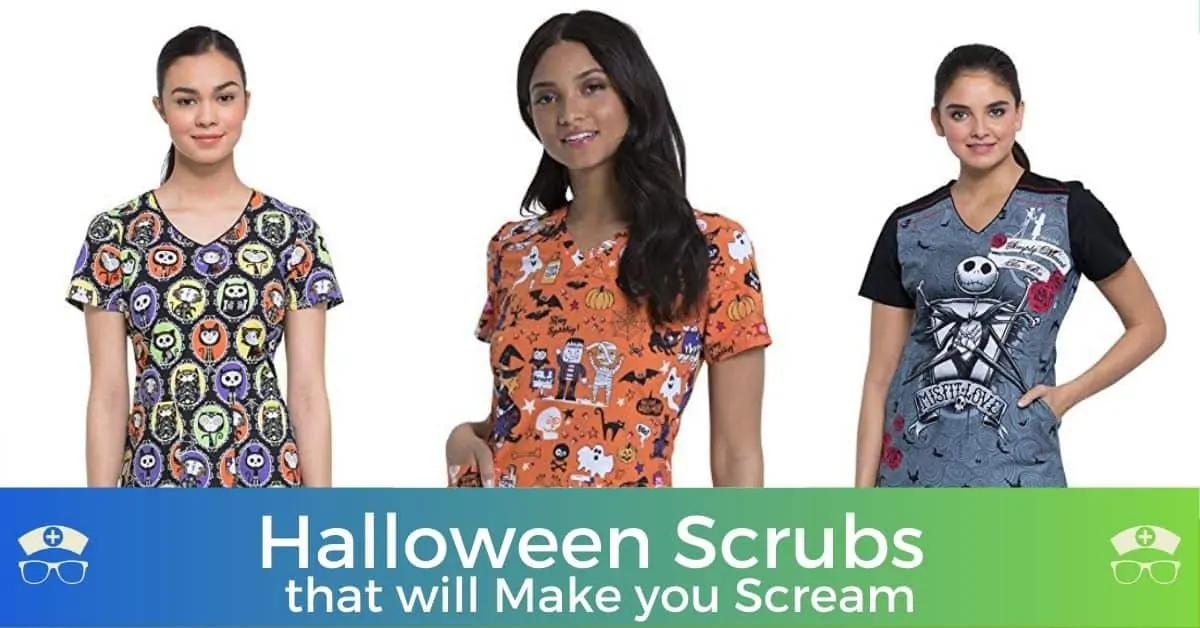 Halloween Scrubs
Festive scrubs let you show off your holiday spirit while still being in uniform. The best part of festive scrubs, these are guaranteed to be comfortable and effortless. Nurse costumes are so easy to pull off, and by changing out your scrubs you still look professional while dressed for the holiday.
If you are one of the lucky ones who can dress up at work, we have you covered with easy Halloween costumes for nurses at work. But if you can't dress up at work, we have you taken care of with these fun and spooky-themed scrub tops.
Halloween scrub tops
These scrub tops are perfect for Halloween. Even if you can't dress up in a full costume, these tops will have you looking the part.
Halloween scrubs Amazon
Amazon is your one stop shop for Halloween scrubs. Plus if you are a Prime member you can get most of these scrub tops with free 2-day shipping.
Show your love of the spooky holiday with a scrub top full of jack-o-lanterns.
Buy It Now
Get in the fall spirit with this latte themed scrub top. It is perfect for the entire season.
Buy It Now
Nothing says Halloween like The Nightmare Before Christmas. Show your love of this cult classic with a fun Jack scrub top.
Buy It Now
Halloween scrubs Walmart
Walmart is a great option for Halloween scrubs. They have some cute styles and you can often find them in your local store for a last-minute purchase.

Maleficent is a great option for Halloween. This misunderstood character is one of my favorite villains.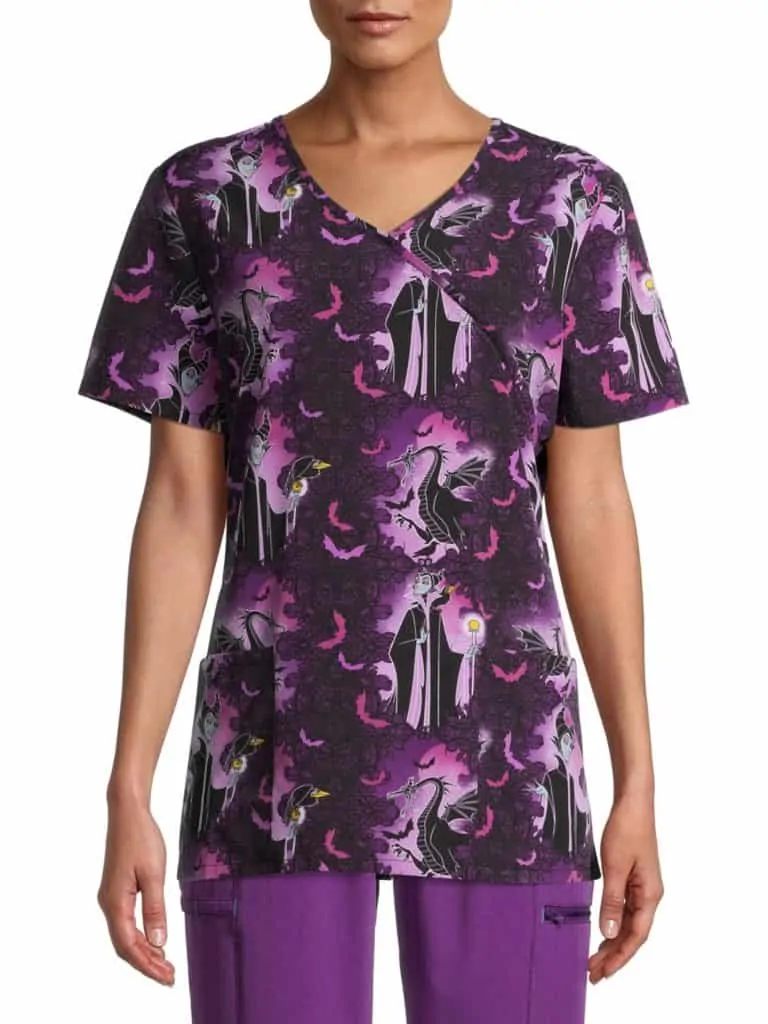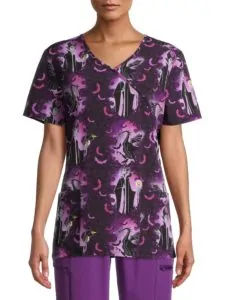 Buy It Now
Show your playful side with this fun Dinosaur top from Walmart. How cute is this?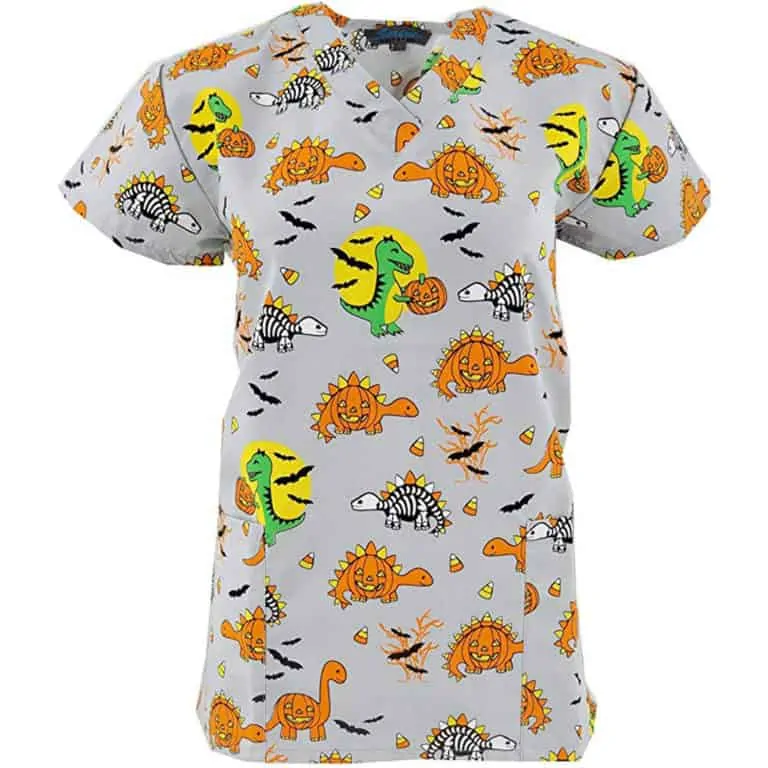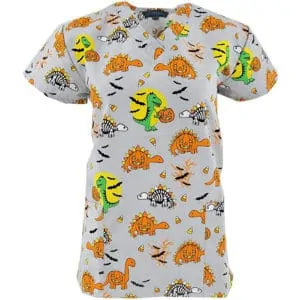 Buy It Now
Halloween scrub jacket
Maybe you have to wear your uniform scrubs no matter what. A Halloween scrub jacket can get you through the end of the year in style.
Nothing says the holidays like monsters and Christmas trees. This scrub jacket will take you from Halloween through the holidays while keeping you warm.
Buy It Now
Dickies Halloween scrub top
Dickies scrub tops is a brand that nurses already know and many swear by. Don't sacrifice comfort and fit when you can stick with a brand you know and love while still being festive.
This Dia De Los Gatos pattern is so fun and perfect for Halloween.
Buy It Now
This Dickies scrub top is perfect. I love the bright orange color, the mummy's, cats, ghosts, and more. Paired with black scrub pants this is the perfect Halloween look.
Buy It Now
Show off your witchy side with these witch themed scrubs from Dickies.
Buy It Now
Disney Halloween scrubs
No one does holiday's quite like Disney, and Halloween is no exception. Show off your fun and playful side in one of these adorable Disney scrubs.
No one thinks of Disney without thinking of the Mouse. These Mickey vampire scrubs are so fun you will want to wear them all year long.
Buy It Now
You could ask a co-worker to wear a yellow scrub top with blue pants and go as Snow White. Then with this dwarfs scrub top you are both dressed up while still in scrubs.
Buy It Now
Do you wear scrub tops for the holidays? What scrub listed here is your favorite?
Download Nurse Bingo Today!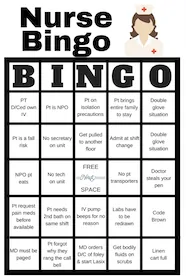 Liven up any shift with a fun game of bingo. See who can fill a row first!
Fill a whole card and lose grip with reality.
Your privacy is protected. We will never spam you.