*articles contain affiliate links*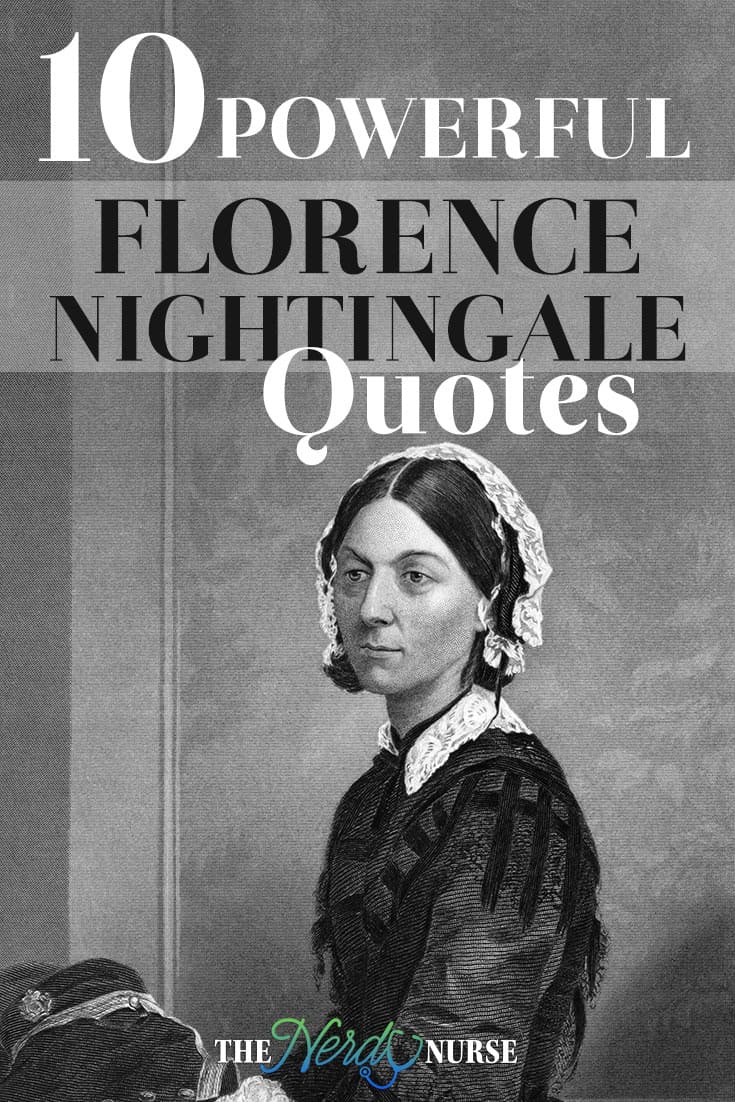 Being a nurse is not without facing challenges and stress every day at work- whether it's facing off against a senior doctor, helping a seriously ill patient overcome pain, or preparing for a test. For times when you're feeling low and down, it might help to seek inspiration from great people. When the chips are down, one of these powerful, Florence Nightingale Quotes, could inspire you to take action and move forward. Believe me, not only can it motivate you to confront your problems but it can also encourage you to pursue challenging goals.
Florence Nightingale is a powerful nurse symbol because she founded modern nursing. The lady with the lamp moved the nursing profession forward by leaps and bounds and her powerful nursing quotes never fail to inspire.
10 Powerful Florence Nightingale Quotes
All nurses have times when they have to stand strong, but there are times we can't do it on our own. Here are some wise words from none other than the pioneer of the nursing profession as we know it today, Florence Nightingale. Take a look at these powerful quotes and get your dose of inspiration and encouragement. And get back to being the fantastic nurse you are!
I attribute my success to this:—I never gave or took an excuse."
To achieve greatness, one should stop giving excuses. Plain and simple. If you're going after great things at work and in life, stop plaguing yourself with lame excuses and take responsibility. For sure, it's the only way to steer clear of roadblocks as you head down the path to greatness.
Rather, ten times, die in the surf, heralding the way to a new world, than stand idly on the shore."
Whether you're feeling stuck in your life or just finding you're stalling instead of killing that to-do list, muster up the courage and motivation to get going. Taking action might seem daunting when you're at a point to take a big decision. While a bit of planning, preparation and legwork is important, the fact of the matter is that taking the right kind of action will have a great compounding effect to take you through the big decision.
The very first requirement in a hospital is that it should do the sick no harm."
Surely this needs no detailing. Patient care should always be the key objective for any healthcare provider. As simple as that.
Live life when you have it. Life is a splendid gift-there is nothing small about it."
Living life to the fullest is one of the most common goals- something by which we measure and motivate ourselves. However, figuring out how to do it is a conundrum that has challenged so many people throughout the ages. It may not be a complex problem after all. Treat your life as a gift, appreciate every little thing and develop a sense of purpose- a convincing and fulfilling reason to get out of bed and to keep going.
You ask me why I do not write something…. I think one's feelings waste themselves in words, they ought all to be distilled into actions and into actions which bring results."
If thinking about something or writing your to-do lists could solve your problems, they would be gone by now. You change things in your life by taking action and by doing things that matter. "What can I do that will turn things around?" and "What is possible here?" are a few questions to get you started.
If a nurse declines to do these kinds of things for her patient, "because it is not her business," I should say that nursing was not her calling. I have seen surgical "sisters," women whose hands were worth to them two or three guineas a-week, down upon their knees scouring a room or hut, because they thought it otherwise not fit for their patients to go into. I am far from wishing nurses to scour. It is a waste of power. But I do say that these women had the true nurse-calling—the good of their sick first, and second only the consideration what it was their "place" to do—and that women who wait for the housemaid to do this, or for the charwoman to do that, when their patients are suffering, have not the making of a nurse in them."
You've always wanted to be a nurse. Great. You found your calling and decided to follow it through. Don't let anything come in your way that stops you from giving better patient care. Because that's what matters the most.
If a patient is cold, if a patient is feverish, if a patient is faint, if he is sick after taking food, if he has a bed-sore, it is generally the fault not of the disease, but of the nursing."
Good quality nursing simply means a fulfilling experience for patients. Your approach and attitude is important in securing this experience for patients, enabling them to be cared for as a human not a case. So be in close contact with patients and deliver effective care with compassion and humanity.
So never lose an opportunity of urging a practical beginning, however small, for it is wonderful how often in such matters the mustard-seed germinates and roots itself."
All great things have humble beginnings. Be committed, step out and take the journey. Your breakthrough will come along.
Wise and humane management of the patient is the best safeguard against infection."
Quality nursing ignores infection, except to keep it in check. Unremitting attention to the patient, with effective nursing practices and prompt interventions, are some tools a true nurse needs to have in her repertoire.
I am of certain convinced that the greatest heroes are those who do their duty in the daily grind of domestic affairs whilst the world whirls as a maddening dreidel."
The real heroes are those who find a way to improve things around them through the course of their daily lives. In the nursing industry, there are many heroes who leave fine imprints of positive change because they deliver exceptional care to patients than what's expected of them. Keep doing whatever you're doing and you could be one of them.
Take Charge of Your Nursing Career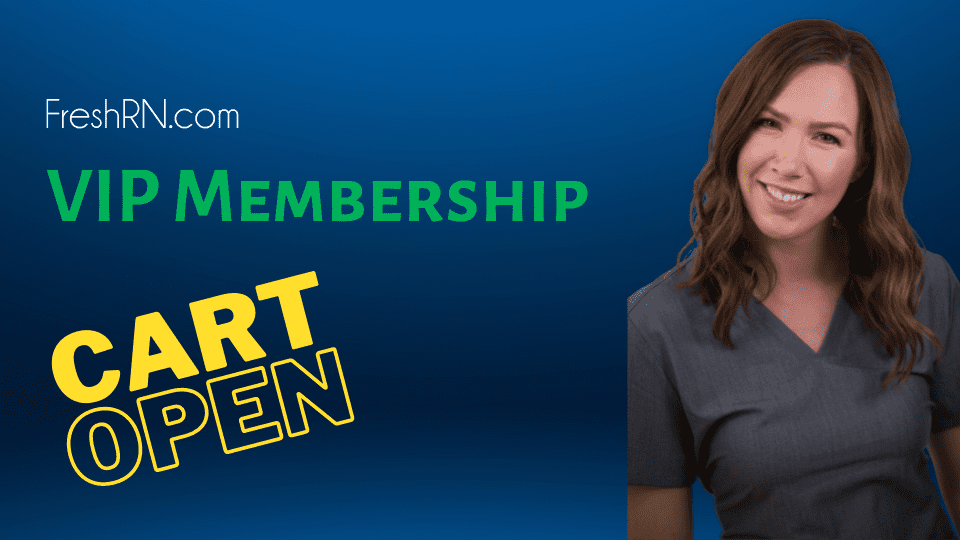 Your first year as a nurse is daunting. You need someone in your corner telling you what your managers really need from you, helping you learn to interact with your preceptor, and really just manage your life. Find all that an more with the FreshRN VIP - Membership.
I'm Ready to Thrive
So next time when you're faced with an obstacle on the job, I hope you'll take inspiration from some of these quotes and think about why you decided to choose one of the noblest and satisfying professions in the first place.
Don't forget to share some of these Nightingale quotes with your coworkers.
Florence is my Homegirl
Flaunt your love for the original gangsta of nursing with this "Florence is my Homegirl" nurse t-shirt.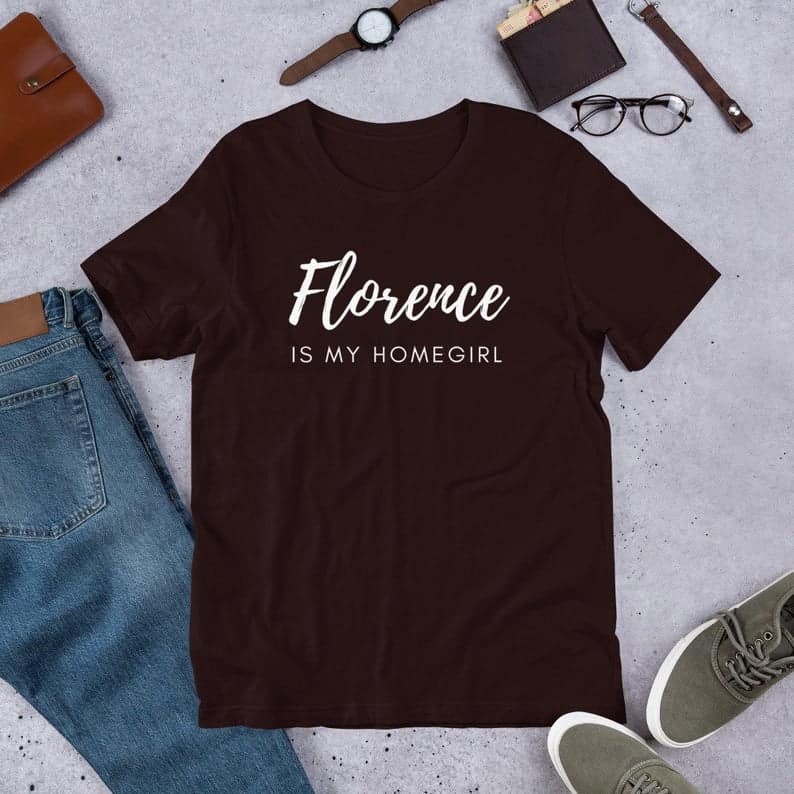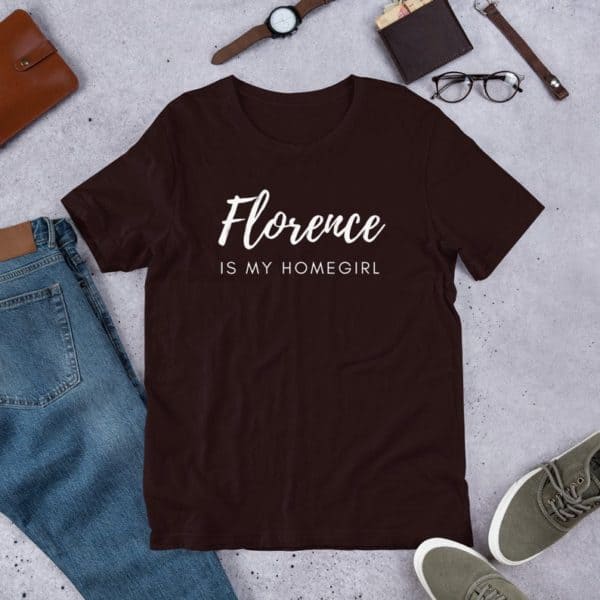 More Florence Nightingale Wisdom
What is your favorite Nightingale quote? Chime in with your comments.
And check out the History of the Nursing Profession and Nurse Symbols for more on Florence Nightingale. ANd for a laugh, check out Funny Nurse Memes to Brighten Your Day.
For more from the amazing Florence Nightingale, check out theses books:
Florence Nightingale: The Courageous Life of the Legendary Nurse
Notes on Nursing: What It Is, and What It Is Not (Dover Books on Biology)
Florence Nightingale: A Life Inspired
Florence Nightingale (On My Own Biographies (Paperback))
Florence Nightingale – To Her Nurses (New Edition)
Heart and Soul: The Story of Florence Nightingale
Be sure to get updates on every post. Sign up for Email Updates from The Nerdy Nurse and never miss a post again. Save
Download Nurse Bingo Today!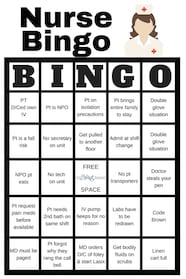 Liven up any shift with a fun game of bingo. See who can fill a row first!
Fill a whole card and lose grip with reality.
Your privacy is protected. We will never spam you.