*articles contain affiliate links*
With the new year we make many resolutions to improve our lives. As nurses, we have the unique ability to improve the lives of others on a daily basis. However, there are many nursing issues that we as face on a daily basis. We should be focusing attention on these areas to make the nursing profession and more desirable one to be a part of. We need to band together to ensure the best patient care possible.
While I cannot guarantee that every nurse would agree with these goals, I would hope that most would agree that these would add value to our profession. Below you will find 7 Resolutions for the Nursing Profession. These are goals to help improve our professional stance and the quality of care that we can provide to our patients.
1.Mandatory Safe-Staffing Ratios
Many states have already implemented nurse-patio ratios to promote patient safety and improve care. However, there are far more that do not. Until this is a requirement, there will be too many opportunities for nurses to have unsafe patient loads and risk not being able to provide safe and competent care.
Safe Staffing Saves Lives.
2.Eliminating Lateral Violence.
Until we stand together as a profession and pledge to eliminate the act of "nurses eating their young" we will continue to hold ourselves back in the realm of professionalism. We must eliminate the cattiness and the bullying that so often is encountered by new nurses. We are a part of a beautiful and caring profession. Let us show that care to our fellow nurses as well as our patients.
My friend Beth Boynton has some excellent resources for creating positive workplaces for nurses in her book: Confident Voices: The Nurses' Guide to Improving Communication & Creating Positive Workplaces
3.Use Every Patient Encounter as an Opportunity for Education.
Take every patient encounter as an opportunity to educated them on something. Whether it be about their hospital stay, their medication, their condition, or a procedure they are receiving. Always ask your patients if they have any questions and take the time to answer thoughtfully and responsibly. Patients are appreciative of the extra time you spend giving them extra attention to detail and they may not always ask the questions they need to. It is up to us as nurses to give them the answers that we know they need, even when they do not ask. Be honest and considerate and helpful with their education needs.
4.Continuing Education to Grow Professionally and Personally
Regardless of your state or employers requirements, nurses need to take personal responsibility to continue their education. This does not mean you have to be in college till the day you die or pursue a higher degree. What it does mean is that healthcare and nursing is constantly evolving and you should be thirsting for the knowledge that will help you provide the best care possible for your patients. This may be reading nursing articles, reading nursing blogs, looking for evidence based practice, and other sources of information. Anything that expands your knowledge base as a nurse is helpful in helping you grown.
It should be noted, however, that if you intend to use knowledge you have gained to change your practice, or the organization you work for, you should ensure that the information is vetted and evidence based.
5.Graduate Nurse Programs at All Hospitals
As a new nurse I had 8 hard-hitting weeks to prepare myself to take care of patients on my very own. Eight weeks with a preceptor and after that I had between 3-6 patients at any time that were my responsibility. It simply is not enough time, even with my time in nursing school and clinicals, to be prepared to care patients on your own.
I have heard of other hospitals who have a year internship program for their graduate nurses. These very same facilities have a much higher nurse retention rate. Nurses are also given opportunities to rotate to various departments before they choose their specialty, which gives them a greater opportunity to discover the right "fit" for them.
I strongly feel that all hospitals should implement programs like this and invest in their nurses skills early to ensure the best possible care for their patients.
6.Office of the National Nurse

My friend Nurse Ratched's Place is a strong advocate for this position, and I agree with her. The united states needs  chief nursing officer in a political role that heads up nursing initiatives and the focus of our practice going forward. Having a National Nurse for Public Health would not only strengthen our profession, but it could do great things for healthcare as a whole.
Here are just a few things they would do:
Support the Surgeon General's Focus on Prevention
Develop Nurses as Community Health Advocates
Promote Professional Nursing
7.More Males in Nursing
Male nurses (or Murses, as Impact Nurse recently displayed video and commentary of) are but a fraction of our profession. They bring something different to the nursing ball field and I am thrilled with every new Y chromosome we add to our ranks. Encourage your male friends and family to pursue a nursing career. Having more men in our profession will only help to strengthen our causes.
Ways To Improve Nursing?
What are your thoughts on the current state of the nursing profession. What resolutions do you think we should have as a nursing profession? Do you agree or disagree with the above? Comment and let your voice be heard!
Download Nurse Bingo Today!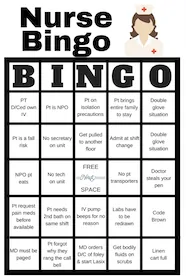 Liven up any shift with a fun game of bingo. See who can fill a row first!
Fill a whole card and lose grip with reality.
Your privacy is protected. We will never spam you.