*articles contain affiliate links*
Thank you to Einstein Bros.® for partnering with me on this post.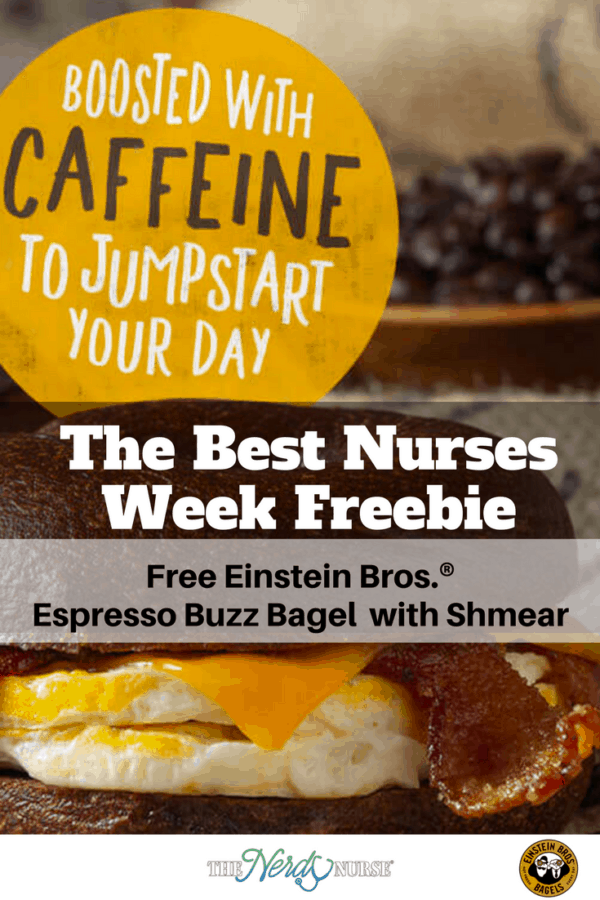 Check out Nurses Week 2018 Freebies.
Nurses work tirelessly and are often underappreciated. Nurses Week is generally a time when nurses do get a little more attention. Unfortunately, I was originally a little disappointed with the nurses week freebies and offers this year. So many hospitals are reducing celebrations or lumping all hospital staff in this week and many businesses dropped their promotions for nurses. But my spirits have been lifted, and my faith in support of nurses revived with the Free Einstein Bros. Bagels Espresso Buzz Bagel and Shmear promotion.
That's right. You heard me correctly. A delicious, chewy, mouthwatering bagel packed with more awesomeness than usual. The new Boosted Bagels are Einstein Bros. Bagels' newest product innovation that features a variety of ingredients with functional benefits (i.e. caffeine, omega-3s, protein, fiber, and antioxidants). We all know how much nurses love their coffee. Capturing that magic in bagel form is a win-win.
Free Espresso Buzz Bagel with Shmear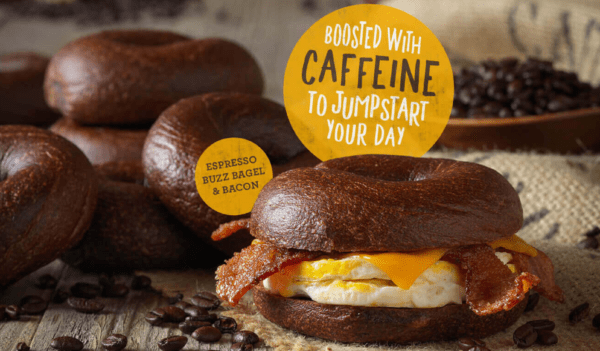 Who could use a boost more than nurses? Einstein Bros. Bagels is giving a free Espresso Buzz Bagel with Shmear to celebrate and honor nurses on May 11th. Just pop in any location wearing your scrubs or with your I.D. and you'll be ready to get your Boosted Bagel on.
About Einstein Bros. Bagels
If you aren't already familiar with their bagely awesomeness, Einstein Bros. Bagels is a neighborhood bagel shop, proudly serving freshly baked bagels, breakfast sandwiches, lunch sandwiches, coffee, catering and so much more. They serve a lot, but we know you're after the bagels. It's no wonder; since they are prepared from the finest ingredients, with the most inspiring flavors, and are baked fresh every 4 hours. Mmmm…bagels.
The New Boosted Bagels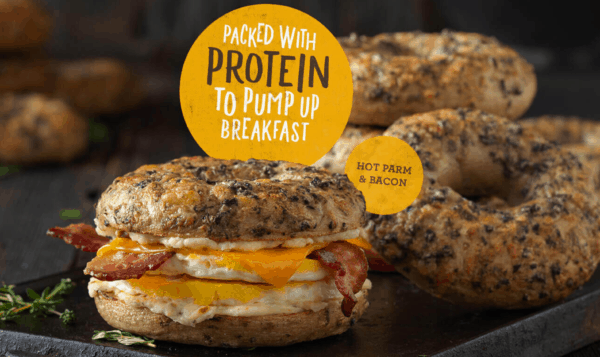 The new Boosted Bagels offer a little extra something-something to the bagel game. Each bagel features a boost in up to 13g of protein in addition to other benefits like iron, Omega-3s and fiber. In total, 3 Boosted Bagels are making a grand appearance:
Espresso Buzz Bagel boosted with 32mg of caffeine and 13g of protein
Cherry Chia Bagel boosted with 300mg of omega-3 ALA and 12g of protein
Savory Parm Bagel boosted with iron, B1, B2 and 12g of protein
If you need something a little heartier, you can try one of their hearty Boosted Bagel Sandwiches:
Espresso Buzz Bagel & Bacon Sandwich featuring thick-cut, brown sugar bacon, cage-free eggs, cheddar cheese and butter on an Espresso Buzz Bagel
Cherry Chia Ham & Swiss Sandwich featuring smoked ham, cage-free eggs, Swiss cheese and butter on a Cherry Chia bagel
Hot Parm & Bacon Sandwich featuring thick-cut bacon, cage-free eggs and hot parmesan Shmear on a Savory Parm Bagel

May 11th is the Day
To get your free Espresso Buzz Bagel with Shmear, you must show up at one of the many Einstein Bros. Bagels locations on May 11th. Wear your scrubs or bring your badge, and proudly proclaim that you're a nurse, and they'll get a fresh Boosted Bagel and Shmear right to you.
Enter the Nurse the Buzz Sweepstakes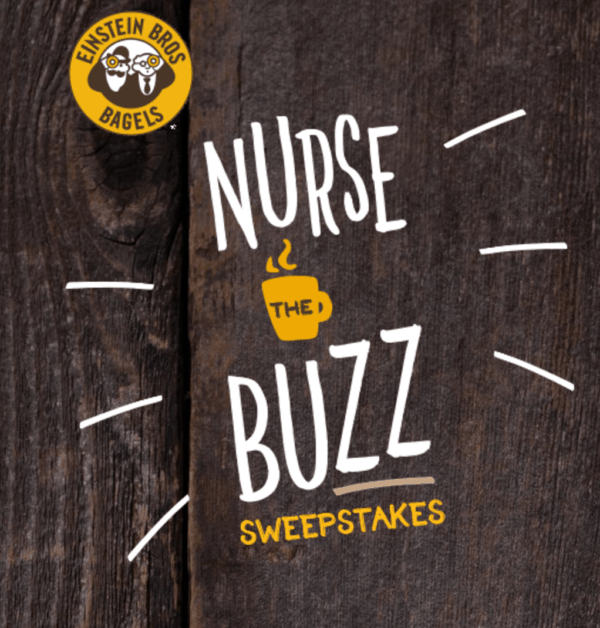 Anyone can show their appreciation for nurses by sharing a thank you message directed at a nurse or nurses who have impacted their life by clicking over to www.nursethebuzz.com. Or you can just use the hashtag #NurseTheBuzzSweepstakes on Twitter or Instagram. Everyone who shares content through the website or with the hashtag will receive a coupon for a free Boosted Bagel with Shmear, with qualified purchase. Eligible participants will also be entered for a chance to win one free bagel with Shmear from Einstein Bros. Bagels each week for a year. That's FREE BAGELS FOR A YEAR!
Go Get Your Free Boosted Bagel!
You deserve a boost! On May 11th go out and get one in bagel form. Bonus points if you stop by on your way to work so you can take advantage of that caffeine goodness. After you've grabbed your bagel, share how the Espresso Buzz Bagel is helping get you through your day using hashtag #NurseTheBuzz.
Download Nurse Bingo Today!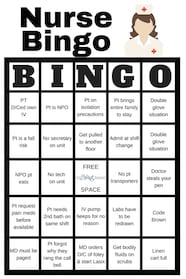 Liven up any shift with a fun game of bingo. See who can fill a row first!
Fill a whole card and lose grip with reality.
Your privacy is protected. We will never spam you.