*articles contain affiliate links*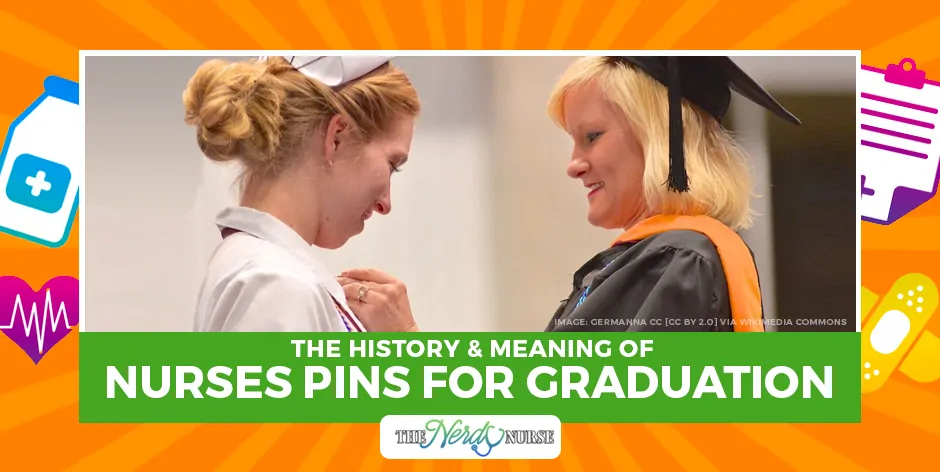 A beautiful way to symbolize graduating as a registered nurse is going through a pinning ceremony. Have you ever wondered: what do nurses pins mean? Let's look at the history and meaning of nurses pins.
The History & Meaning of Nurses Pins for Graduation
What Is A Nursing Pin?
A nursing pin is a type of badge made out of a metal such as gold or silver that is presented to a nurse when they successfully complete nursing school. Each school has their own unique pin design that symbolizes something about the history of nursing at that school or one of the values the school holds dear.
Prestige Medical Emblem Pin, Registered Nurse

These pins can be used to identify which nursing school a person attended and provides a sense of pride. Nursing pins are presented at a pinning ceremony which symbolizes an official welcome and acceptance into the profession.
History of Nursing Pins
The history of nursing pins ties back to the Maltese cross worn by the crusaders. The Crusaders wore the Maltese cross as a symbol of service to Christianity. The Order of Saint Lazarus made significant historical contributors to the foundation of hospital standards and nursing. They were pioneers of communicable disease care, such as leprosy, syphilis, and other chronic skin diseases during their period, and established one of a few hospitals in the territories of their reign. Such pins were then awarded to nurses who were needed by society during the spread of uncontrolled illnesses during the early period, and to recognize them as nurses who are educated, trained and experienced.
Red Maltese Cross Lapel Pin Badge

Florence Nightingale was the first to stress the importance of official nurse training and recognition of that training. The Nightingale School of Nursing at St. Thomas's Hospital in London designed and awarded a badge with a Maltese Cross to the nurses as they completed their program. Eventually, each school of nursing designed and awarded a customized pin. In the United States, the first pin presented to a graduating class occurred at Bellevue Hospital in New York City, 1880. The pin featured a crane in the center for vigilance. This centerpiece is circled by a band of blue for constancy, and an outer band of red for mercy and relief of suffering.
Meaning of Oil Lamp Nursing Pins
Today's pins vary widely in shape and imagery, generally about the proportions of a woman's brooch. A common graphic is an old pattern oil lamp. These lamps were the only lighting available before kerosene became available early in the twentieth century. Florence Nightingale was referred to as "the lady with the lamp" in Saint Philomena, a poem by Henry Wadsworth Longfellow. Many of today's nursing schools include a lamp on their pin because of this history.
The nursing pin and accompanying ceremony represented a meaningful experience for nursing students. It symbolized the completion of educational requirements and the preparation for service through nursing, and has become a recognized nurse symbol.
Nursing pins and the pinning ceremonies are time-honored experiences every registered nurse deserves to enjoy. You earned it – revel in your day! Now that you know the history and meaning of nursing pins, I hope you take even more pride in wearing your pin. Pin this article to your nursing Pinterest board so other nurses can learn about it too.
Also check out:
MANZHEN Medicine Caduceus RN Brooch Pins Registered Nurse Gift Brooches (rose gold)

Rn Registered Nurse Emblem Pin Caduceus (1 Pin)

Nurse Gift – RN Nursing Pin – Graduation – Pinning Ceremony – CNA LPN LVN NP MA

Download Nurse Bingo Today!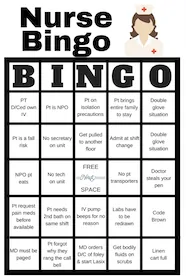 Liven up any shift with a fun game of bingo. See who can fill a row first!
Fill a whole card and lose grip with reality.
Your privacy is protected. We will never spam you.