*articles contain affiliate links*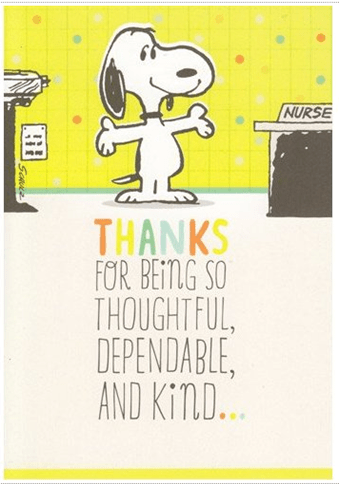 Check out Nurses Week 2018 Freebies.
Nurses week is celebrated every year from May 6th until May 12th, which is also Florence Nightingale's birthday. This static celebration has been in place since 1993 in order to facilitate better planning. This weeks serves as an opportunity to take special notice of the contributions that nurses make to the community. For a brief history on nurses week you can visit the American Nurses Association.
Something I find unfortunate is that Hospital Week and Nurses week occurs at the same time. At my former employer they made no mention of nurses week and instead focused entirely on Hospital Week. There was nothing special done for nurses. There was no extra show of appreciation extended to nurses specifically.
It's not that I think nurses are superior to all other hospital employees. It is that I feel we deserve our own week: seven days of special attention to a breed of human being who often down ask for the credit they are due. And I also think that my former for profit employer was more concerned with the bottom line and less concern with expressing their appreciation for their nurses. I found this to be unfortunate. They lost an opportunity to show their appreciation for nurses and improve morale.
I am still out on medical leave recovering from my brain surgery at the moment so I unfortunately I was not able to participate in the festivities this year at my current employer. I did, however, have to make a trip to the hospital today to get some medical records. I was pleasantly surprised to see the large banner outside celebrating Nurse's Week.
Happy Nurse's Week

"Thank you for all you do."
This simple gesture alone warmed my heart and once again cemented the fact that I belong to a wonderful healthcare team.
As a nurse you have to be self-motivated and often receive little praise or thank yous in your day to day routine. For many of us, the satisfaction we get from helping others and doing a good job is usually thanks enough. But many of us (myself included) need to hear that we are doing a good job. We need to hear that we are doing the right thing. We need a thank you and a pat on the back for a job well done.
I personally need my work to be acknowledged, justified, and appreciated by my superiors. It helps me to feel secure in my role and to know that I have done a good job. I am sure that many would argue that we are adults and we don't need anyone telling us we are good little boys and girls, but I beg to differ.
As I have mentioned before, we need to give High Fives in Healthcare. We need to celebrate little victories everyday. But we also need to encouraged and appreciated for what we do as often as possible. This is what makes for a positive work environment and a happy nursing staff and therefor happy and healthier patients.
Nurse's Week is an excellent want to celebrate a job well done of all nurses.
A catered meal and a trinket or two are an excellent way to boost morale and motivate nurses.
Sometimes we all need a pat on the back. Nurse's Week is a great way to give a giant pat on the back to nurses who often work without being fully shown appreciation for the work they do.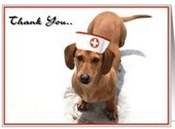 Thank you nurses for taking care of the sick in their time of need. Thank you nurses for helping bring new life into the world. Thank you for helping old life leave this world peacefully and with dignity. Thank you for being smart, capable, motivated, compassionate, caring, eager, and thoughtful individuals.
Nurses this is your week. Celebrate it.
And if nobody else has given you a pat on the back, give one to yourself. You deserve it.
How did you celebrate Nurse's Week? Did your employer do anything special for you?
Download Nurse Bingo Today!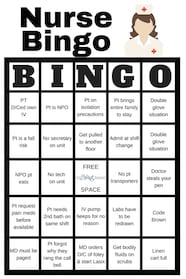 Liven up any shift with a fun game of bingo. See who can fill a row first!
Fill a whole card and lose grip with reality.
Your privacy is protected. We will never spam you.