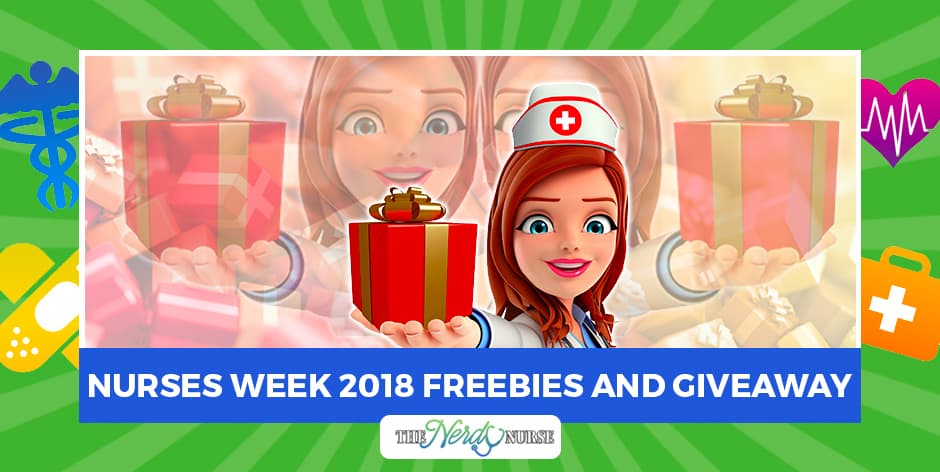 National Nurses Week is celebrated annually from May 6 through May 12. The final day aligns with the birthday of Florence Nightingale. This week is devoted to highlighting the diverse ways in which registered nurses work to improve health care. To help you celebrate this wonderful week, we put together this post highlighting the best Nurses Week 2018 Freebies. We've also partnered with some AMAZING sponsors to bring you an incredible giveaway with 18 prizes including an iPad, stethoscope, compression socks, Fitbit Versa, and more! Plus, there are tons of ways to get bonus entries.
The theme for National Nurses Week 2018 is Nurses: Inspire, Innovate, Influence. To all the nurses, thank you for all that you do.
You can review the freebies and offers or skip to the giveaway.
Nurses Week 2018 Freebies and Giveaway!
This list will be updated with more nurses week freebies and discounts as we learn about them. We love nurses week freebies and are excited to share them with you.
Nurses Week Freebies
Get 50% off your total check on May 8th by showing your badge
Free CNA Practice Test
Cinnabon is a proud supporter of the Daisy Foundation. From May 6-12, show your name badge and get a free classic cinnamon roll or MiniBon.
CE webinar: The recorded presentation "Substance Abuse and Women" will provide information about the unique substance abuse risk factors for women. Host Susanne J. Pavlovich-Danis, MSN, RN, ARNP-C, CDE, CRRN, will discuss reproductive concerns and other issues.
CE course: "Knocking Out Pain Safely with PCA" focuses on patient-controlled analgesia risks and how nurses can ensure patients are protected from medication errors and will receive adequate pain control.
CE course: "Medication Nonadherence: America's Other Drug Problem" presents the factors that prevent nonadherence and methods to address it.
Amazon
Free Kindle Nursing Books
Chipolte is celebrating nurses week next month. On June 5, with a work ID, nurses get a buy-one-get-one free on burritos, bowls, salads and orders of tacos.
Free webinar on listening to your patients. Registered Nurses earn 1 contract hour.
NursingCE
Free CE course for 1 hour – Nursing Evidenced-Based Practice
Nurses Week Discounts
Disney loves their nurses. They are offering discounts to nurses at the Swan and Dolphins resorts. Be sure to also mention you are a nurse and use promo code DREAMS!
Save 25% on all orders through May 30th. Use promo code 25NURSESWEEK.
Save 20% off orders with coupon code NURSE20FP.
Nurses can take 25% off their purchases with license verification.
If you're a nurse in the Chattanooga area, Puckett's will be honoring nurses with Nurse Breakfasts, starting on May 7th, for a discounted price.
Use promo code MOVEFORHEALING to save 30% off site wide, valid now through May 31st, 2018.
25% off all of the CE hours on NursingCE.com. Enter coupon code NURSES at checkout to get 25% off. Sale ends Saturday, May 12 at 11:59PM PST.
Get 25% off any order when you show your healthcare I.D. and use code 651 at checkout. Valid 5/6 – 5/12
Nurses with a valid employee ID can enjoy BOGO ground beef tacos! Buy one Original Ground Beef Taco and Get One Free; 3 max per person. Valid until May 12!
Lydia's is offering $5 off with mailing list sign-up. Also take $10 off orders of $50 or more with code PWAFFLE16.
Other Nurses Week Giveaways
Capella University is giving away two FlexPath Scholarships
FreshRN Nurses Week Giveaway. Win a nurse watch and more.
Medical Solutions Nurses Week giveaway. Win $1,500 or one of other 50 prizes.
DrFirst is giving away 1 pair of Dansko shoes every weekday during Nurses Week.
Best Nursing Degree is allowing you to nominate a nurse. They are then giving away $300 in Visa gift cards to Inspiring, Innovative and Influential nurses who are nominated in the different categories.
NursingCE is giving away 5 MDF MD One Stethoscopes (color will vary, approximate value is $90 per prize/person)
The Nerdy Nurse Giveaway
There are horror stories about the worst nurses week gifts ever given. So to help soften the blow of another water bottle, I put together another amazing giveaway for Nurses Week. Let's look at some of the amazing prizes you can win. To enter to win any of these prizes, scroll to the bottom and fill out the giveaway form.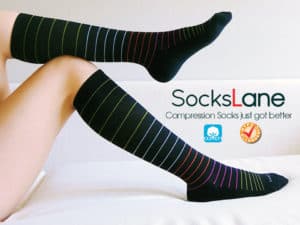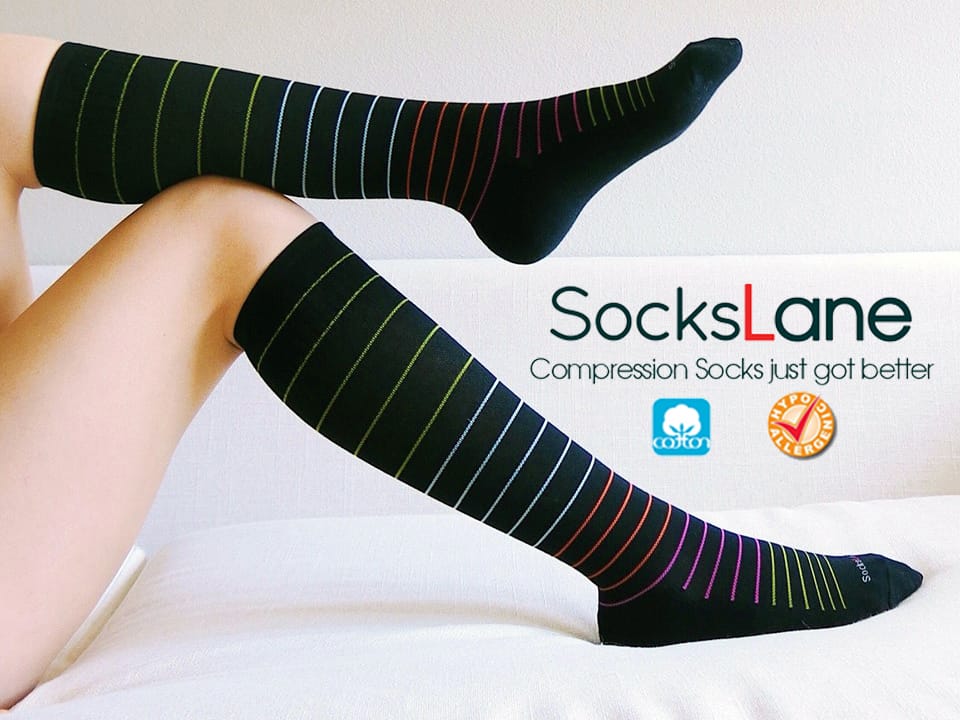 In recognition of National Nurses Week, SocksLane Compression is giving 10 lucky winners a pair of their top rated Women Cotton Compression Socks of their choice and a 25%  discount to all nurses through May 30th!
SocksLane compression Socks are designed for the nurse who prefers natural fibers to itchy synthetic materials, they are made of an exclusive cotton blend that is hypoallergenic, breathable and durable. Each pair is carefully crafted to provide the support your legs need during long shifts, stay put all day and be comfortable, even after many many hours.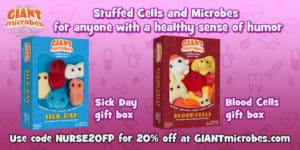 I've been a fan of GIANTmicrobes for a while now. I mean what other company allows you to give Black Death to your friends?
GIANT Microbes are plush organisms and cells, only a million times actual size! They are fun, cute and the perfect gift for those nurses you love and those you love to hate. GIANT Microbes is giving away a Sick Day Themed Gift Box, Brain cell and Heart Organ. One to three winners. Right now you can use code NURSE20FP to get 20% your purchase.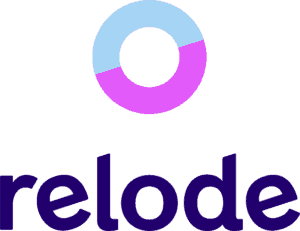 Relode has set out to change nursing recruitment. It is really built with nurses in mind, and their mission is all about helping nurses not just a job, but the right job. Relode makes it really easy and seamless to apply for a job or make a referral. One of the other benefits of Relode is that nurses can earn money when you help a friend or peer find a job. One of their mission statements is "nobody knows nurses like nurses," and it's true!
Sign up as a Relode Agent and you'll have to potential to earn thousands of dollars just for helping your friends find jobs they love.
Relode is offering 2 nurses a chance to win a Rose Gold MDF Stethoscope or an iPad.

DrFirst pioneers software solutions and services that provide real-time access to patient data, improve communication and collaboration at the point of care and across the patient's circle of caregivers and enhance the doctor's clinical view of the patient to help drive better health outcomes.
DrFirst is giving away one Fitbit Versa and more. and more! Be sure to stop by their page and enter for a chance to win one of five pair of Dansko shoes. Five (5) nurses will be chosen.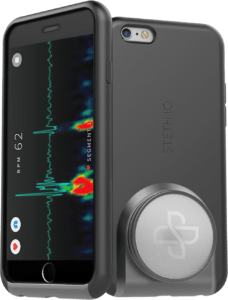 StethIO is a stethoscope for your iPhone! The case and app work together to create a stethoscope that can be used with one hand.
Patented smartphone based cloud-connected stethoscope
Visualize & hear heart & lung sounds via the smartphone app
Save and share heart & lung sounds
Improve patient engagement
Two lucky winners will receive a StethIO. *Must have an iPhone to use.
And for Nurses Week only you can save 35% with promo code NURWK.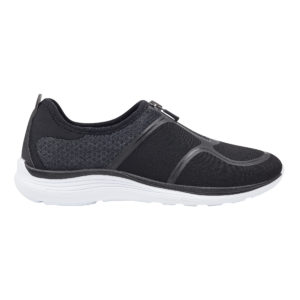 Easy Spirit offers a full line of comfortable footwear with all-day support and cushioning features. They will be giving away one pair of Gemela Zip Front Walking Shoe in black.
And be sure to enter the Easy Spirit #MoveFor Healing Sweepstakes. Easy Spirit is partnering with the American Nurses Association to support and celebrate nurses who #MoveFor those in need. As a nurse, click the link provided to tell Easy Spirit what you move for and be entered for the chance to win comfy shoes for you and your team – so you can keep moving for your patients.
The Nurse's Guide to Blogging: Building a Brand and a Profitable Business as a Nurse Influencer

One lucky winner will receive their own copy of The Nurse's Guide to Blogging: Building a Brand and a Profitable Business as a Nurse Influencer. Written by myself and Kati Kleber it will dive into the practical aspects of how to set up and maintain a blog, create a community, earn revenue, and strategic business considerations.
The Nurse's Guide to Blogging was engineered for any nurse who is interested in blogging. It addresses many of the issues unique to the nursing profession including patient privacy, upholding the integrity of the profession, and understanding your unique value. If you're a nurse and want to blog, this book is for you.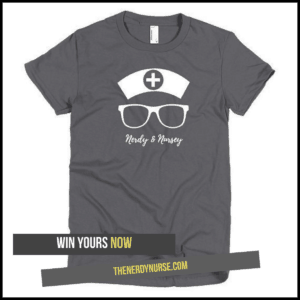 You combine the two most awesome things in the world to become a rockstar nurse that loves to nerd out. Show your love for nursing and all things nerdy with this super soft and comfy Nerdy & Nursey t-shirt. One lucky nurse will win a t-shirt in their choice of color and size.
Download Nurse Bingo Today!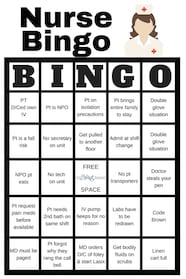 Liven up any shift with a fun game of bingo. See who can fill a row first!
Fill a whole card and lose grip with reality.
Your privacy is protected. We will never spam you.