*articles contain affiliate links*
As a self-proclaimed nerd and an experienced
clinical informatics nurse
, I'm the first to advocate for the use of technology in the healthcare setting. However, I can admit that being passionate about technology can sometimes make it difficult to see the forest for the trees. So let's examine whether
technology actually improves the care
provided by both doctors and nurses and determine whether
health informatics
is a sound career choice. Let's start by looking at
what is nursing informatics
.
In order to take a dive into this topic and provide facts and figures on this subject matter, I've partnered with King University to dive into how technology is improving medical care and health informatics as a career.
Technology for Consumers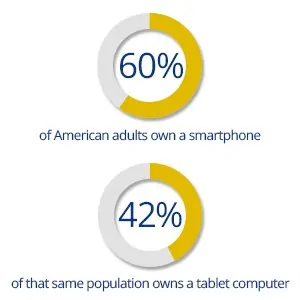 According to Digitizing Healthcare: How Technology Is Improving Medical Care:
It's no secret that, as a society, technology has become a part of our everyday lives. In fact, almost 60 percent of American adults own a smartphone, and 42 percent of that same population (American adults) owns a tablet computer.
Since technology touches nearly every aspect of our lives, it's not surprising that it has started to infiltrate nearly every corner of healthcare as well.
Current Technology in Healthcare
While the medical field has been slow to adopt new technologies, in recent years healthcare has started becoming more susceptible to the inevitable surge of technology. Some of those adoptions include:
The modern hospital experience
Surgery simulation
Streamlined lab testing
Mitochondrial DNA transfer
Cloud-based data and software
The Future State of Technology in Healthcare
The use of technology in the medical field will continue to increase. "Three of the main changes that are revolutionizing the future of healthcare are electronic medical records, health information exchange and ICD-10." Many of these technologies are already in place and will continue to expand and improve over the next several years, such as integrated delivery systems.
Physicians and nurses will also increase their use of technology. A recent Accenture study suggests that 78% of physicians enter patient notes into an EMR and 45% access that data outside of their organization.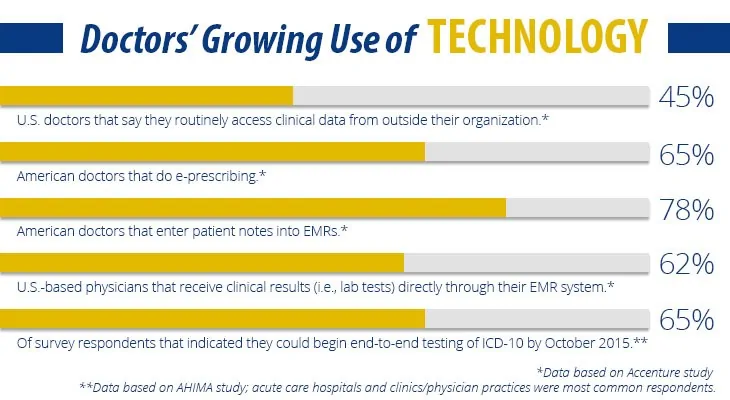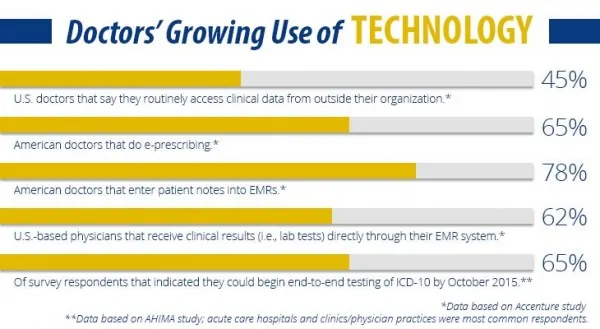 Health Informatics Makes Technology in Healthcare Work
All this technology in healthcare doesn't just materialize on its own. Health informatics professionals are the ones that ensure technology is integrated into healthcare. There are many technical and clinical professionals working behind the scene to ensure that technology is weaved into the fabric of healthcare as seamlessly as possible. Since technology isn't going away, neither is the need for skilled health informatics professionals. In fact, the Bureau of Labor Statistics projects a 22 percent increase in employment through the year 2022, a rate that is much faster than the national average for all occupations.
 
A Career in Health Informatics
When I worked in the hospitals as a clinical informatics nurse I had the ability to affect patients, nurses, and other healthcare providers on a large scale. Clinical informatics is the perfect blending of clinical skills and technological savvy. If a career in health informatics is in your future, King University offers a degree in health informatics education. Are you going to work to let your career align where healthcare and technology do?
Find out how to get a job in nursing informatics.