Thank you to Pocket Prep for partnering with me on this post.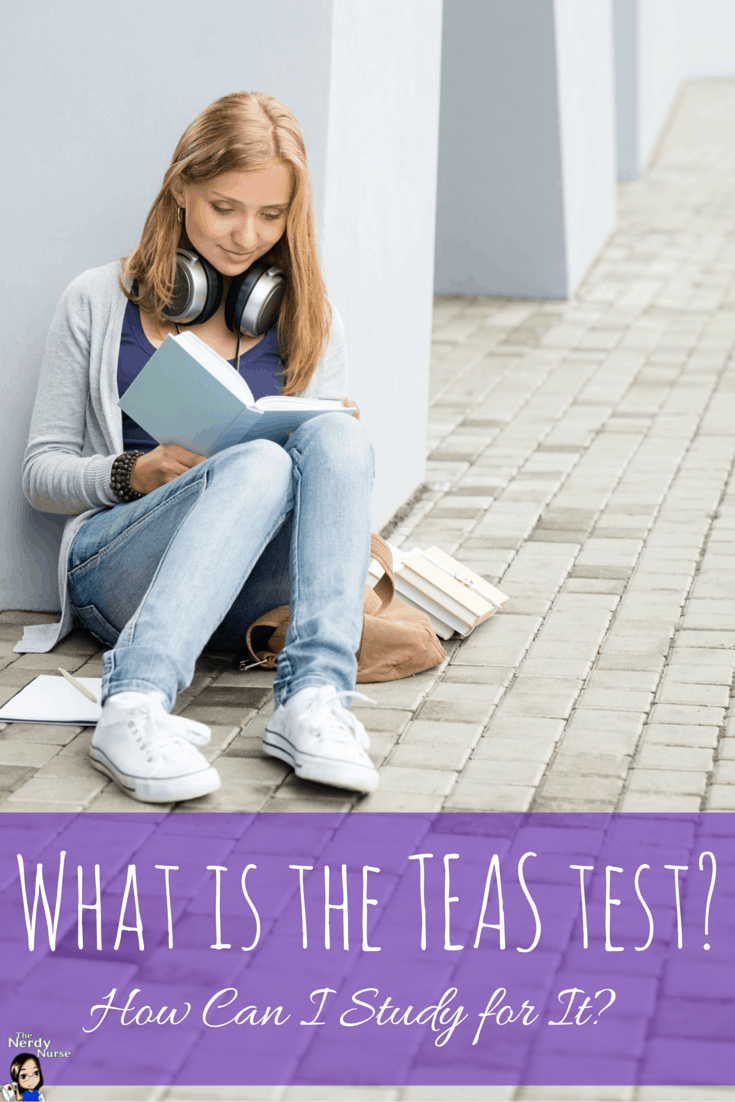 Every year students preparing for nursing school find themselves asking the question "What is the TEAS test?" If all the core classes, applications, and fees aren't enough, many nursing programs add an exam called the TEAS test to the nursing school application process. Since the process of applying to nursing school can be very competitive, having another facet to review a potential nursing student's skills can be helpful. It can also help students who may have a lower GPA to get a more competitive chance in the application process. So what is the TEAS test?
What is the TEAS Test?
According to Medtech.edu:
"TEAS, which stands for Test of Essential Academic Skills, is administered through Assessment Technologies Institute (ATI) Nursing Education. The test is a basic aptitude test designed to identify students who would succeed in nursing school and who have the ability to think like a nurse."
The TEAS test is comprised of 4 components including:
Reading  (40 questions, 50 minutes)
Math (45 items, 56 minutes)
Science (30 items, 38 minutes)
English and Language Usage (55 items, 65 minutes)
What is a Passing Score for the TEAS Test?
There is no passing score for the TEAS test. Instead, each section is given a composite score, and a score is given for content. It is agreed that the reading and math section are the most important. The test can be taken via a computerized version or through the more traditional paper. One advantage of taking it on a computer is that tests are scored immediately and automatically sent to the school where the test was administered.  Since the test is not pass-fail, your score is used in conjunction with other components of your nursing school application to determine whether you will be accepted into the nursing program. However, there are often minimum score requirements that may be found on your school's website. For example, Wichita State University requires the following minimum passing scores:
Reading – 69%
Math – 63%
Science – 45%
English – 60%
These minimum passing scores vary by your institution, and you should verify the specifics with your nursing school application coordinator.
How Can I Study for the TEAS Test?
There are many online resources for the TEAS test including articles on how to study for specific sections of the TEAS like (like the science portion). However, it is really important to focus on the overall strategy of taking the TEAS test as well as practicing sample test questions. The Pocket Prep TEAS V Exam Prep app, which is available on iPhone and Android, is one of the best ways to prepare for the TEAS test.
Pocket Prep TEAS V Exam Prep App
The Pocket Prep TEAS V Exam Prep App gives you an opportunity to practice taking the TEAS test with customized practice tests along with results and rationals that you can review instantly. You have the ability to customize the amount of questions, time, and content, so you focus on the content that is right for you.
The app can be downloaded for free so you can get a preview of what it offers. With the free version of the app, you will get 30 practice questions, 30 bonus questions, a new "Question of the Day" each day for two weeks, and a super helpful test-taking strategy guide. You also have the ability to schedule study time notifications, your exam date, and reminders for the question of the day. You must enable notifications to get these reminders.
The premium version of the TEAS V Exam Prep app is super affordable at only $12.99 for unlimited lifetime access. This in-app purchase gives you access to 1,480 TEAS V practice questions, exam creation customization, and priority in-app email support.
What questions do you have about the TEAS test?