*articles contain affiliate links*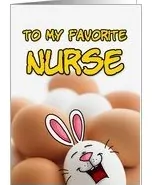 One of the primary pitfalls of nursing is the strong likelihood that you will have to work on holidays. While we all understand the need and importance of having to work holidays as a nurse, it does not take away from the fact that sometimes it's just frustrating to be away from your family at these times.
When I worked the floor the routine on the holidays was fairly predictable. You worked every other Christmas. If you worked on Christmas day, you had off Christmas eve. New years day and eve worked the same way. On Christmas you worked 8 hour shifts, so that you would at least have some time to be with your family.
I liked this arrangement. It softened the inevitable blow and working holidays. It also was a reminder of the respect that was given toward Christmas. People remembered that it means something, whether that be based upon your religious views or the desire to spend quality time with your family.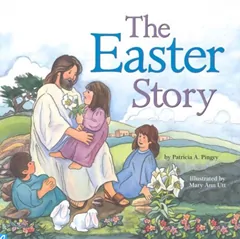 But in the spring every year there were a group of nurses and an important holiday that were overlooked: weekend nurses and Easter.
Without fail, if you were a weekend nurse, you knew you were going to have to work on Easter Sunday. There was no clever 8 hour shifts or alternating yearly on and off schedules. It was Sunday, and you were working, regardless of if you wanted to go to church and celebrate the holiday with your children and family. Nope you were a weekend, so you'd best just lay in the bed that you made for yourself. Besides the hospital threw a few extra bucks an hour your way to make it worth being away from your family. Right?
For whatever reason, the powers that be didn't feel Easter was an important enough holiday to have the burden of working shared among staff other than the weekend nurses.
So to those nurses who are not excused on Easter, I send my thanks to you.
Thank you for taking care of the sick in their time of need. You know they would much rather be home with their families than within the walls of the hospital.
Thank you for choosing a profession of giving and selflessness. We are honored by your presence in the nursing profession and appreciate your contributions.
Jesus Christ and Nursing
I sometimes think about Jesus' contributions to the world. I think that if he were to be alive today, instead of a carpenter, he might be a nurse. His message of healing the sick and doing good for others is one at the core of nursing.
Jesus was caring. Nurses are caring. And regardless of your views on religion, most can agree that the life the Jesus Christ lead was a noble and good life and that we should aspire to be like him. Regardless of you are a Christian, Buddhist, Agnostic or any other religion, I believe that most of us can agree that practicing the golden rule is the most effective way to lead a happy and fulfilled life.
Luke 6:31

And as ye would that men should do to you, do ye also to them likewise.
A Note to Nurse Managers and Administrators on Easter
Shame on you for ignoring Easter as a holiday and giving little attention and appreciation to your dedicated weekend nursing staff. They already give up more time with their families than other nurses year round.
Weekend nurses often take care of the sickest patients with skeleton crews. People don't stop being sick on the weekends. What a luxury it would be if illness would keep a Monday – Friday 9-5 scheduled,  but it doesn't. Reward them for this commitments.
Easter is a holiday and should be treated as such.
Download Nurse Bingo Today!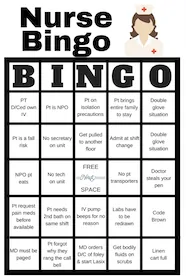 Liven up any shift with a fun game of bingo. See who can fill a row first!
Fill a whole card and lose grip with reality.
Your privacy is protected. We will never spam you.