*articles contain affiliate links*
The blogosphere is booming with passionate and entertaining nurse bloggers. I've seen a few lists that compile the best nurse blogs or the top nurses to follow on Twitter, Pinterest, and even Google plus. However, I've never seen a single location where you can find a comprehensive list of nursing blogs and their social media accounts. It goes without saying that nurses who blog are also active on social media so why not get everything together in one location?
I present to you The Ultimate List of Nurse Blogs and Social Media Accounts to Follow:
Did you make the list? Grab the button and proudly display it on your blog!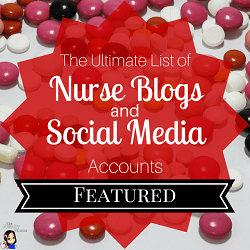 I've had the pleasure of knowing most of the nurses included in this nurse blog list for many years now. They are inspiring and highly talented nurse writers. Many of them participate in the  Nurse Blog Carnival which helps to create and curate a monthly series of highly relevant and interested blog posts.
Get Listed!
Are you a nurse blogger? Would you like to be included in this list?
Complete the form. We'll vet your blog and your accounts and if you make they cut we'll add you to the list.
Don't see your favorite blog listed? Tell us who you think should be added in the comments below.